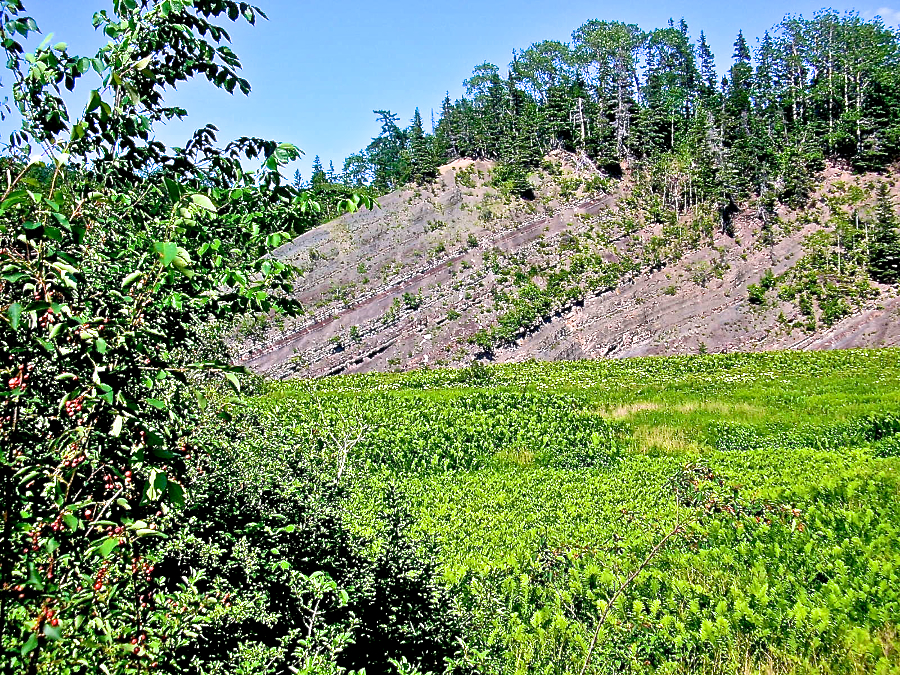 The Southwest Mabou River, out of sight here, runs at the base of the slanted rock face in the middle distance of this photo. Downstream of the steel railway bridge shown in the next photo, which hides behind the tree at the left of this photo, the ridge across the river we have been following and of which this rock face is a part, retreats away from the river.
Since I'm not a geologist, I can not explain the meaning of the slanted strata seen here, though I expect they bear witness to cataclysmic past events during the geological formation of Cape Breton. Whatever their origin or significance, they are certainly quite striking to the eye when first encountered. Notice, too, how the lines of trees clinging to the side of the rock face have the identical slant; I'm not sure why this should be—perhaps only certain of the strata are fertile enough to support vegetation; or perhaps certain strata were softer than others, eroded, and soil subsequently deposited was sufficient for vegetation to gain a toe hold; or perhaps there is yet some other explanation.
On this side of the river is a marshy, boggy area that shelters birds and frogs, among other wildlife; small pools of water, presumably left over from rains, and small streams criss-cross this area; a couple of those streams' paths can be seen here in the middle right and lower right of this photo as darker lines of green vegetation.