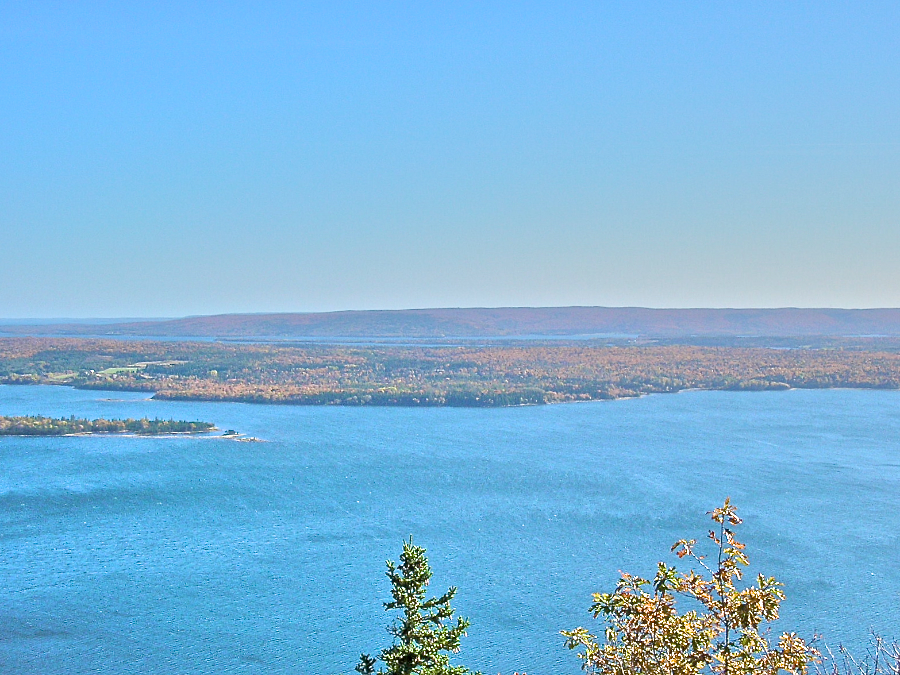 This view to the southeast is from the first look-off on the Salt Mountain Loop Trail on the summit of Salt Mountain (at the east end of Whycocomagh village) if one hikes that trail in a counterclockwise direction. The water in the foreground is Whycocomagh Bay, into which the western end of MacInnis Island is seen projecting at the left. Immediately behind Whycocomagh Bay lies the peninsula which, outside the scope of this photo, narrows to an isthmus with a width of less than .5 km (.3 mi) beyond Whycocomagh Portage before widening back into the Washabuck Peninsula containing Little Narrows, Washabuck, and Iona well to the east of this view. Beyond this peninsula lies the River Denys Basin whose blue waters run across the left two thirds of the photo; rising above the River Denys Basin is the east end of North Mountain, beyond which lies West Bay, an arm of the Bras d'Or Lake, scarcely visible behind the land in the far left of this photo, and beyond it South Mountain rises on the far horizon.
Again, sadly, my camera seems not to have done a very good job in this bright light of picking up the fall colours which were visible everywhere one looked this day from the summit of Salt Mountain. The dusky rose hues one sees in the forests here result from blending the greens of the conifers with the mostly orange and yellow fall colours of the deciduous trees. My memory of the day, however, is that the oranges and yellows stood out everywhere, even at long distances.
A description of the summer hike I took this year to Salt Mountain is available here. The fall hike was much the same, except that I did not take the Scout Trail to return, and the fall colours changed the views considerably.
On a beautiful fall day such as this one was with the fall colours everywhere, this is as fine a place to hike as any on the Island, with panoramas from the various look-offs in all directions, the north and north-east sectors excepted. I highly recommend this hike; I find it a rather difficult climb, though it's not that long in distance, but the views much more than repay the effort required.