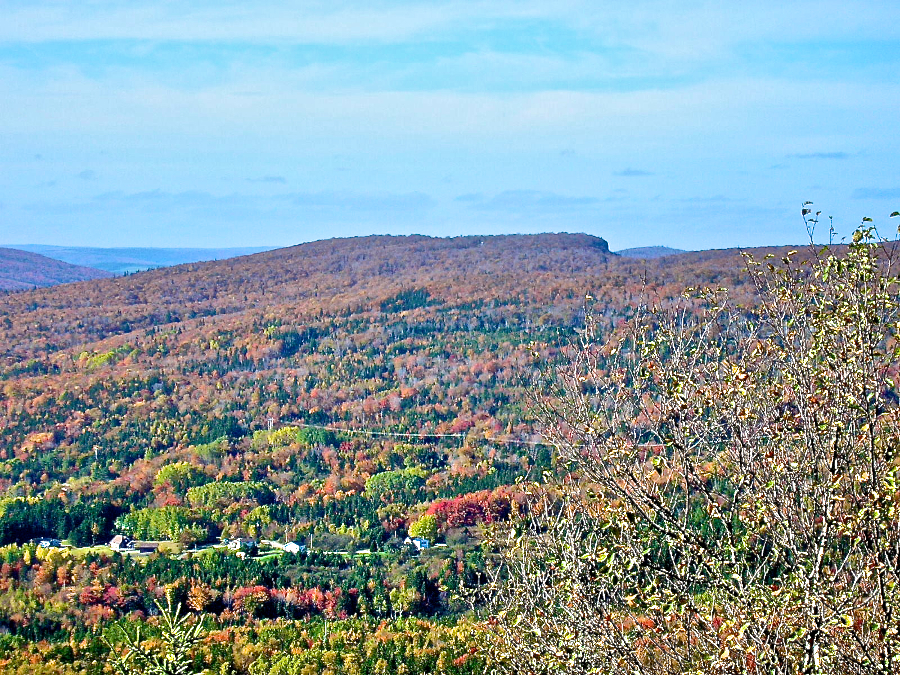 This view somewhat north of northwest is from the third look-off on the Salt Mountain Loop Trail on the summit of Salt Mountain if one hikes that trail in a counterclockwise direction. The distinctive profile of Whycocomagh Mountain with its vertical drop at the middle right of this photo dominates this view. The peak showing to the right of Whycocomagh Mountain at the horizon is unnamed in The Nova Scotia Atlas; the peak whose slope can be seen at the left edge of the photo is Campbells Mountain.
The same dusky rose hues predominate here, but given the shorter distances involved, one can better see the various colours of which these hues are formed. There is also in the lower middle section of the photo a stand of bright red trees which here appears at closer to their true colours, but still more muted than I remember them.
Once Highway 252 turns southeastward at Skye Glen, it is always interesting as one drives toward Whycocomagh to watch the changing profile of the other side of the summit of Whycocomagh Mountain: the vertical drop is initially prominent and, after acquiring additional features, completely disappears at Stewartdale where Highway 395 ends on Highway 252. Of course the landscape itself is not changing, but rather the view of the summit that one has as one's orientation relative to the mountain changes; nevertheless, it appears that the mountain itself changes shapes. If you haven't already observed this phenomenon, take a close look the next time you drive this road.