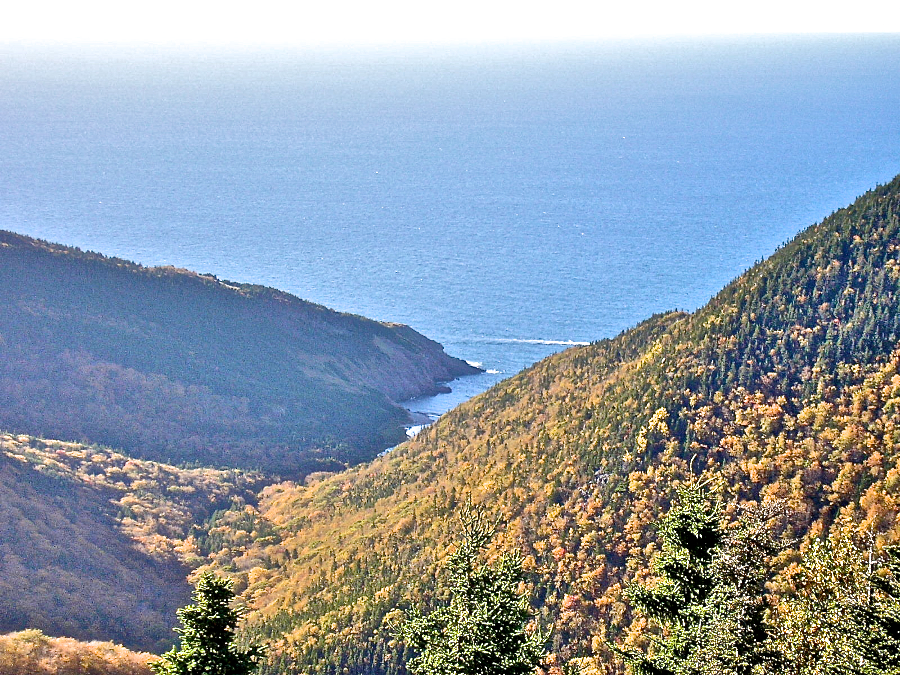 Fishing Cove, whose waters one sees here, lies at the foot of MacKenzies Mountain. Its shores once held a community, also called Fishing Cove, settled by Scottish immigrants in the early 1800's. They made their living mostly from the sea, supplemented with what they could raise on the land they had cleared. A lobster cannery was built in 1897, but by 1915 the community was deserted, except for fishing shacks which were used by passing fishermen. Two trails, neither of which I have yet attempted, lead down the valley carved by the Fishing Cove River, which one can see here curving down to the shore, where remains of the former community are said to be still evident. Provided one first obtains the requisite permit, it is possible to camp overnight at the mouth of the river.
The mixed forest one sees here has a large evergreen component, though it is the oranges and yellows of the deciduous trees reflecting the sun that give this photo much of its colour. The fall colours were again brighter than the camera recorded, but I remember seeing no reds.
On a clear day, it is possible to see the Magdalen Islands (Îles-de-la-Madeleine) in the Gulf of St Lawrence from this look-off (they were visible the day this photo was taken, but are outside its view); settled primarily by Acadians expelled from Nova Scotia in 1755, they are the southernmost land belonging to the Province of Québec and lie some 90 km (56 mi) to the northwest of Fishing Cove.
[2012] On 2007 October 3, I hiked down from the northernmost trail head to the shores of Fishing Cove, a gorgeous spot indeed. It was a lovely day and I retain many very pleasant memories of that hike, which I highly recommend. If you go, plan on an entire day; there's lots to explore and you will want all the time you can spend along the shores. Allow plenty of time for the return: the hike, while easy on the way down, was, as I expected, much harder on the way back up.