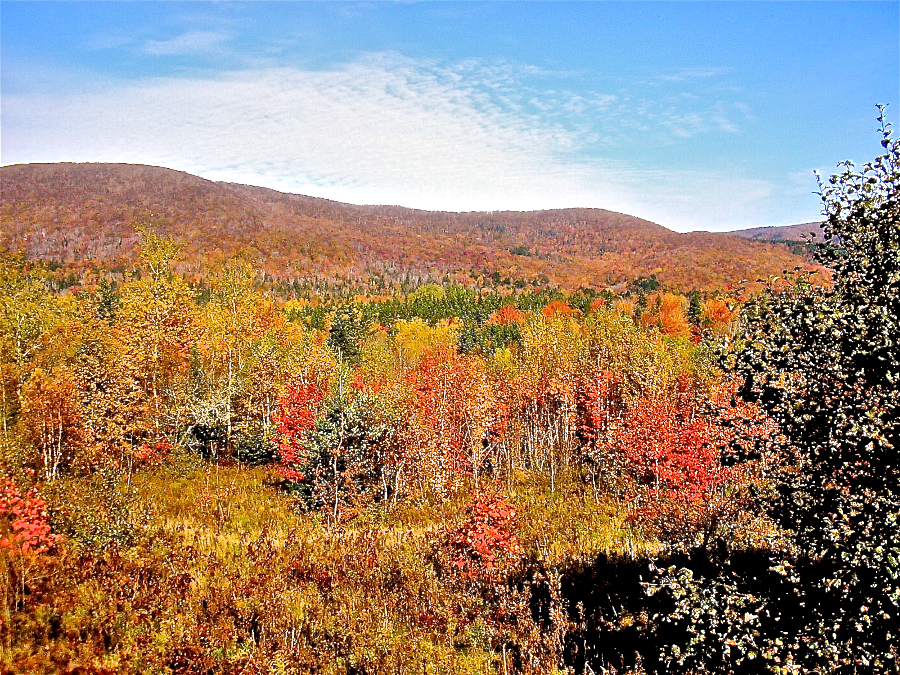 The Northeast Mabou Road runs from the Mabou Harbour Road north to the Cèilidh Trail (Highway 19) north of Mabou village. It is always a pretty road to drive, passing along the mouth of the Northeast Mabou River (gorgeous this time of year with its brilliant fall yellow grasses) and through a tree-lined alley (sporting varied colours in the fall) along the Northeast Mabou River, before crossing it to climb up the back side of Mabou Mountain and arrive at this fine vista (especially fine when the Cape Mabou Highlands are clad in their fall colours).
The forest here is mixed, but deciduous trees predominate. The green-leafed tree in the foreground at the far right and the others across the middle of the photo indicate that, at these lower heights, not all of the trees have yet started to change, while those near the summit are denuded of leaves, doubtless a result of the harsher winds higher up. Several red trees in close proximity enliven the photo. The tan grass and brown leaves, ferns I think, in the foreground testify to the frosts that have already struck. What an amazing amount of variation in the same scene!
I had driven this road twelve days earlier and found it very wet and muddy, so much so I feared getting stuck in a couple of places. After the streak of fine weather, however, it was back to its usual form. On the earlier drive, there were few colours out, so I hadn't driven it again until a tip from some friends suggested that I should have another look. I am glad I did as there were numerous red trees to be seen along the whole course of the road. A beautiful place indeed!