I first learned about the Cape St Lawrence and Lowland Cove hiking trails at the northern tip of Inverness County from this web site (the Lowland Cove trail description is on the same page, but you have to scroll down to see it). Other descriptions are in Michael Haynes' excellent Hiking Trails of Cape Breton, Revised Edition [pp. 93-97], which includes a good map of the area and to which I refer frequently hereafter, and in Pat O'Neil's Explore More! A Guide to Hiking and Outdoor Adventure in Cape Breton [pp. 50-55]. An anecdotal account of an actual hike can be read here.
Since I was already familiar with Meat Cove, I had despaired of ever getting to Cape St Lawrence, as the trail over the mountain from Meat Cove appeared to be way beyond my physical abilities. While hiking in the Cape Mabou Highlands this year, I ran into a couple from Halifax who had hiked these trails and they assured me that, if I could climb Beinn Bhiorach, as I can, though with much huffing and puffing, I could as well do the Cape St Lawrence hike. So, this past August, I decided to give it a go and had a thrilling hike, which I first described here; the photos in this essay, all taken on the same day, 2006 August 17, resulted. The presentation of the photos generally follows the order in which I took them, though I have reärranged a few to improve the continuity of the accompanying text.
As these photos show, this coast is a wild, stunningly beautiful, and rarely visited place—I was the only person there this day in high summer, though there were a few boats from time to time well off shore. Apparently, in the past, there were some inhabitants here, as this web site listing the 1911 Census of Canada Enumeration District 25 shows the Pleasant Bay poll district as including "Meat Cove, Cape St Lawrence, Low Lands, Pollett Cove, [and] Fishing Cove"; there was certainly an inhabited lighthouse at Cape St Lawrence at that time and I was also told of a drivable road which used to connect Meat Cove to Lowland Cove perhaps as late as 1975 (it can be seen on the second map below). But today, this area is part of the Pollets Cove-Aspy Fault Wilderness Area and, so far as I am aware, completely uninhabited for the next 30 km (18.6 mi) or so after leaving Meat Cove.
I have not yet made it to Pollets Cove. This web site says that Meat Cove is connected to Pollets Cove "by a long trail that follows the former route of a telegraph line, but [it is] so far inland that it [passes] through mile after mile of boggy, monotonous terrain". Haynes advises that "[a]t present [2002] the Meat Cove — Pollets Cove — Pleasant Bay trail is extremely difficult to follow due to the bogs between Meat Cove and Pollets Cove, and it can only be completed by advanced navigators and backpackers" [op. cit., p. 97]. The usual route to Pollets Cove starts at the end of the road leading from Pleasant Bay to Red River and continuing past Gampo Abbey to dead end 1.4 km (0.9 mi) later. I was told by a much younger couple who had hiked there that it was arduous, especially for a day trip—they camped there overnight; a sixteen-photo slide show of views from the Pollets Cove area, which is available here, indicates why it would involve a lot of climbing, but also why its tremendous pristine beauty so attracts me. After having successfully made the Cape St Lawrence trek, though, I think I am at least going to give it a try. Even if I don't make it all the way, the scenery along this whole coast is so spectacular that I'm sure to enjoy what I do see.
I hope you find these photos interesting and, if you ever have the opportunity, make this trip! It certainly repaid several times over the considerable effort, at least at my age and in my physical condition, that I had to expend to get there and back. It was a day that I will remember with joy and delight for as long as I live.
Parks Canada, upon paying the entry fee to the Cape Breton Highlands National Park, provides its visitors with a flyer entitled Cape Breton Highlands National Park of Canada: Park Guide and Map; its inside is given over to an excellent, detailed, annotated map of the park, which also covers all the area in northern Cape Breton outside the park. So far as I can determine from my copy, it is unprotected by copyright, so I have provided here an extract from this map marked up with some additional features and the approximate courses of the trails I discuss in this essay (I have been advised by one correspondent that the trail from Meat Cove to Pollets Cove that I show here "can be as much as 500m away [from the actual trail] and is not as straight as shown, which increases the actual distance considerably"). Hereafter, I refer to this map as the "Parks Canada map". On this map, paved roads are black lines and gravel roads are dashed black lines; my additions are in red.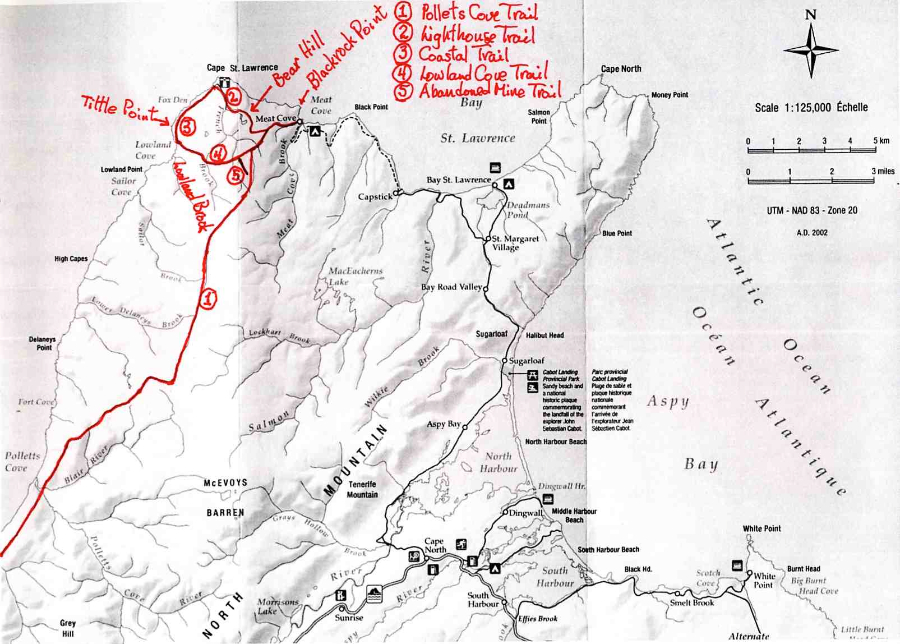 This Natural Resources Canada web site allows one to download a PDF of a 1964 topographic map of the Cape St Lawrence area with fairly good detail (the contour markings are in feet) and states that the "[i]nformation on this site has been posted with the intent that it be readily available for personal and public non-commercial use and may be reproduced, in part or in whole and by any means, without charge or further permission from Natural Resources Canada." I have therefore included a relevant extract from this PDF here for reference, though you may find it easier on your eyes if you download the original PDF to your machine and view it at high scale (it scales up nicely at higher magnification levels). Hereafter, I refer to this map as the "NRC map". I do not know why the NRC map names as Lowland Brook the stream that is now called French Brook in all current maps I have available [The Nova Scotia Atlas [p. 1]; the Nova Scotia Backroad Mapbook Outdoor Recreation Guide [p. 52]; the Parks Canada map; the map in Haynes' Hiking Trails book] nor why it names as Black Brook the stream that the Atlas calls Lowland Brook (and the others do not name). Hereafter, I follow the Atlas and use French Brook for the stream that enters the Gulf of St Lawrence near Cape St Lawrence and Lowland Brook for the stream that enters the Gulf at Lowland Cove.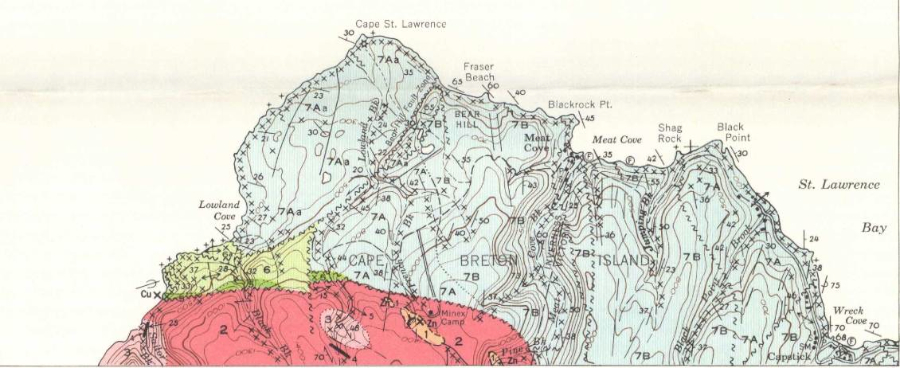 You may find it convenient to open two windows or tabs in your browser, leaving this page positioned at the map in one window and traversing the photos in the other.
Victor Maurice Faubert
2006 December 31