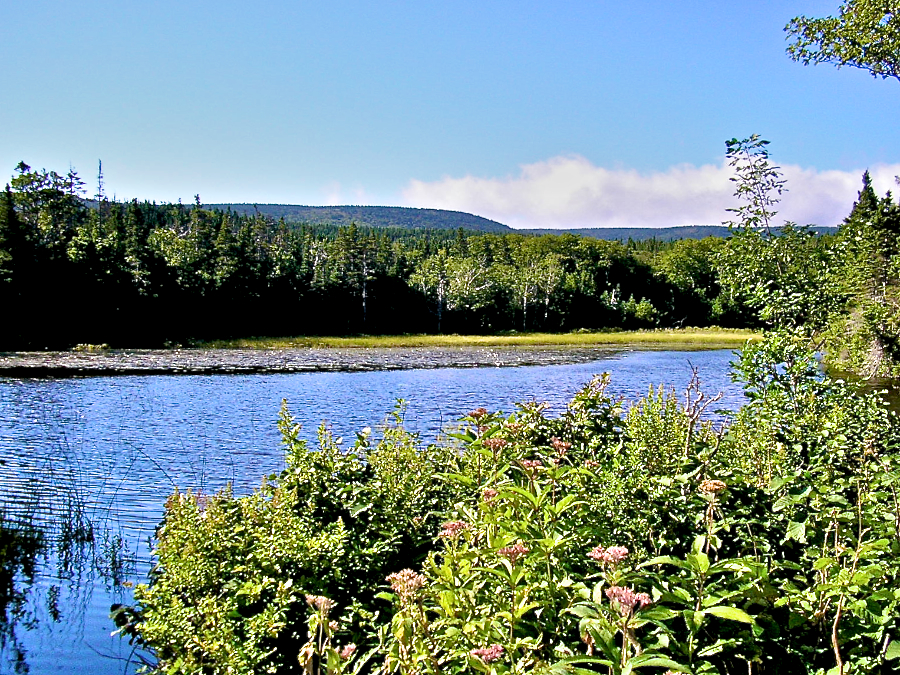 Once at the ridge, the trail offers some nice mountain views and soon begins to descend the other side of the ridge. Four minutes after reaching the ridge, one finds oneself at the junction with the Lighthouse Trail (also called the Cape St Lawrence Light Trail); continuing straight on leads instead to Lowland Cove. The junction is not well marked—only the side trail itself, some orange flagging tape, and a couple of Wilderness Area signs down the side trail mark the spot and there is no indication whatsoever that the side trail leads to Cape St Lawrence or anywhere else. The trail, which is said to be the former access road for the now defunct Cape St Lawrence Lighthouse, is, however, unmistakable, though neither signage nor trail markings of any kind adorn its course.
About fifteen minutes down the Lighthouse Trail, which descends from the ridge more or less gradually, one glimpses Big Pond and a stream to the left of the trail. Another seven minutes later, the unnamed smaller pond shown above appears on the left, just a couple of steps off the trail. Rocky at points earlier in its course, here the trail became more of a forest path as it passed by the pond and continued on towards the Cape.
The Parks Canada map shows that French Brook is fed by these two ponds. Although they do not figure in either the Atlas or the Backroad Mapbook, they do appear in the NRC map below the marking ×7B to the west of Bear Hill.
I fully expected to see moose drinking here, as it was the right time of day, but no animal did I see at any time on this hike; I suspect I must have been rather too noisy. Nor were there any insects about. It was a lovely, peaceful spot to stop and enjoy, the more so as I was then unaware that there were any ponds in the area.