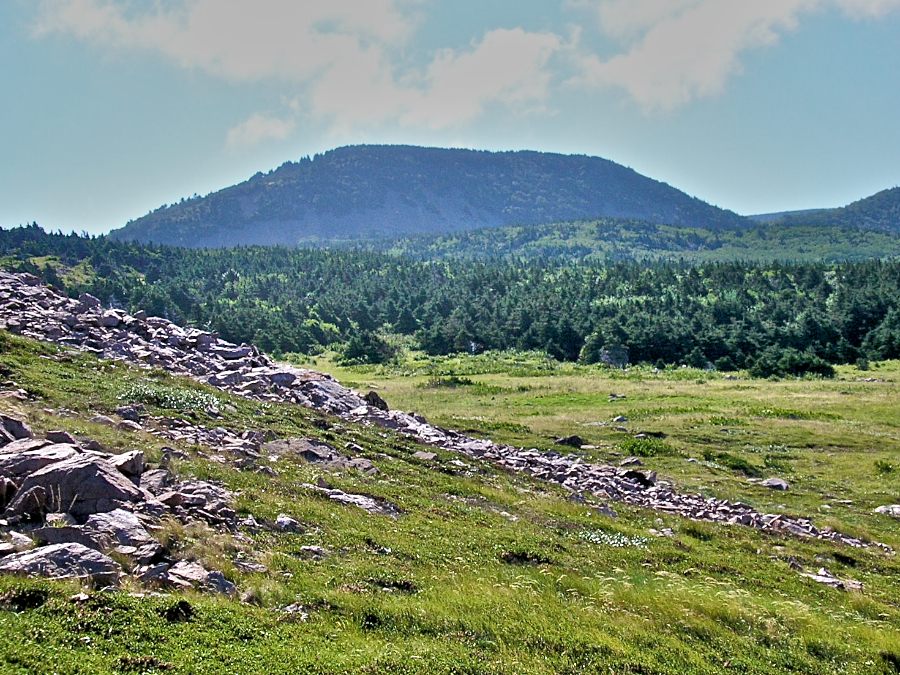 Like the previous one, this view looks back from Cape St Lawrence; unlike it, however, it shows the full profile of Bear Hill.
There were several surprises when I arrived here. First, even though having hiked for two hours and with a warm sun in a nearly cloudless sky in high summer, I felt chilled as I stood here because there was a wind blowing in from the Gulf of St Lawrence that was constant, strong, and cool; that was easily fixed by pulling on my heavy sweat shirt, which I always carry in my back pack. Second, I had, given the view in the first photo in this essay, expected to be standing high above the water; I was, but the cliff was very much lower than I had assumed, perhaps 10–25 m (33–82 ft) high. Third, rocks were everywhere, but scattered in a completely unexpected largely treeless grassy meadow/plain that ran from the edge of the Gulf to a sometimes considerable distance back from the coast; it sports numerous wild flowers, some of which are showing on the near hillside in this photo, and was quite unlike any other place I had seen along Inverness County's coast. Fourth, there were animal droppings (cattle, horse, and moose) everywhere, though there wasn't an animal in sight; while I knew that this whole area was used as free range pasturage for local cattle and horses and that moose also frequent the area (Meat Cove is said to be so named, at least in one version of the story, from the practice of fishing boats landing there in days gone by to replenish their larders with fresh meat from the then plentiful moose (and caribou, now no longer found)), it was still surprising to see so much evidence of a large herd—and a bit of a problem to find a place to sit in the grass! Fifth, and most vexing, I was unable to see very far down the southwestern coast, since the hill ending in Tittle Point obstructed the views.
Nevertheless, I was still thrilled to be standing on the northernmost point in Cape Breton (see here for why I believe this to be true), a place I hadn't expected to ever see with my own eyes!