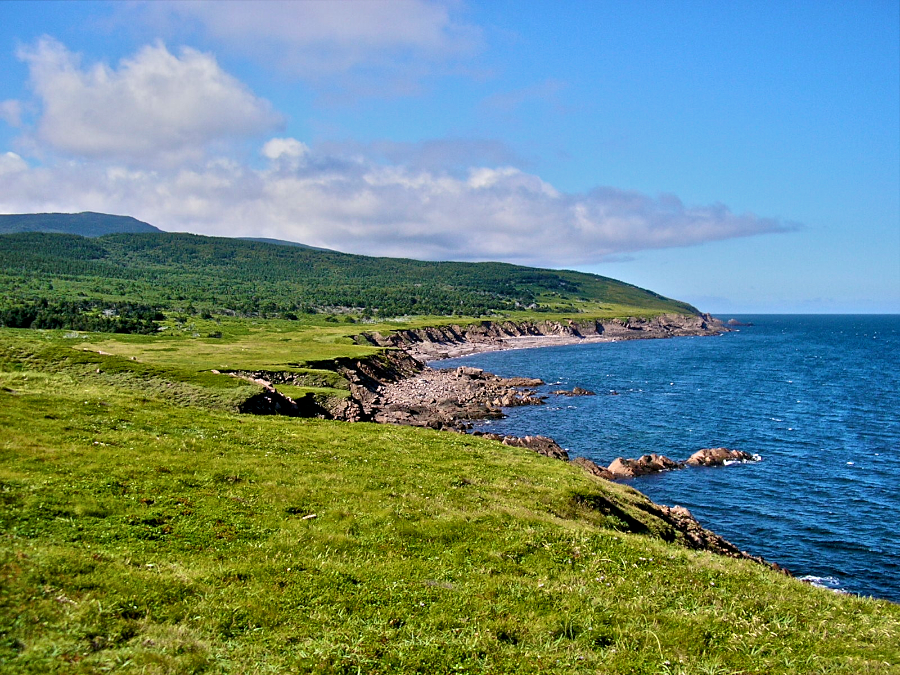 This gorgeous view shows the sloping hill ending in Tittle Point in the distance, perhaps 1.6 km (1 mi) away. Except for the grassy plain, this shore line is fairly typical of many stretches of the western Inverness County coast, with cliffs rising above the water that have been eroded over time, creating rock-strewn "beaches". The cove where the "beaches" are seen is known as Fox Den; I have no idea why. Michael Haynes says that whales are often seen near the shore here, as they are all along most of the western Inverness County coast, but I saw none this day.
As previously mentioned, these cliffs are perhaps 10–25 m (33–82 ft) high and do not afford easy access to the water. I did find a rope ladder at Fox Den and another one at Lowland Cove when I got there, so it is possible to get down to water level or, in an emergency when boating, to get up from the water level, but the rope ladders are certainly not for the faint of heart nor for people hiking alone, such as myself.
Notice the wildflower-strewn grass in the foreground; given the severe weather that must prevail here most times of the year, their presence and beauty was a real and pleasant surprise.