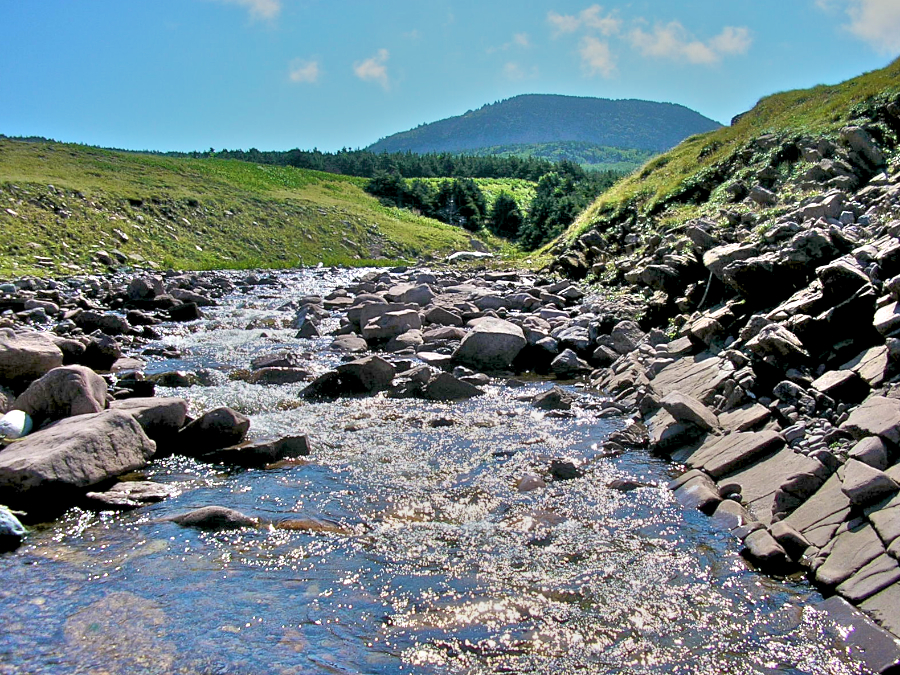 About twenty minutes after leaving the automated light, I arrived at the gorge French Brook carves on its way to the Gulf. If one follows the brook back some way from the coast, the curving gully it carves widens out enough that one could camp there and thereby escape much of the relentless wind that blows in off the Gulf.
In spite of all of the rocks, this is a pretty spot, with the water sparkling in the sun as it tumbled over and around the boulders. The brook's mouth, not too far from here, is surprisingly narrow, perhaps a quarter of the width seen here from the boulders I used to traverse the brook. It generally is quite shallow and would pose no problems at most points for woods boots, though, by moving from one boulder to the next, I got across with dry feet shod only in oxfords.
I can imagine that this brook is a considerably more formidable obstacle in the spring, as it must become engorged by the run-off from the snows and the spring rains; I suspect that its power at such times is responsible for moving a number of the rocks and stones that one sees here littering its course.
There are a number of other streams which reach the Gulf along the Coastal Trail, all of them smaller than French Brook; none proved to be a problem to traverse at this time of year, though again, I suspect that in the spring it might be a rather different story.