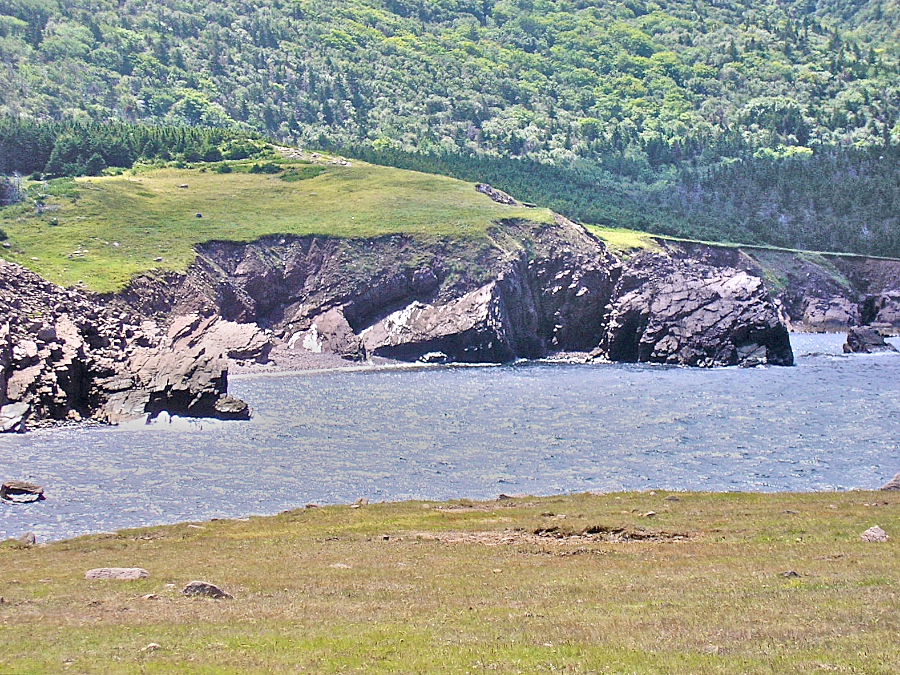 This view looks across from the northern shore of Lowland Cove towards the northern end of the cove and shows the grassy plain and the cliffs above the water. At this point, the plain is relatively narrow, with the trees coming closer to the water than at Cape St Lawrence. The head of Lowland Cove stretches for some distance and the plain can be seen continuing along the shore to the right of the photo. Looking back towards Tittle Point, on the other hand, one sees that the plains are as wide (or wider) east of Lowland Cove as they are at Cape St Lawrence. I do not know what accounts for the narrowing here.
If one compares the height of a tree to that of these cliffs, allowing for the relative distances to the camera, it becomes obvious that there is a substantial distance from the top to the bottom! My recollection is that these cliffs were higher than those at Cape St Lawrence.
In getting from the point where I was standing to the plain across, it was necessary to traverse some small rills which drain the area behind Tittle Point; they are not Lowland Brook, which enters the cove well to the right of these cliffs. This was not very difficult, as most were small enough one could jump across them, though there were some mucky areas that it was necessary to avoid if one wanted to keep one's feet dry.