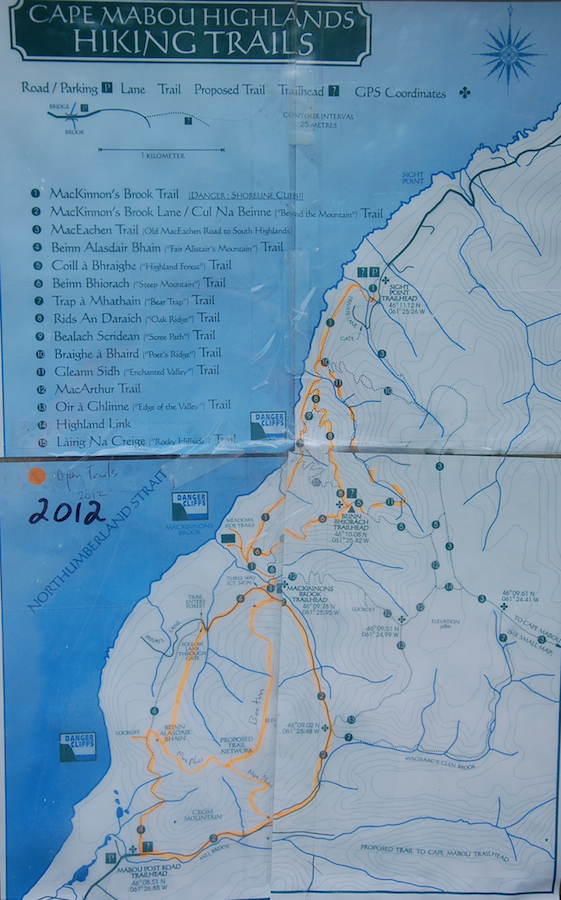 More Cape Mabou Trails Officially Reöpened
The Cape Mabou Trail Club trails were officially closed in 2009 and 2010 due to damage caused to the Cape Mabou forests by the spruce bark beetle, which was also widespread elsewhere in Cape Breton. Though many people continued to hike portions of the closed trails, the normal trail maintenance of previous years was suspended. In 2011, four trails were officially reöpened: the Fair Alistair Trail (that part of the trail which descends from the look-off to MacKinnons Brook was mostly relocated along a newly created trail that starts a short distance down the MacPhee Trail—see below), the MacPhee Trail, the Beaton Trail, and the Beyond the Mountain Trail (MacKinnons Brook Lane). In 2012, three more trails have been added to this list: the MacKinnons Brook Trail, the Oak Ridge Trail, and the Steep Mountain (Beinn Bhiorach) Trail. A fourth, the Enchanted Valley Trail, is shown as a broken line on the trail map, which I take as meaning that it is hikeable with caveats. The rest of the trails remain officially closed.
The entire eastern part of the trail system remains closed, pending a provincial government decision on the status of one of the parcels of crown land being considered for protection which that part of the system traverses. A friend and I hiked the MacEachen Trail from the Community Pastures to the MacArthur Trail Look-Off. A number of trees are down across the MacEachen Trail, but all can be bushwhacked around fairly readily; grasses and ferns are high, making seeing one's footing tricky and requiring the use of the orange markers to confirm one is on the right trail; nonetheless, the trail remains usable, though in nothing like its pristine shape prior to 2010. The MacArthur Trail is highly overgrown and difficult to follow (we lost it altogether at the look-off); growth in brush and trees obscures the lower half of the views from the look-off. Neither of these trails is lost, but each will certainly require substantial work to get them back to an acceptable state.
The Cape Mabou Trail Club is actively maintaining the trails that are officially open, but their resources are limited. If you can contribute funds to keep these trails hikeable and clear, please send them to the address listed here; even small amounts help. If you can volunteer your time to working on the trails, please contact Nadine Hunt for instructions on where your efforts would be most useful.