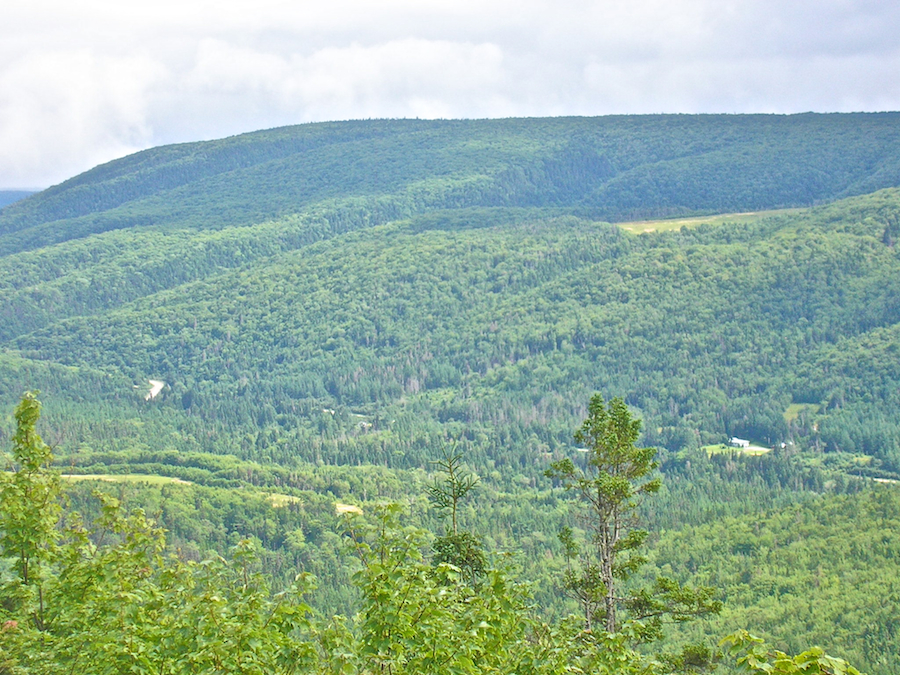 Skye Mountain is massive, running for several kilometers/miles along the TransCanadian Highway out to Blues Mills to the southwest of Whycocomagh and a roughly equal distance along the Whycocomagh Road to Kewstoke to the west of Whycocomagh, occupying a funnel-shaped quadrilateral with its narrow edge at Whycocomagh Bay. Like many others of Cape Breton's "mountains", Skye Mountain is really the edge of a plateau, in this case of the plateau known as the Big Ridge beyond Blues Mills. From the look-off, it dominates the views to the southeast and south.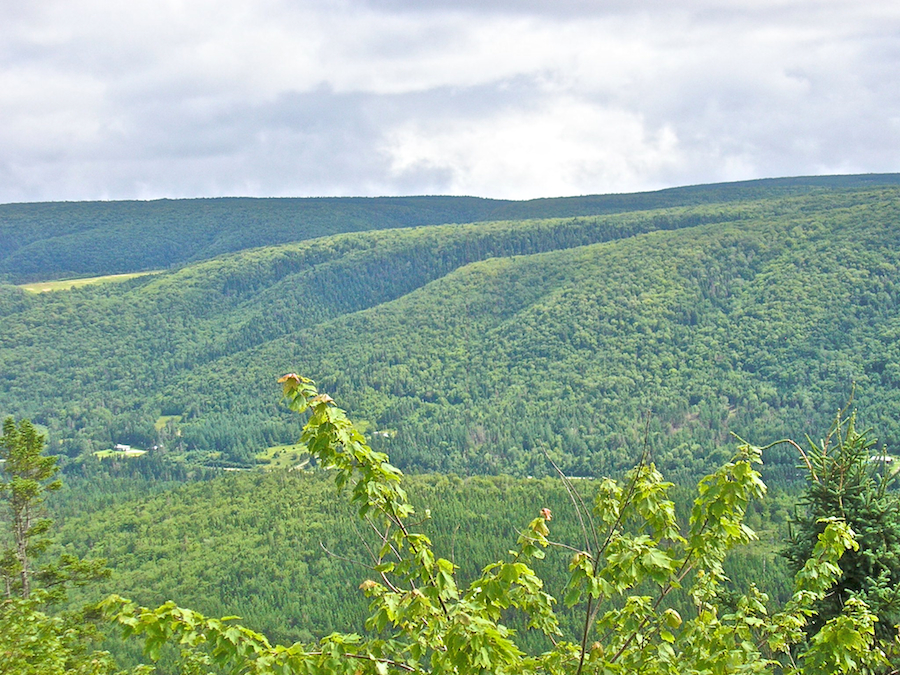 This view shows some very pronounced fissures in the flanks of Skye Mountain carved by brooks which drain it; they all flow into the Indian River. There was once a community, named Skye Mountain, along a brook in the upper reaches of the mountain.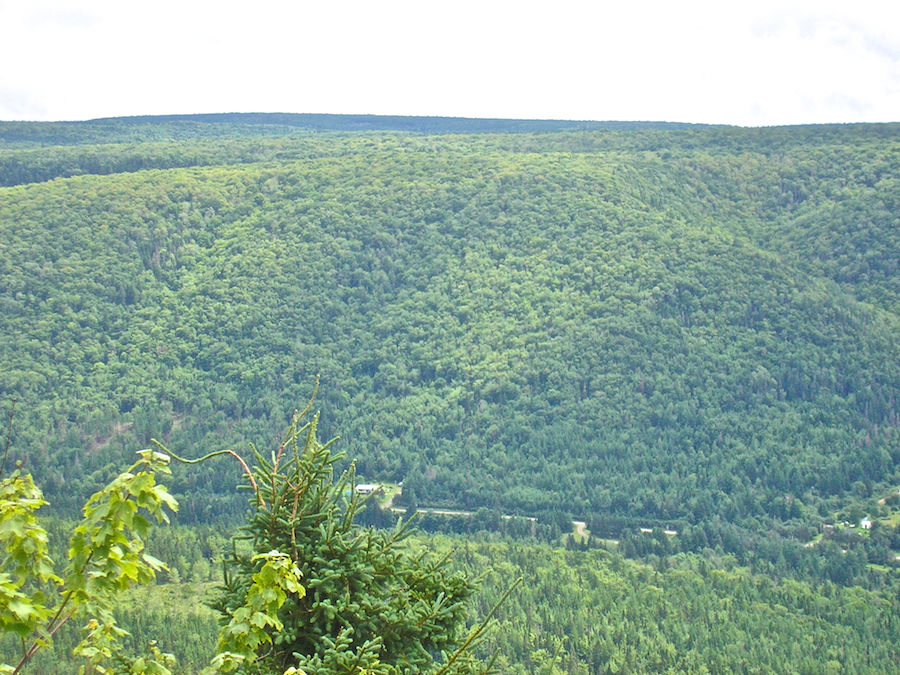 This view continues to look at the huge bulk of Skye Mountain. The road at the bottom is the Whycocomagh Road, which runs from Whycocomagh, through Soapstone Mine, Kewstoke, and Dunakin to Glencoe Mills and from there to the Mull River Road on the south side of Southwest Ridge, also known as Mabou Ridge.¹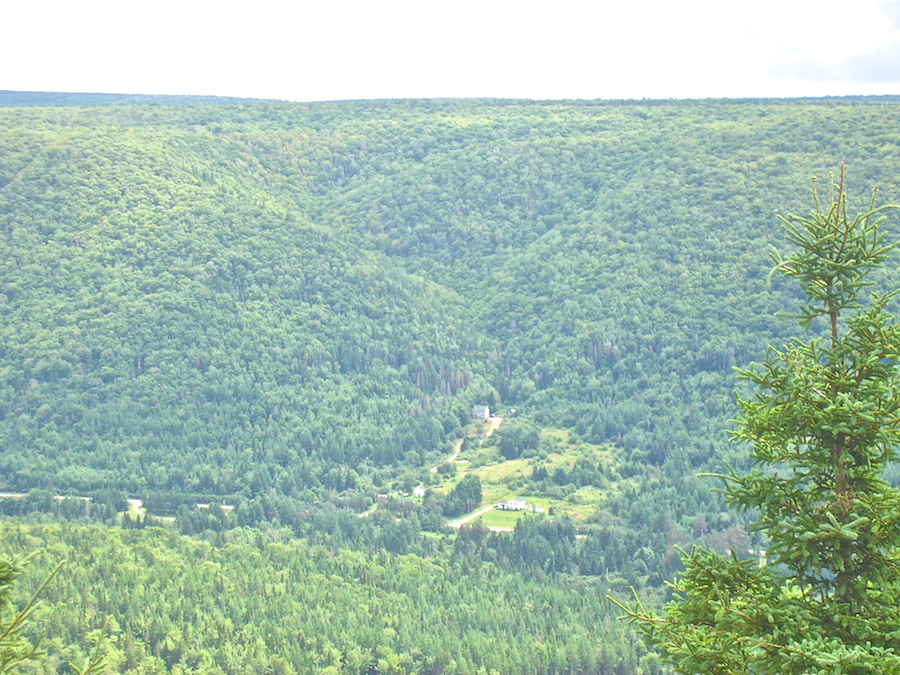 This view shows one of the glens carved into Skye Mountain by a brook the topographical map does not name and the dwellings in that glen.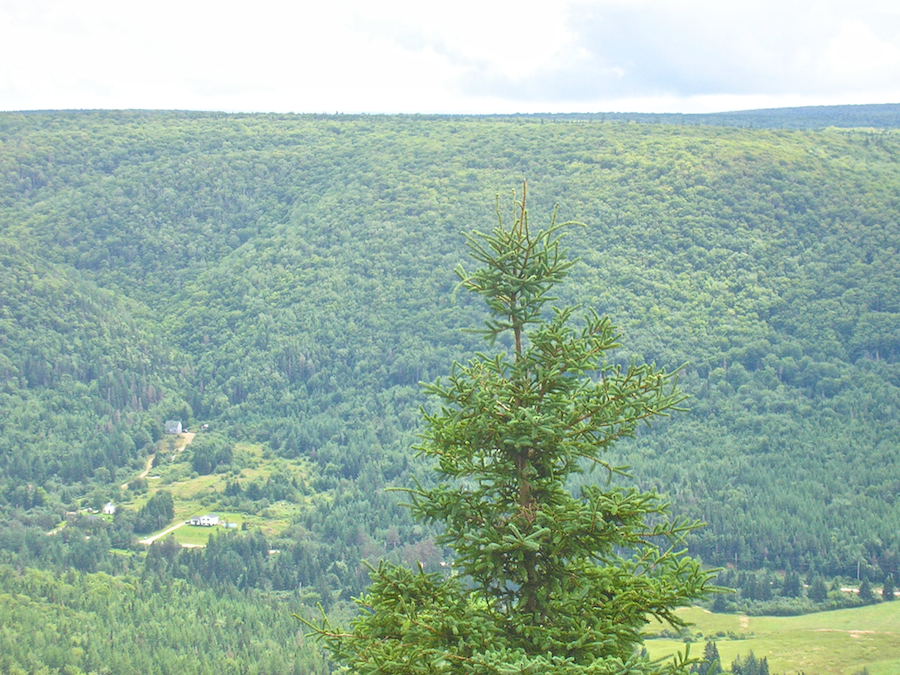 Skye Mountain fills the eyes here too, as the camera continues to move to the right across this amazing panorama. The junction of the Roseburn Road with the Whycocomagh Road at Soapstone Mine is near the centre of this photo, obscured by the tree in the middle.
---
¹ The eastern part of the Whycocomagh Road follows a historic road which once connected Whycocomagh to Port Hood via Alpine Ridge, Southwest Mabou, and Rocky Ridge. As best as I can determine, the Whycocomagh Road is still officially known as the Whycocomagh to Port Hood Road, and so appears in Google Maps. The Nova Scotia Backroad Mapbook, on the other hand, calls it the Whycocomagh Road, which agrees with the local usage and which I follow here. Both Google Maps and the Nova Scotia Backroad Mapbook show the road as continuing from the Mull River Road along what is locally known as the Alpine Ridge Road, ending at the Cèilidh Trail (Highway 19) in Southwest Mabou. I again follow local usage and consider the Alpine Ridge Road a separate road, which means that the Whycocomagh Road ends at the Mull River Road, where the Alpine Ridge Road veers off towards Southwest Mabou and the Southwest Ridge Road, also known as the Mabou Ridge Road, continues northwards across Southwest Ridge and down into Mabou; if one did not know otherwise, one would think the Whycocomagh Road continued along the path of the Southwest Ridge Road, as both are indistinguishable primary (gravel) roads, whereas the Mull River and Alpine Ridge Roads are distinctly less important secondary (gravel) roads.↩