Celtic Classic 2006
at Bethlehem, Pennsylvania
Photos
The Matt and Shannon Heaton Band


The Tannahill Weavers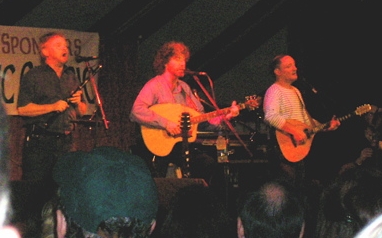 Pipe Bands
The first two photos are of the Schenectady Pipe Band; the next is, I think, of the Saffron United Pipe Band; the fourth is, I think, of the Lehigh Valley Pipe Band; I have no idea which band the fifth is of.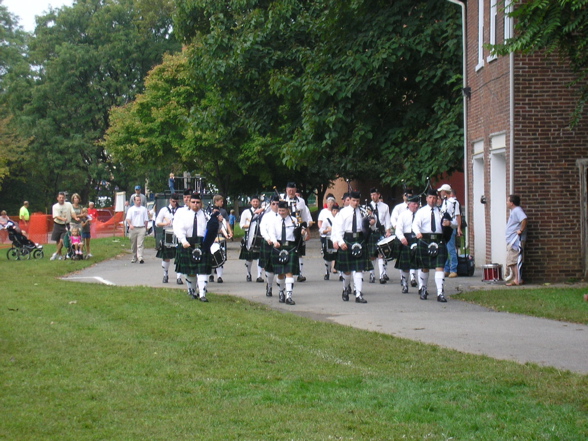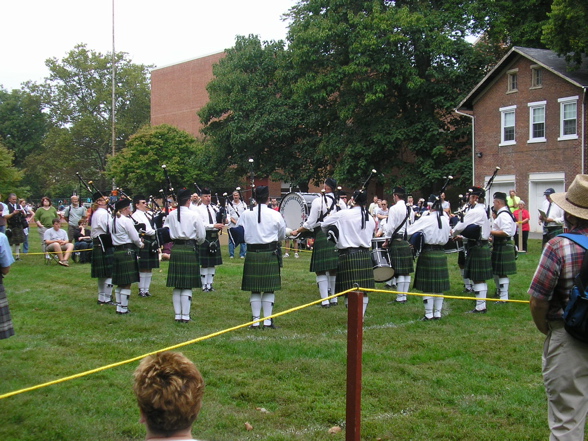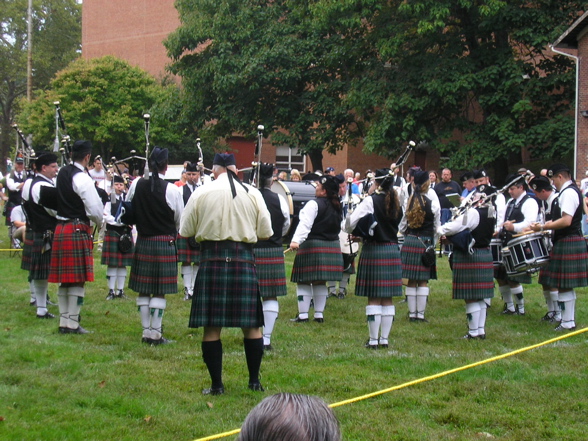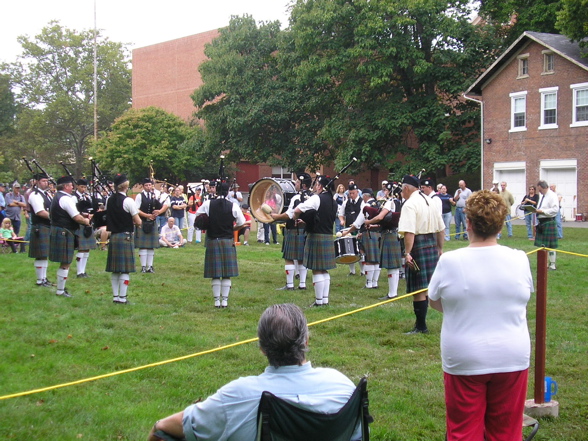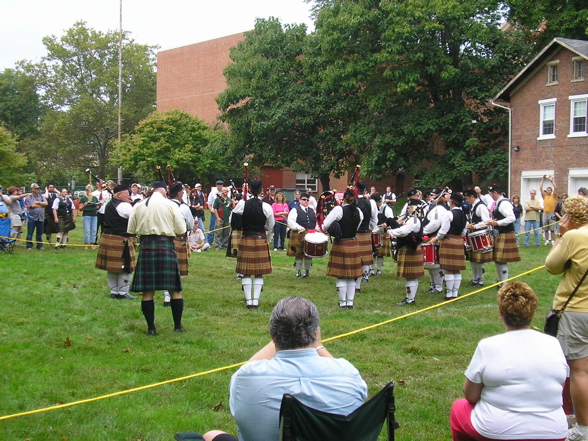 King Chiaullee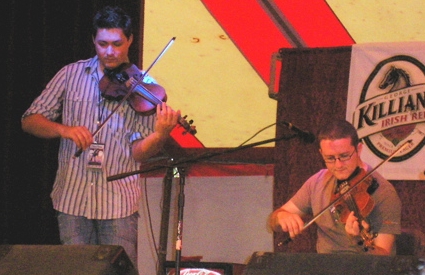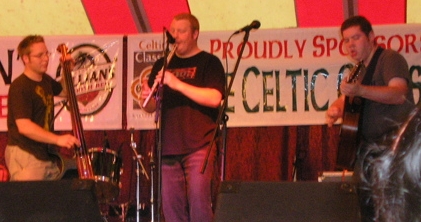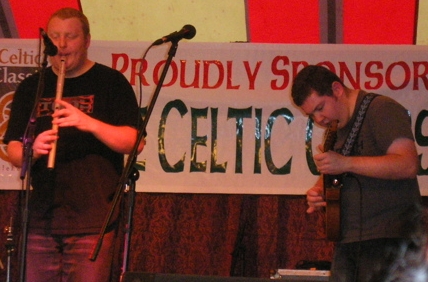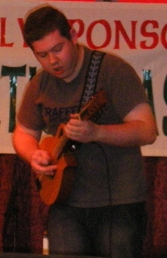 Knot Fibb'n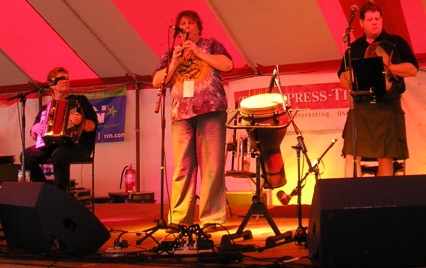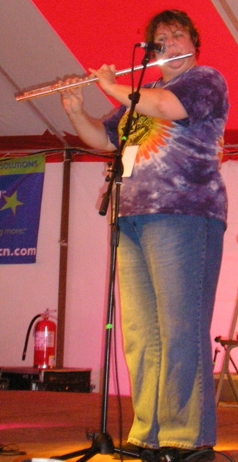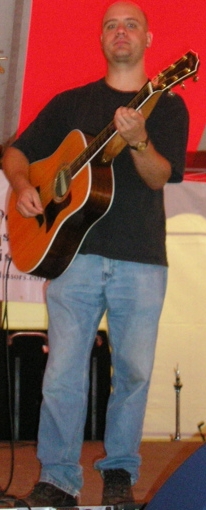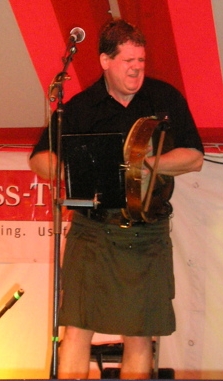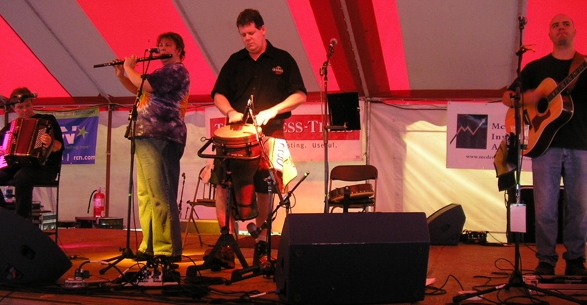 Beòlach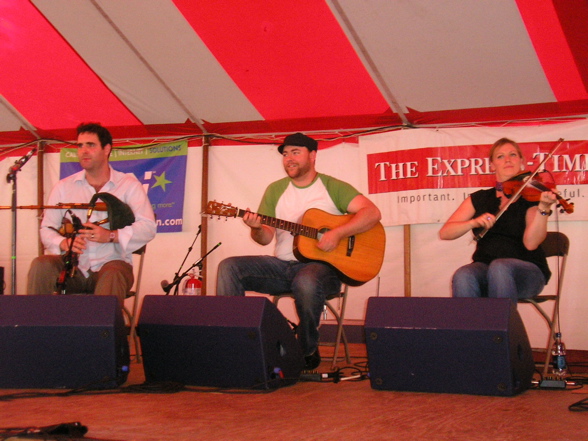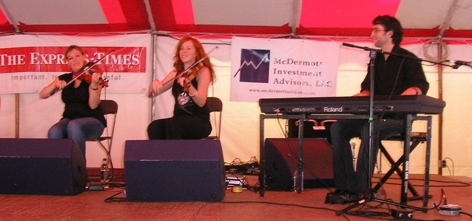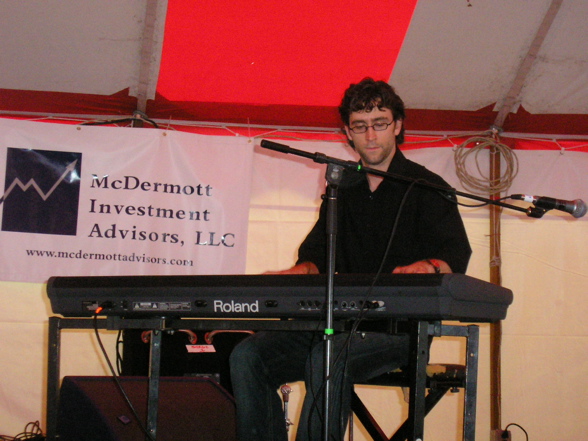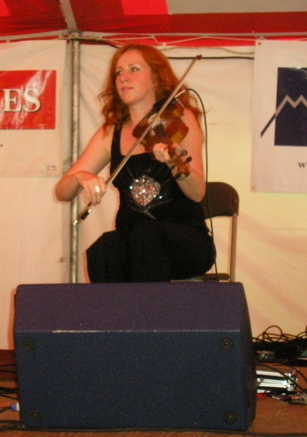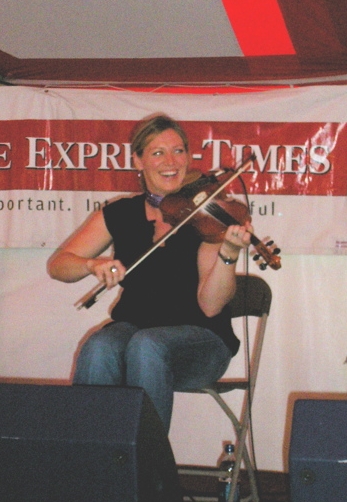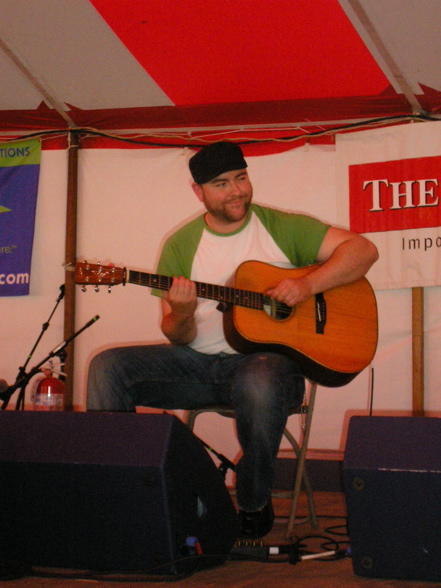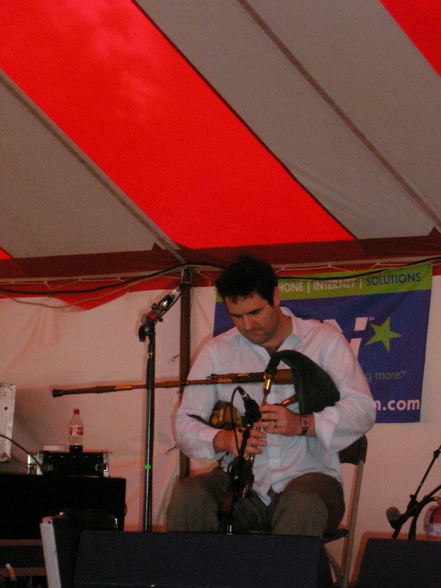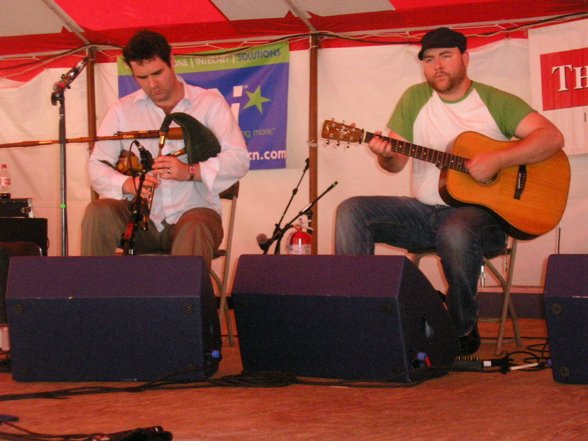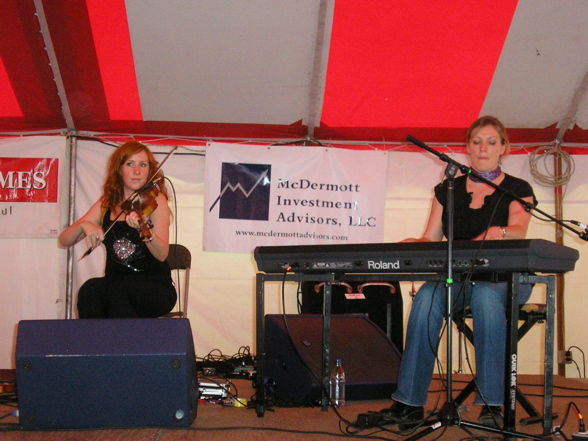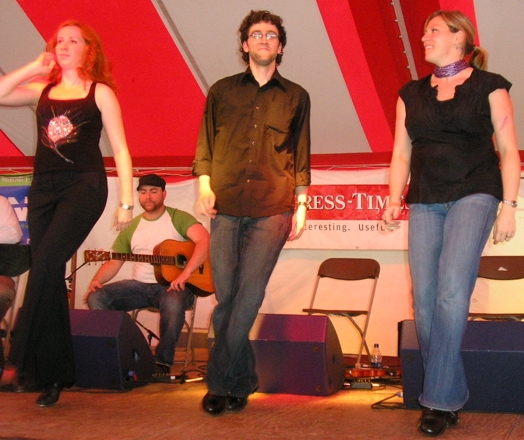 Review for the Cape Breton Music List
(Posted 2006 September 25[1])
The Celtic Classic festival at Bethlehem, Pennsylvania, celebrated its 19th year this past weekend from Friday through Sunday. I had been unaware of it for most of the seventeen years I've been living in New Jersey and this was my first year there. I did not attend the entire festival, but was there Saturday afternoon and evening and Sunday morning and afternoon.
This is a large festival, spanning several blocks of downtown Bethlehem along the Monocacy Creek and the Lehigh River, mostly on park lands and partly on the grounds of the Moravian College. It attracted some first-rate talent, including Beòlach, Lùnasa, and the Tannahill Weavers. There were six concert venues going concurrently, most of them in tents.
Access to the festival is through a shuttle bus which takes one from the parking areas adjacent to the expressways on the edge of town to the downtown area perhaps a mile and a half away. The cost was three dollars for the week-end, eminently reasonable, the more so since admission to the festival itself is free. The shuttle buses are supposed to run at fifteen-minute intervals, but on Saturday afternoon, it took me well over an hour's wait before I was finally able to board a bus (only two seemed to be running and they arrived together)—a lot of people arrived at the same time I did and were as impatient as I to get to the festival. I do not know what the cause of the problem was, but it was not repeated—the service returning on Saturday evening and the Sunday trips to and from the festival were on schedule.
The long delay on Saturday and my unfamiliarity with the grounds made me late getting into the first of the three(!) Beòlach concerts I attended (they did four on the three days), so I was seated very far to the side with a pretty-much obstructed view of the band, but absolutely no problems hearing them. The band had all of its original personnel, Ryan J. MacNeil, Patrick Gillis, Wendy MacIsaac, Mairi Rankin, and Mac Morin. The "Ice House", a building with a very high ceiling beside the Lehigh River, was packed and the crowd was enthusiastic. And, as one would expect of Beòlach, they did not disappoint with their lively and energetic music and amazing step dancing—little of which I could actually see, but I had no trouble hearing their feet! As occurred at each of their concerts I attended, they got a standing ovation at its end.
I next attended most of the Matt and Shannon Heaton Band concert in the Moor Stage, in a large tent. This husband/wife team is from the Boston area and played with two other musicians on stage, whose names I did not get. Their music in the traditional Irish style included both instrumental and vocal numbers, some original, and used an instrumentation consisting of banjo, flute, percussion (snare drums and bodhràn), and guitar. I quite enjoyed them and would like to hear them play another time.
They were followed by Beòlach again. Less than two hours after their previous concert, they sounded as fresh and were as spirited as they had been earlier in the day and this time I was seated where I could easily see them. They were announced as "this band that's generating a lot of buzz at this festival" and the size of the crowd was a testimonial to that. There were definitely a number of repeat attendees in the large audience and all were soon in thrall to the wonderful music pouring forth from all the members of the band. Patrick's marvellous guitar work on the slow Mrs. Crawford's (track 7 of their Variations CD) was stunning and the duo that ensues with Ryan on the pipes was memorable. But it wasn't only Patrick and Ryan who were on fire; the whole group was. And the step dancing was ferocious! Another very well-deserved standing ovation greeted the end of this concert!
Then it was back to the Grand Pavilion, another large tent, for the Tannahill Weavers. I didn't get as close as I had hoped, but still had a good seat, though a bit too far left to see the fiddler well. I've been listening to the Tannahill Weavers since the 80's (the earliest CD of theirs I have dates from 1985), but I had never heard them live. Of the original four on the 1985 CD, only two are still with the band, Roy Gullane and Phil Smillie; the newer members are Colin Melville, John Martin, and Leslie Wilson (the web site says he was a member in the early 80's, then left the band, and has since rejoined). Nevertheless, the sound struck me as very much what I remembered—I haven't recently pulled out those CD's because I've been listening to Cape Breton music almost exclusively these past few years. The vocals, which are not my favourite kind of music, are nevertheless stunning and the harmonious voices I heard at the concert were absolutely amazing to me, much better than I remember from the CDs. The instrumental pieces, Scottish traditional music at its best, were lively and energetic toe-tapping selections, enhanced by Colin Melville's gorgeous piping. They announced a new CD at the show, titled The Tannahill Weavers Live and In Session, which is not yet in the stores, but was available there. I gave it a listen on the way back and really enjoyed it. I was sorry they played only the one concert at the Festival, but was delighted to have been able to hear it. That wrapped up Saturday night.
Sunday morning was humid, but not too bad as the temperatures were only in the upper teens °C (sixties °F); the sky was rather threatening, but, armed with an umbrella, I set off anyway. No concerts were scheduled before noon, so I watched a hay bale toss on the athletic field and then followed the Schenectady Pipe Band as it marched onto the Piping Competition field in the Pipers' Glen. I watched them be judged and four other pipe bands as well; the music was great.
Then it was off to the Grand Pavilion for King Chiaullee, a name which has nothing to do with Bonny Prince Charlie, as I had mistakenly assumed, but instead means "music heads" in Manx, for these five lads, whose names I've not been able to determine, all hail from the Isle of Man. Two fiddlers (one alternating with bouzouki), a bodhràn player (and bassist), a tin whistler, and a guitar (and mandolin) player comprise this band's personnel. The music is mostly traditional and the playing is top-notch. I was blown away by the guitar player, who was outstanding. I'll definitely be on the look-out for this group in the future.
After a tour of the many food stands (the program lists only thirty-seven, but I think it was more like seventy), during which I was unable to decide which of the exotic treats I would try, a brief shower finally made up my mind for me: I selected a chicken jumbalaya with sausage dish (not exactly Celtic, but it was hardly the only non-Celtic dish on offer), bedaubed it with some hot sauce, and hastened inside a tent to enjoy it out of the rain—it was superb. There were at least as many craft shops and boutiques in which to browse (the program lists fifty-nine) as there were food stands. In addition, there was a "Bairn Yard" featuring entertainment aimed at children and a Celtic Quest, an educational tour of the "seven Celtic nations" for "children (or the young at heart)", other educational and cultural activities, clan booths, jam sessions, piping and fiddle competitions, and athletic events; in other words, a large family Celtic festival with something for everyone. The mood was friendly and the volunteers and staff most helpful.
Suitably refreshed, it was off to the Tavern Stage, another large tent, for Knot Fibb'n. Their concert was scheduled for 14h, but they got started about 13h30, so I was glad I was there early. This ensemble hails from Cleveland and counts as its members Renilda Marshall on accordion; Beth Hicks on flutes, whistles, and recorder; Tim O'Neill on percussion (bodhràn and tom-tom); and Karl Wohlwend on guitar. In addition, there were two step dancers, one of them Tim's mother. I had heard this group on Jim Blum's Folk Music show on WKSU and liked it well enough to get their first CD, Knot Loitering from 2000, to which I hadn't listened in a long time either. There are a lot of vocals, not my strong suit, but some fine instrumental pieces as well; I enjoyed the whole concert very much, except for the last number, which was, for me at least, "over the top". Beth is a beautiful flautist and tin whistler whose music I particularly enjoyed and Karl's guitar playing was also very fine. I love accordions, but Renilda's music was so marvellously done that it blended so seamlessly into the whole that it was very difficult to pick it out on its own. Tim's voice is superb and the harmonies he achieved with the others in the group were excellent. As long as they stick to good Celtic music, I have no qualms about recommending this group.
At 15h, it was both very humid and very warm when Beòlach took the Tavern Stage for their final concert of the festival. They managed to get the stage lights extinguished to cut the heat down somewhat and launched into another fine concert with all their customary vigor. While some of the material was the same as in the previous concerts, each one had the feel of a different concert and there were different pieces played at each. The quality was the same, top notch, it goes without saying. The group gives good opportunities to each of its players to show off their individual talents; much of its interest for me lies in the ever-changing combinations of instruments and sonorities that remain fresh no matter how many times I hear them. About midway through the concert, someone noticed that the stage lights had been turned off and turned them back on, to the band's obvious discomfort. After one of the local sound technicians tried to turn some of them off again and lost the keyboards in the process, they came back on and stayed on for the rest of the concert. While obviously uncomfortable, Beòlach played and danced as energetically as they had at their other two concerts, heat or no heat, and were as enthusiastically cheered by another very large crowd. The good natured bantering and repartee on stage gave them an occasional break to wipe off the sweat; during one of them, Wendy announced that her one-year-old son, Angus, had taken his first steps in Bethlehem. Towards the end, they played Freddy's Set (track 10 on their first album, Beòlach), but in a rather different form than there; Patrick Gillis on guitar and Mac Morin on keyboards do a super-fast duet before the whole band joins in; stunning! Alas, the concert was too soon over for me, though I'm sure the band members were more than glad to get out from under the hot lights.
I had hoped to get to see Craobh Rua, an Ulster-based traditional Irish music group, but I arrived after their first concert on Saturday and missed the second one, which ran concurrently with the Tannahill Weavers. Their Sunday concert overlapped the Beòlach concert, though it ran a few minutes later. As a result, I only heard a few strains from their tent before they finished playing, but the little I heard made me wish I had had the opportunity to hear more.
That did it for me; I was plenty warm and tired and very satisfied at having attended this generally very well-run festival, so I caught the shuttle back to the car and drove home. I will be looking forward to seeing next year's line-up, now that I'm aware this festival exists; it's scheduled for 28-30 September 2007.
I'd like to give a special thank-you to Pat MacDougall and to this list for letting me know that Beòlach was playing so close to home; that prompted me to look it up and attend.