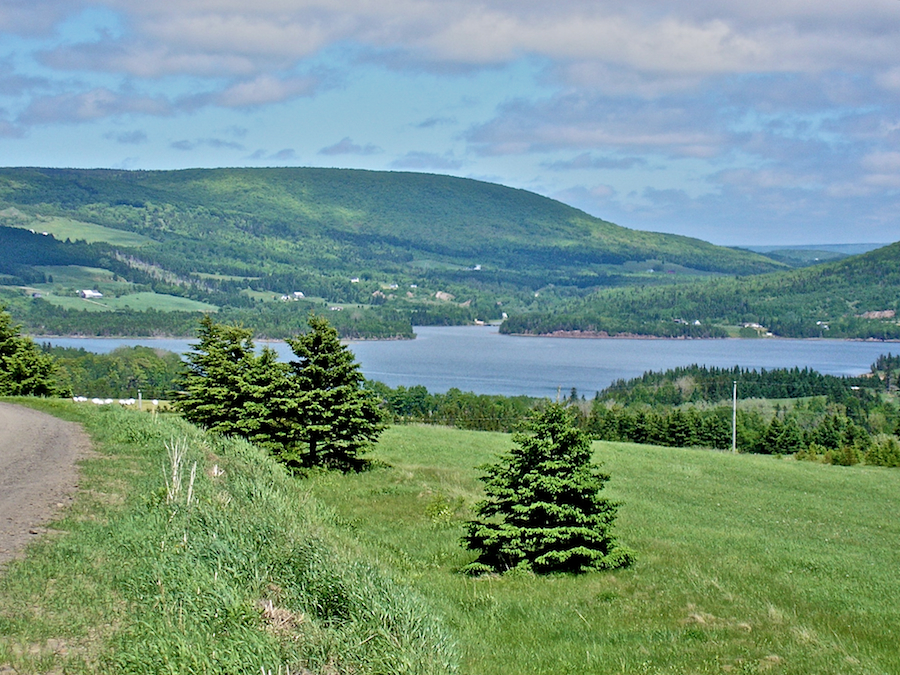 Like the first and third photos in this essay, this one is taken from outside of Cape Mabou, in this case from the south side of the Mabou River in Glengarry. There is an amazing panorama from Hunters Road, with magnificent views around much of the compass. This view looks across the Mabou River to the southeastern corner of Cape Mabou, where one finds Northeast Mabou (Northeast Cove, the mouth of the Northeast Mabou River, is in the centre of the photo) below the highlands beyond. Mabou Mountain rises at the far right of the photo.
The mountain that occupies most of this photo is beautiful all year long, but at the peak of the colours in the autumn, its slopes are one of the "must-see" sites in Cape Breton, as the colours are especially glorious there.
Cape Mabou's coasts and the trails and roads through its beautiful highlands make it one of the most compelling places anywhere on Cape Breton Island. For me, the title of Robert Burns' song, memorably rendered by the Barra MacNeils on their Timespan CD, says it all: "my heart's in the highlands"; of course, Burns wrote of the Scottish Highlands, but it's the Cape Mabou Highlands of which I think whenever I hear them sing this song. Looking at the photos and reliving the many hikes I have taken here over the years helps me make it through the winter until I can once again be back enjoying glorious Cape Mabou.
I hope you have enjoyed the photos in this essay and that they will encourage you to make your way to Cape Mabou where you'll be sure to find me as often as I can manage whenever I'm on Cape Breton Island.