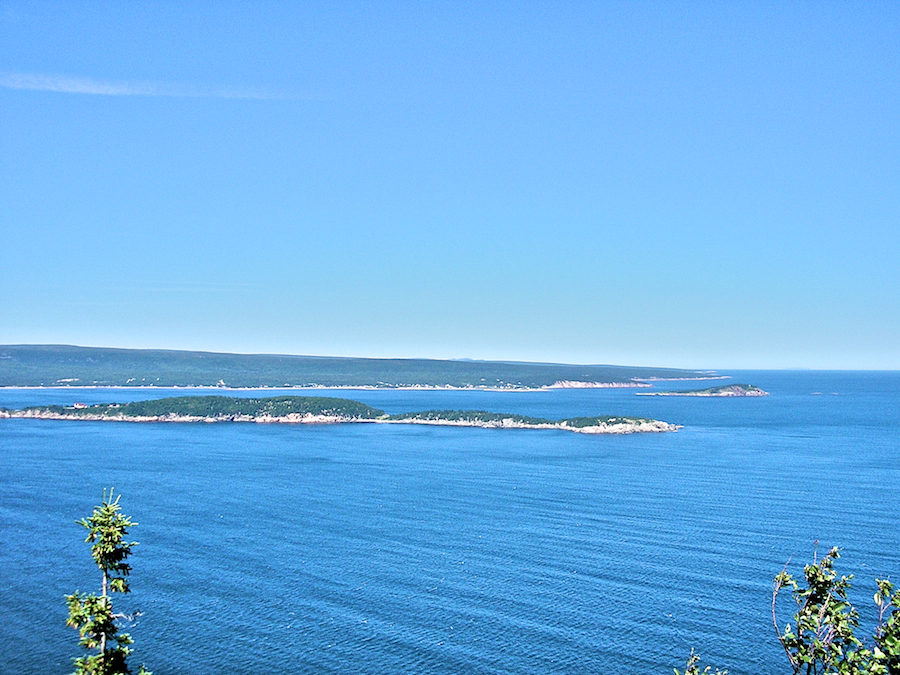 In this view, Middle Head separates South Bay Ingonish in the foreground from North Bay Ingonish beyond Middle Head. The community of Ingonish lies on the far shore. The celebrated Keltic Lodge resort is the white building one sees at the left of the photo on Middle Head; the world-famous Highland Links golf course is at the point (not visible in this photo) where Middle Head starts to jut out from Cape Breton Island. Ingonish Island is the island which sticks out furthest to the right in this view and Red Head is the headland behind it on the shore. The Cabot Trail hugs the shore of Cape Breton Island in this area, affording beautiful views of the Atlantic Coast and of the Cape Breton Highlands. The mountains which one sees barely sticking out above the forested land in the centre of the photo are part of the Cape North Massif, a good ways away on the northern end of Cape Breton and seen earlier in this essay.
The Cape Smokey Trail, which begins in the Cape Smokey Provincial Park, follows along the coast from the park to a look-off on Stanley Point high above South Bay Ingonish, affording stunning views of St Anns Bay, the coast of Cape Breton Island as far east as it runs, and, from the end of the trail, unsurpassed views of the entire Ingonish area. Middle Head itself is home to a public walking trail that leads to the end of Middle Head, with superb views of Cape Smokey and the coast to the north and south, though its much lower elevation means that one cannot see as far or as well as from Cape Smokey.
Basque fishermen were here as early as 1504 and Portuguese fishermen first wintered in the Ingonish area sometime around 1521, though at some point after 1570 their settlement disappeared for reasons unknown. The French and later the various peoples of the British Isles succeeded them, keeping the area more or less continuously settled since then. Until the twentieth century, geography effectively cut its people off from the rest of Cape Breton Island; before that time, water travel, whether by boat on open waters or by sled on the winter ice, was the only practical transportation. As the eastern gateway to the Cape Breton Highlands National Park and situated on the Cabot Trail, Ingonish's tremendous natural beauty and generally pristine condition render it today a magnet for visitors to Cape Breton Island. Its marvellous landscapes and seascapes stick with the visitor forever after having seen them.