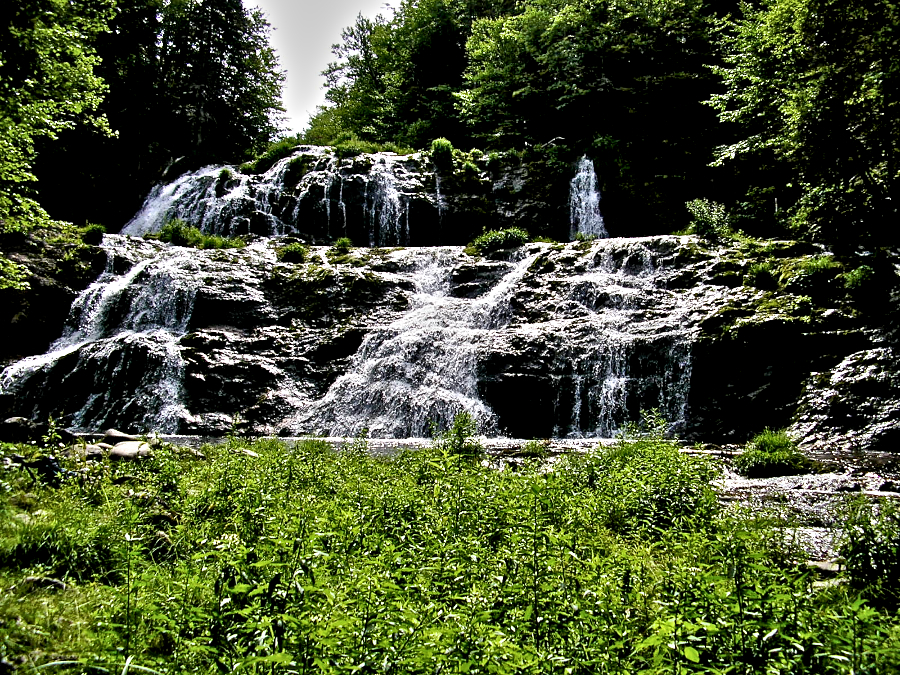 This lovely waterfall is known as Egypt Falls and is found in Pipers Glen, east of Scotsville and northeast of Lake Ainslie, in the southern reaches of the Margarees; for some strange reason, it does not appear on the topographical map of the area. In Explore More!, Pat O'Neil says (p. 180) that it is on Matheson Glen Brook, but from the topographical map, it appears to me that it would be on MacFarlanes Brook, which Matheson Glen Brook joins east of Pipers Glen. MacFarlanes Brook empties into the Southwest Margaree at Upper Margaree, north of Scotsville.
To find the falls, take provincial Highway 395 to the north from Scotsville; you will ascend a steep hill and come down the other side and shortly cross the bridge across MacFarlanes Brook; just beyond, you will come to a sign for Egypt Road and Pipers Glen (at GPS 46°12.699'N 61°08.521'W). From the T junction in Scotsville, the distance to Egypt Road is 3.1 km (1.9 mi). Turn right onto Egypt Road and continue for 2¼ km (1.4 mi) until you see a road to the right with a small white bridge across from a house (at GPS 46°12.169'N 61°07.071'W); turn right, continue about 1 km (0.6 mi), and park where you find a small sign on your right for Egypt Falls—it's at GPS 46°11.762'N 61°07.428'W in the elbow of a sharp left bend in the road and is also marked by flagging tape. The unmistakable trail, about a kilometer (0.6 mi) long, is rugged near the falls and requires the use of the guide ropes found beside the trail as you descend and ascend. The trail is not suitable for small children, but those old enough to enjoy a jungle gym will have a great time.
Once you are at the bottom of the falls, however, you will certainly think the hike down was worth it: the cascade is one of the most impressive in Cape Breton and the site is one of great natural beauty. Locals know this place well and it's one of the first places they ask you if you've seen when you mention hiking. Visitors, however, are likely not to have heard of it at all, since it is not on any of the tourist "trails" the province promotes in its annual Doers and Dreamers guide, though the trail is described here. You can watch a short movie of the falls, taken 2009 May 11, here. Judging by this movie, the waterflow is significantly reduced in August over what it is in May, though it is still very impressive.
One word of caution: I read some time ago that Egypt Road had suffered wash-outs—this was well before the torrential rains of last August—and I have not recently driven this road, so I do not know its current shape. If you should find it still undrivable, unlikely but possible, just turn it into a longer hike. When I drove the road in 2005, it was in very good condition; indeed, I continued well past the trail on the road and drove a good ways into Matheson Glen, turning around at the point it became a logging road. While in the Glen, I saw two goats and came upon several horses in a meadow along the road—they were very curious to see a visitor (or perhaps thought that I was bringing them food and treats). It is remote country, but quite beautiful, even though with limited views.
2009 July 7 Update: I drove to the trail head during my June, 2009, trip, though I did not have enough time that day to hike down to the falls. The wash-outs on Egypt Road have indeed been repaired and the road is again in good condition (at least to the white bridge—I did not travel beyond it on Egypt Road). The road from the small white bridge to the trail head, however, while drivable with care in a car, is rough, full of rocks, and fresh-laid dirt and it didn't look any better beyond the trail head; taking a car beyond the trail head into Matheson Glen therefore doesn't seem like a good idea at the present time. Since the state of any gravel road may change overnight, evaluate the road conditions for your vehicle when you get there.