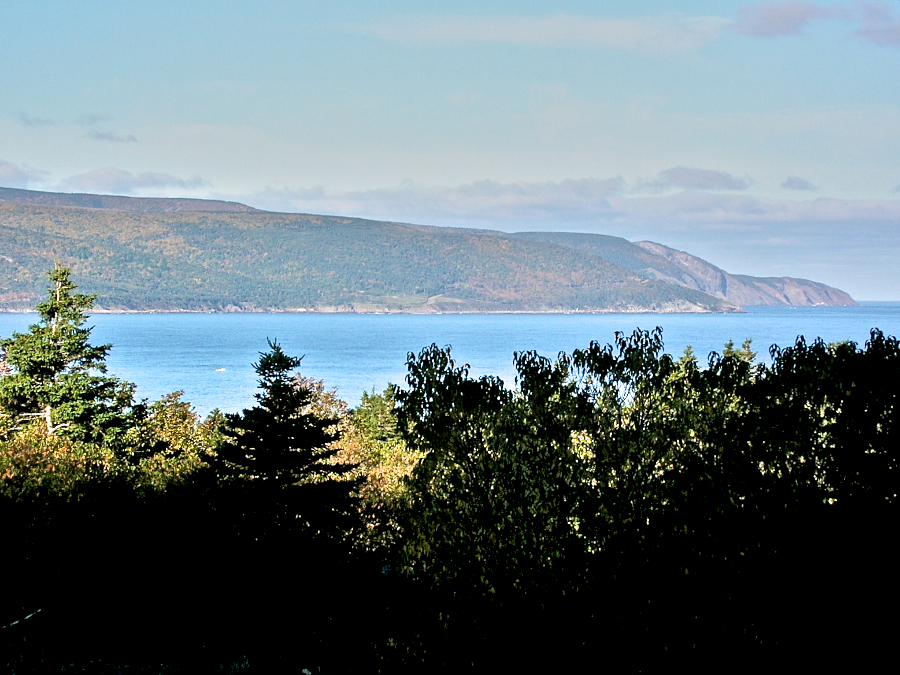 The scenery at the northern end of Cape Breton Island is everywhere spectacular. In this view to the north of west, taken from the end of the Money Point Road outside Bay St Lawrence (the community), Bay St Lawrence (the water) lies in the foreground, Cape St Lawrence is at the far right of the photo, and the Gulf of St Lawrence extends beyond Cape St Lawrence. The communities of Bay St Lawrence, St Margaret Village, and Capstick are at the far left of the photo and outside its scope.
The celebrated gravel road to Meat Cove can just be seen as it follows the coast line from Capstick to the northwest—look just left of centre of the photo to the right of the low cliffs and you will see the road ascending above them. It climbs from there to about a third of the way up the long sloping hill that ends in Black Point, the nearest point visible here, about a quarter of the way in from the right edge of the photo. The community of Meat Cove lies hidden in this view behind that point. The boundary line between Victoria and Inverness Counties passes to the west (on the far side) of Black Point, leaving Meat Cove with no road access to the rest of Inverness County. Until one rounds Black Point, the views from the gravel road, like those from the Capstick Road are all of the gorgeous Cape North massif; beyond Black Point, your eyes will be drawn to the equally spectacular scenery of Meat Cove and of the coast beyond to Cape St Lawrence. Unfortunately, since it lies fifteen minutes north of the Cabot Trail, many visitors to Cape Breton never get to see one of the most beautiful places in Cape Breton—certainly the equal of anything on the Cabot Trail itself, which is full of spectacular views.
Cape St Lawrence sits just a hair further north than Cape North; both are on the Cabot Strait and lie some 110 km (70 mi) from the nearest land in Newfoundland. The trails to Cape St Lawrence and to Lowland Cove follow the flat ridge next to the sky to the right of centre in the photo (just left of the bare rock showing at the same level); it's a stiff climb up there from Meat Cove, but certainly not impossible and it leads to some gorgeous views. See my "Cape St Lawrence and Lowland Cove" photo essay for a good helping of photos from the hike I took there.