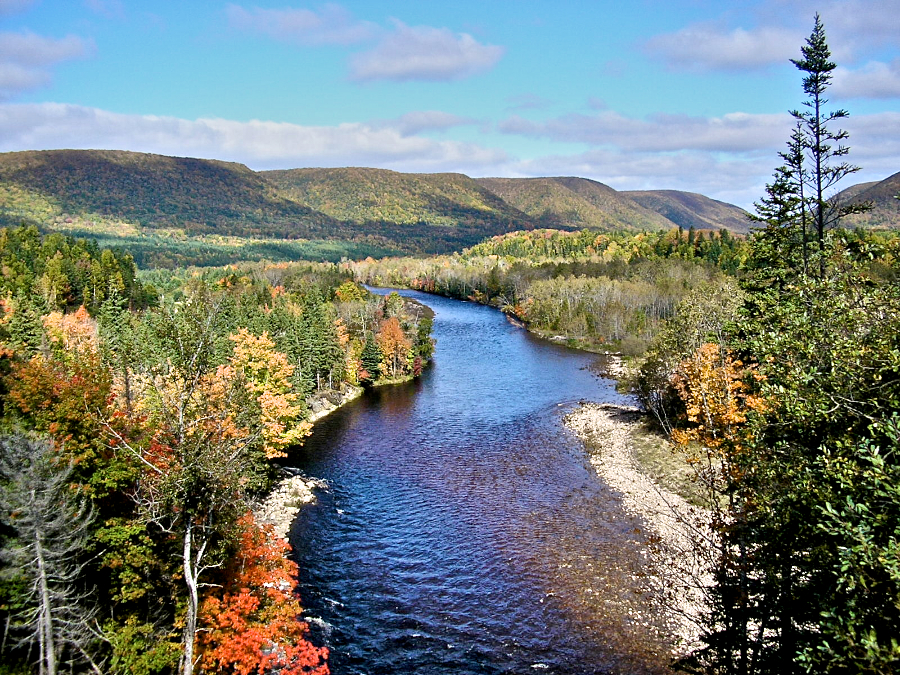 This beautiful view of the Northeast Margaree River in the Margaree Valley, taken just as the trees were beginning to assume their fall colours, is one of several scenes of somewhat different character that could be chosen as an icon to represent the Margaree area. It is found on the loop road that connects the community of Margaree Valley to Portree, passing by the Margaree Fish Hatchery, to the beautiful old bridge over the Northeast Margaree River at Portree and returning on the west side of the river before climbing to this superb vantage point at the side of the road.
The mountains at the left of the photo are the southern edge of the Cape Breton Highlands plateau; they separate the Margaree Valley from the Gulf of St Lawrence coast at Belle-Côte, Terre-Noire, and Cap Le Moine. The valley parallel to the mountains is part of the Aspy Fault that runs northeastward from the Margaree Valley to Cape North. The strike-slip fault was most likely created during the Ordovician period (between 488 and 444 million years ago) when two continental tectonic plates collided, a process that also resulted in the creation of the Appalachian Mountains.¹
The Margaree River, formed at Margaree Forks by the junction of its two main tributaries, the Southwest Margaree River and the Northeast Margaree River, offers a world-class Atlantic salmon fishing experience. The Margaree Fish Hatchery, built in 1902, was the first salmon hatchery in Nova Scotia; recently taken over by the province of Nova Scotia, it is found at 115 Hatchery Road north of the community of Margaree Valley. In previous years, it has been open to the public and offered guided tours of the facility; enquire at the Visitors Information Centre at Margaree Forks for up-to-date information this year. The Margaree Salmon Museum is also very much worth a visit; it is just off the Cabot Trail in Northeast Margaree—follow the museum signs.
There are several inns and resorts in the Margarees, where you will encounter the hospitality for which Cape Breton is renowned. Perhaps the most famous amongst fishermen and certainly the most remote is the Big Intervale Fishing Lodge in Big Intervale, at the end of East Big Intervale Road (the northern end of West Big Intervale Road, which used to connect Portree to Big Intervale, is no longer drivable). Probably better known to the travelling public is the Normaway Inn, off Egypt Road east of the community of Margaree Valley; its "Barn" is the site of great cèilidhs, usually featuring three or more fiddlers, and square dances in the summer time, but call for reservations if you want a seat!
---
¹ This summarizes the Aspy Fault Wikipedia entry—see it for additional information and links as well as for speculation that the Aspy Fault is related to Scotland's Great Glen Fault (follow the link there). Additional, somewhat terminologically heavier, geological discussion is at the Nova Scotia Museum's discussion of the Cape Breton Highlands.↩