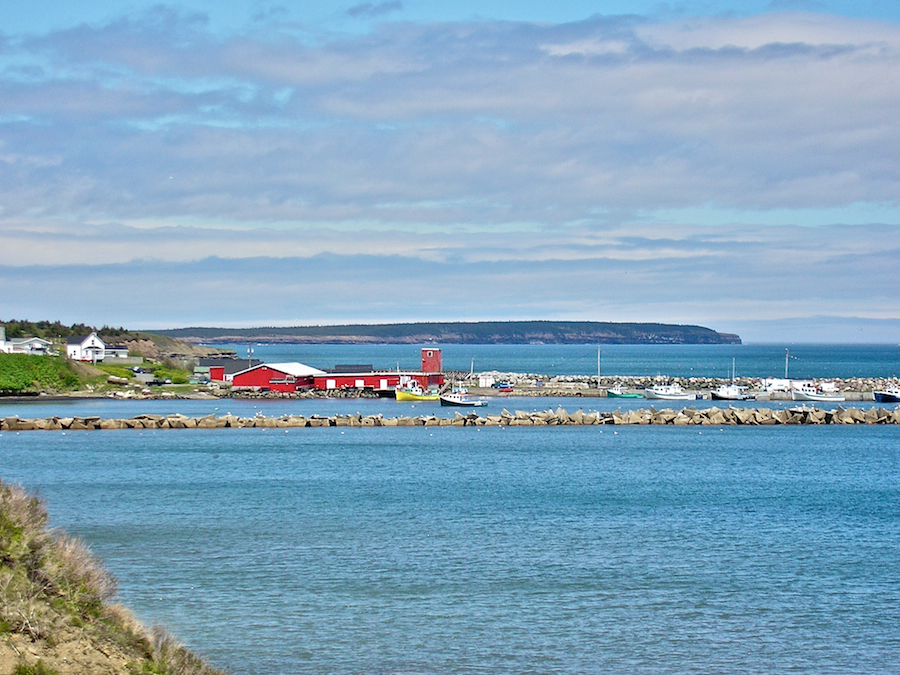 If you have ever been on these shores, this iconic view is instantly recognizable: the red building in this landscape is unique in Cape Breton. This beautiful site is that of Port Morien (population 647 in 2001) and its fishing harbour on Morien Bay, once known as Cow Bay. The red building is its fish processing plant. The land running across the rear of the photo is Northern Head, formerly known as Cape Percé (and sometimes spelt as Cape Percy); to the right of Northern Head and outside this photo's scope is the Flint Island lighthouse.
Port Morien's coal mine, North America's first commercial coal mine, is a storied one. It began producing coal in 1720 to supply the needs of the fortress at Louisbourg. In 1724, a load of coal was shipped from Port Morien to Boston, making Port Morien's mine the source of the first officially recorded export of minerals in Canada. In 1725, the French built a blockhouse to protect the valuable coal reserves. After the defeat of the French in 1758, the mine was exploited illegally, as the colonial government attempted to suppress competition with the British coal industry. In the 1850's, commercial interest in the mine revived and mining operations resumed there in 1863. The first coal miners' strike in Canada occurred here in 1868 and lasted a total of three months, following which the mine experienced a series of setbacks from which it never recovered; it closed for the final time in 1888.¹
After the defeat of the French, the settlers gave both the harbour and the waters off shore the name Cow Bay, supposedly after a cow being transported to Sydney from Louisbourg escaped from a ship and was later found in the area. The name was changed to Morien Bay in 1895 by a provincial statute.
---
¹ This information is a summary of the more detailed information, accompanied by photos, found at the Nova Scotia Museum's web page for the Port Morien mine.↩