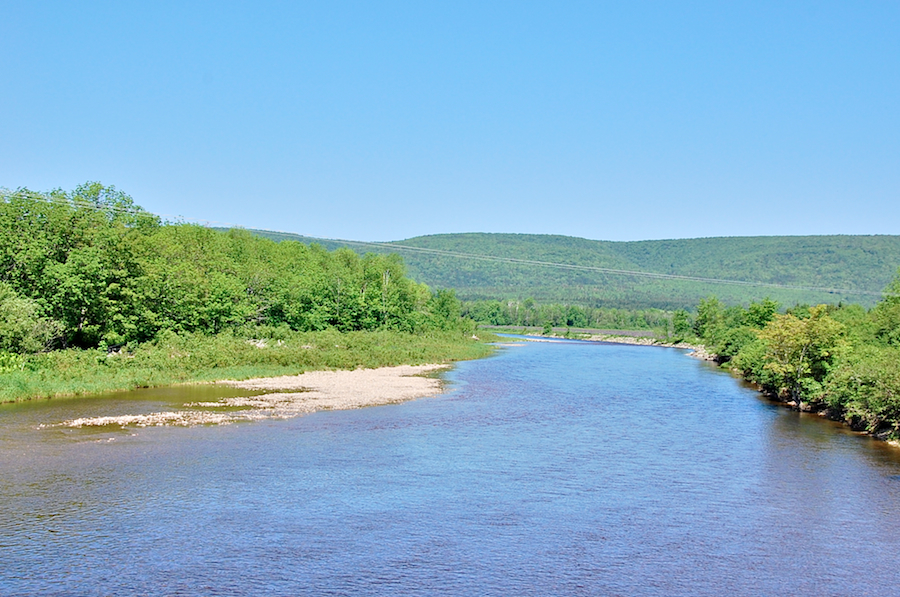 I made it to Wreck Cove on Friday and then drove back to Margaree Forks, stopping for photos at several points along the way and enjoying what had become a beautiful day to the fullest. After attending the inaugural square dance of the season at Southwest Margaree, I returned to Margaree Forks, where I spent the night. The following morning was again a spectacular day and I drove out to examine the newly reöpened Doyles Bridge on the East Margaree Road, which enters the Cabot Trail 1.5 km (0.9 mi) east of the north end of Highway 19 in Margaree Forks.
Photo #1, taken from the middle of the new bridge, looks down the Northeast Margaree River towards Margaree Forks, where it joins the Southwest Margaree River to form the Margaree River; both of these rivers and the combined river are world-reknowned for their salmon fishing, though no anglers were in view this morning (a party of four arrived just as I was leaving, however). The ubiquitous mountains, unnamed so far as I can ascertain, dominate this scene, as they do so many lovely views in Cape Breton.
[continued below]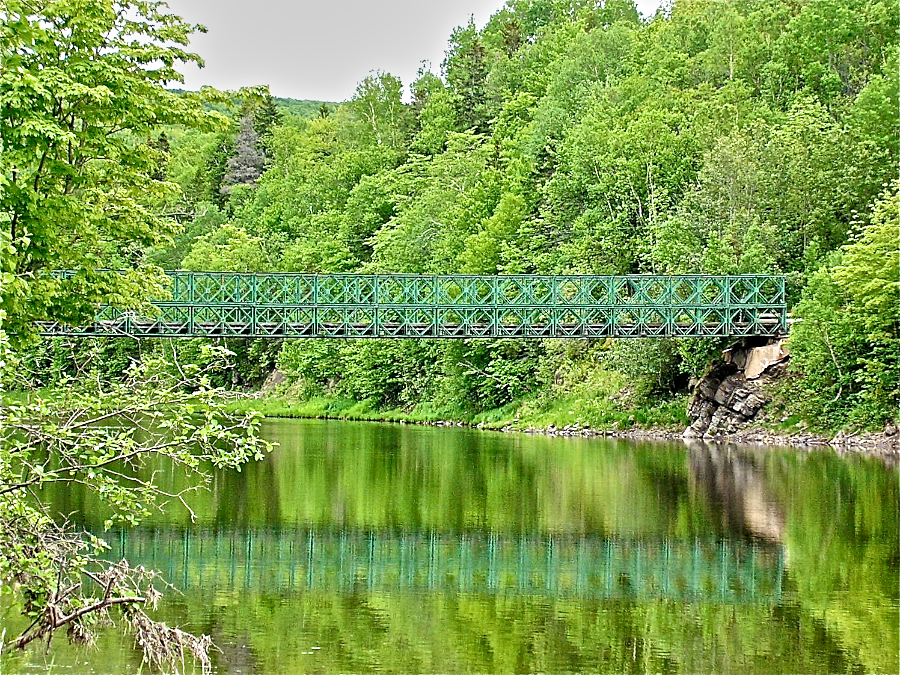 The previous version of Doyles Bridge was rendered unsafe by a severe storm in the fall of 2008, resulting in the closure of the East Margaree Road at this point (that same storm took out at least two other Cape Breton bridges the same night, MacLeods Bridge in Dunvegan and Murrays Bridge in Hillsborough). Photo #2, from three years before the storm, shows the previous incarnation of Doyles Bridge. Its closure was a serious irritant to the residents who live along the East Margaree Road, as it required them to make a long detour around by East Margaree and then back to Margaree Forks by the Cabot Trail; it was especially worrisome in case of a medical or fire emergency.
Photo #3 shows the newly reöpened replacement bridge, a somewhat updated version of the old bridge without its wooden roadbed. Before the storm, a second bridge, of the classical green-painted Howe truss bridge variety seen in the photo here, was on the far bank of the river and spanned a lesser side stream; that is now gone, replaced by two very large concrete culverts; I was unable to find a photo of that second bridge in my collection.