Substantial Upgrades to the Railway Trail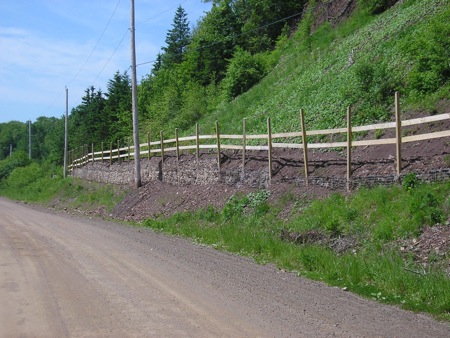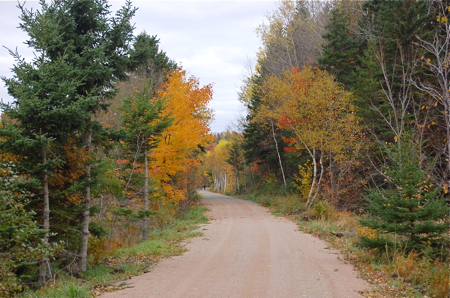 The multi-use Railway Trail runs from the Canso Canal Park in Port Hastings to the Miners Museum in Inverness village, a distance of 92 km (57.2 mi), using the bed of the railway whose construction was started in 1898, whose opening was in 1901, and whose use for rail traffic ceased in the late 1980's. This trail is a joint effort of several volunteer groups, including the Ceilidh Coastal Trail Association, the Judique Flyer Trail Association, and the Inverness Trails Federation, aided and assisted by the Cape Breton Pathways Association, corporations, organizations, and a number of governmental departments and agencies at the local, provincial, and federal levels. Some parts of the trail have local names, e.g., the Ceilidh Coastal Trail, but if the entire stretch has a proper name, I don't know what it is, hence my "Railway Trail" designation.
I have been hiking this gorgeous trail since I first started going to Cape Breton Island and, except for the section from the Canso Canal to Troy, it has been in generally good shape, though suffering in places from some deterioration (e.g., water taking over the rail bed roughly halfway between the Blackstone Road and the Glendyer Road, as I noticed on a hike there last year, since corrected and repaired during this year's upgrades). Several years ago, the decision was reached to incorporate this trail into the Trans-Canada Trail system (see the next news item) and considerable work has been undertaken over the past few years to bring it up to the standards of the Trans-Canada Trail system, as I noted here last year. An example of that work is shown in the first photo at the right, where extensive banking and trail stabilization work was undertaken on the section of the trail which runs above the Smithville Road from Route 252 towards Glendyer and was previously mostly unusable; this photo was taken in June before additional work and a final coating had been completed.
In an article on page 5 of the 2008 June 4 issue of The Inverness Oran, the magnitude of this work was spelt out: "[t]he goal of this project is to bring this Trail up to a multi-use, 4-season, world-class trail complimenting [sic] provincial standards as well as the national vision of the Trans Canada Trail system. To date, over 25,000 m. of ditching and 4,700 m. of grubbing have been completed from Troy Beach to Inverness. 45 culverts have been installed, with 92 km. of trail right-of-way cut and chipped." "[F]unding and in-kind contributions [are] now estimated at $1.98 million." Work this year involved grading, crowning, ditching, and laying a top coating, all of which was in ample evidence as I hiked various sections of the trail this spring, summer, and fall; during this work, some sections were temporarily closed. Parking areas were constructed and interpretive panels, benches, picnic tables, and community kiosks were installed at various points along the trail.
The end result, at least for the nearly-completed sections that I hiked (work was still on-going when I left Cape Breton), clearly meets the project's goal as stated above. The second and third photos above, taken in October, show its then current state, and a very fine state it is indeed! The sand top coating is a joy to walk on, water no longer lies in puddles after a rain, and the trimming has resulted in improved views. Many thanks to the workers and especially to all the volunteers for their enormous efforts over the years which have given us this beautiful trail.
Trans-Canada Trail in Cape Breton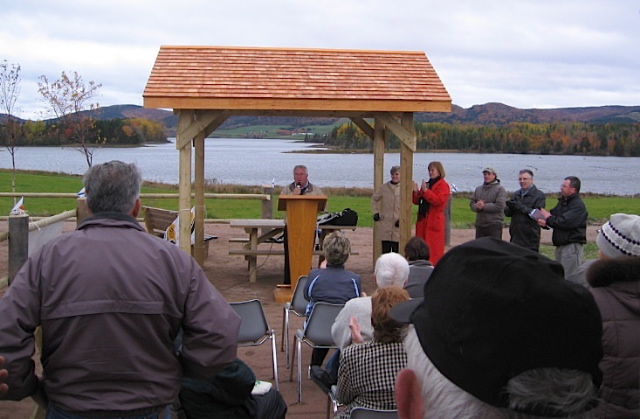 According to its web site:
The Trans Canada Trail is the world's longest network of trails. When completed, the Trail will stretch 22,000 kilometres from the Atlantic to the Pacific to the Arctic Oceans, linking 1000 communities and 33 million Canadians. Today, more than 16,500 kilometres of trail have been developed. Millions of Canadians and international visitors are using the Trail to hike, cycle, ski, horseback ride, canoe and snowmobile. The Trans Canada Trail offers countless opportunities to explore Canada's diverse landscapes and rich history.
The Nova Scotia map at this Trans-Canada Trail web site, shows that, in Cape Breton, the Trans-Canada Trail will follow the "Railway Trail" (see the preceding news item) from the Canso Causeway to its current terminus at the Miners Museum in Inverness village. From there, the trail will be extended to run north of Lake Ainslie to Little Narrows, across the Washabuck Peninsula to Grand Narrows, and on up east of St. Andrews Channel to the ferry docks at Sydney Mines. According to this Cape Breton Regional Municipality map, only a 7.88 km (4.9 mi) section of this extension is currently open in the Georges River area north of Pottle Lake.
The Inverness Oran reports in its 2008 October 29 issue (pp. 18-19 and 36), that ceremonies were held on 2008 October 22 at the Canso Canal Park in Port Hastings, at Michael's Landing in Judique North, and at West Mabou:
A series of celebrations in Cape Breton highlighted the dedication and commitment of three trail groups: the Ceilidh Coastal Trail Association, the Judique Flyer Trail Association, and the Inverness County Trails Federation. It marked the official opening of three new sections of Trans Canada trail totaling 92 kilometres, from Port Hastings to Inverness. The shared-use marquee trail will allow residents and visitors alike to enjoy scenic coastal vistas, 26 trestles over wetlands and waterways with abundant wildlife and waterfowl, and many historic sites along the route in western Cape Breton.

"The completion and official opening of 92 kilometres of Trans Canada Trail in Cape Breton is a significant milestone that demonstrates what volunteers can achieve in communities throughout Nova Scotia when communities, corporations and governments work together in partnership," says NS Trails president Terry Norman.

NS Trails TCT chair Blaise MacEachern added, "The Trans Canada Trail project has been igniting and uniting communities along its planned route since 1992. Today we applaud the work of volunteer trail builders in Inverness County and elsewhere in Nova Scotia who have been working tirelessly to complete sections of TCT in their communities and encourage more volunteers in communities across the province to embrace the TCT Challenge."
The Inverness Oran also reports in this article that the province of Nova Scotia signed a memorandum of understanding with the Trans-Canada Trail organization and the Nova Scotia Trails Federation which "establishes a working relationship to complete the trail".
We can now look forward to a fine trail that will eventually run from North Sydney to Port Hastings, connecting (via ferry) the Newfoundland portion of the Trans-Canada Trail to its continuation in mainland Nova Scotia.