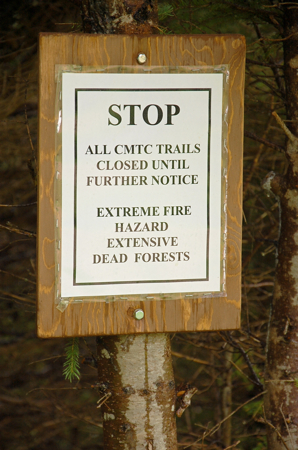 Cape Mabou Trail System Temporarily Closed
According to an article by Joyce MacDonald appearing in The Inverness Oran on 2009 May 20, the Cape Mabou Trail System has been closed until further notice because of the huge number of dead white spruce trees, killed by the spruce bark beetle infestation, which present two dangers to hikers: fire and falling trees. The action was recommended by Nova Scotia's Department of Natural Resources and the custodian of the trail system, the Cape Mabou Trail Club, concurred. All areas of the system are affected, with large "swathes of dead trees from the Beinn Bhiorach to Sight Point"; "Fair Alistair's Mountain and MacKinnon's Brook […] are in the centre of the threat". The CMTC and the DNR will be jointly seeking a way forward, possibly including controlled burns; since both Crown and private land is involved, this will necessarily involve consultations. In the mean time, all three trail heads are marked as closed (the photo at the right was taken 2009 June 29 at the Mabou Post Road Trail Head) and the many trees that are down across the trails will not be removed until the area is again deemed safe for hiking. While the substantial rains during the last two weeks of June should have somewhat reduced, though by no means completely removed, the fire hazard, the dead trees that can fall at any time remain a serious danger to the hiker.
The problem's cause was the abandonment of the farmland and pastures on Cape Mabou in the mid-20th century, which led to the white spruce rapidly colonizing the cleared areas. Spruce bark beetles are a natural element of Nova Scotia's forests; where the forests are mixed and where spruce of different ages are found together, the consequences of their damage are not normally so severe. In the Cape Mabou lands, however, the relatively short-lived white spruce are all of the same age and now, at more than 50 years of age, are mature and susceptible to the beetles; that is why such large numbers of trees have been destroyed and now present such a danger.
One can only hope that a solution that allows the safe reöpening of this trail system, the finest on Cape Breton Island, can be found and implemented quickly.