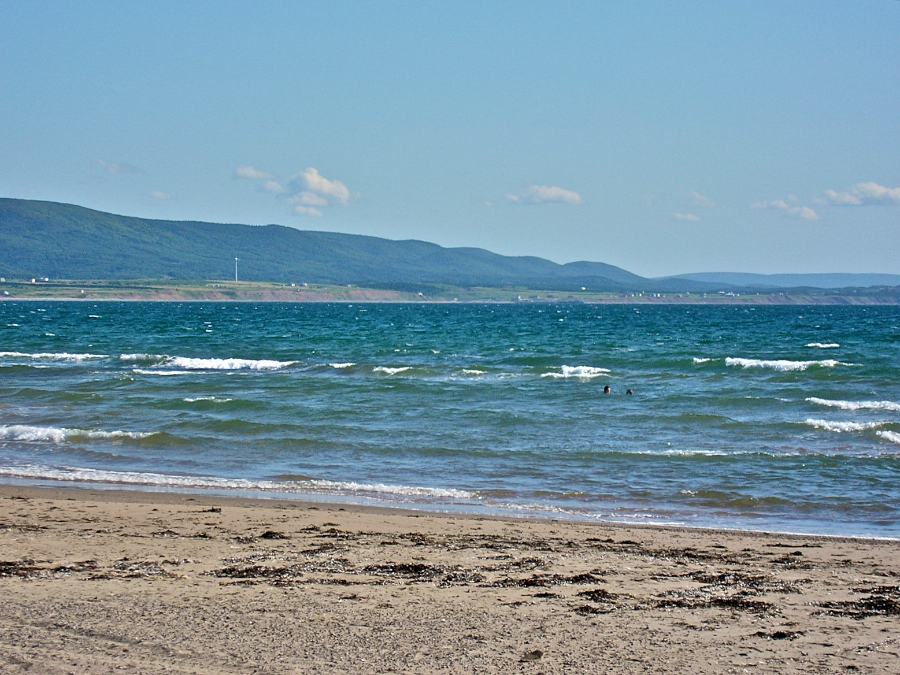 This view looks across the Gulf of St Lawrence to the community of Grand-Étang and to the mountains behind, which, as they continue their march down the coast, leave an increasingly narrow plain between them and the water.
The wind turbine at Grand-Étang can be seen standing tall on a hill in the centre of the left half of the photo. Placed in service in October 2002, this turbine makes good use of the winds in the area and is currently capable of producing 660 kW of power, enough to supply 200 homes. Twelve storeys high, it has a triple blade rotor 48 m (157 ft) in diameter which turns at 25 rpm. It requires a breeze of at least 10 km/h (6 mph) to turn and automatically shuts down in winds greater than 90 km/h (56 mph) to avoid damaging the turbine.¹
The entrance to Grand-Étang Harbour is close to the centre of the photo at the point where the cliffs on which the turbine stands taper down towards the water; le Centre de la Mi-carême sits along the harbour inside the breakwaters. The community of St-Joseph-du-Moine lies to the right a bit further along the coast; once part of Chéticamp Parish, it became an independent parish in 1879 during the tenure of Father Fiset and now has its own church. It is also the site of a branch of l'Université Sainte-Anne, which offers local students post-secondary education in business courses, information processing, teaching, health care, language, and the first year of several university-level courses; as well, it serves as a distance learning centre for other courses offered on the main campus in Church Point, County Clare, Nova Scotia.
La Plage St-Pierre is in the foreground of this photo; the heads of a couple of swimmers can be seen in the water to the right of the centre of the photo.
---
¹ The information about the turbine comes from the fascinating PDF document Community Profiles Inverness County 2003, which I downloaded from here, p. 13.↩