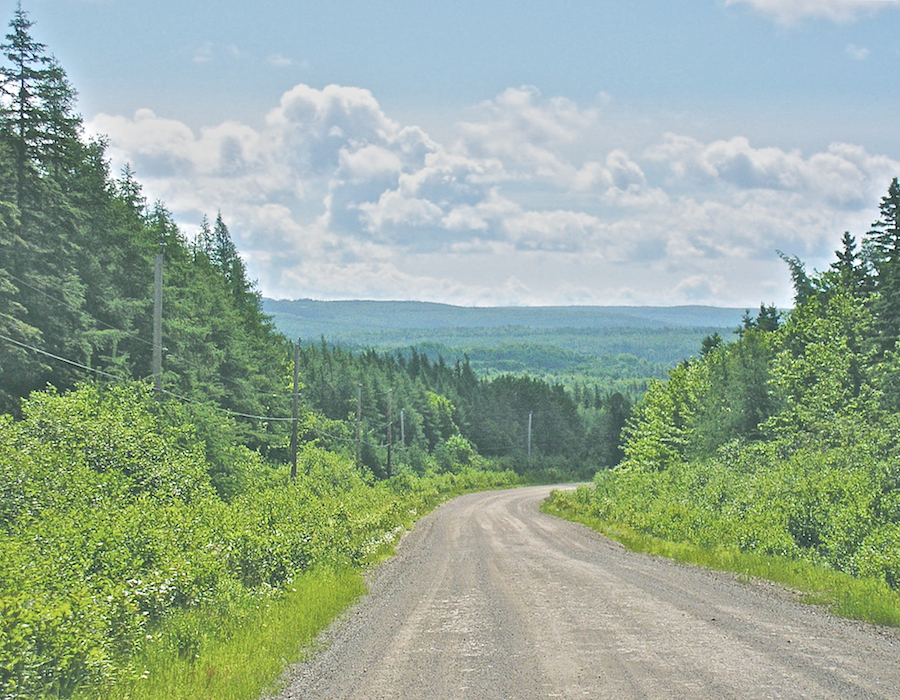 If, from the flashing light on the Cèilidh Trail (Highway 19) in Port Hood, one proceeds north 2.6 km (1.6 mi) towards Mabou, one will see the (gravel) Upper Southwest Mabou Road on the right. This road leads from Port Hood to Glencoe Station and on to Upper Southwest Mabou, where, on the other side of the bridge, it becomes the Glencoe Road and continues on to Glencoe and Glencoe Mills (all once thriving communities, each now reduced to a few houses), at which point it ends in a junction with the Whycocomagh Road. Besides being the direct route from Port Hood to the square dances at the Glencoe Mills Parish Hall, it is a very pretty drive in its own right, traversing the beautiful forested hills one sees in this photo. I have been told that "Creignish Hills" is the proper name for those hills, even though Creignish is quite some distance away on the coast.
Late last year, I discovered Moran's Road just a bit further down the road from here (at GPS 45°58.945'N 61°25.731'W); after 1.1 km (0.7 mi) on Moran's Road, one comes to a bridge over the Southwest Mabou River from which there are pretty views of the river that I was not aware of when I wrote the photo essay on the Southwest Mabou River. Just past the bridge, a short road leads to the banks of the river, from which the views contrast nicely with those from the bridge because one is much closer to the water.
Continuing on past the point from which this photo was taken on the Upper Southwest Mabou Road, one arrives 6 km (3.7 mi) later at what I have recently learnt is locally called "Long John's Bridge", the bridge at Upper Southwest Mabou under which the Southwest Mabou river flows. This site is always worth a stop, as the views of the river are very pretty from this bridge.
As one climbs up from Long John's Bridge, one will come 3.5 km (2.2 mi) later to the summit of a hill from which one can see St Georges Bay if one stops and looks southwest. I suspect, though I am not certain, that the ridge in the centre left of this photo is where this summit is. Just below this summit, there are distant views of the hills to the northwest. Continuing on from this summit, one will descend its other side, arriving 2.6 km (1.6 mi) later at Glencoe Mills Parish Hall.