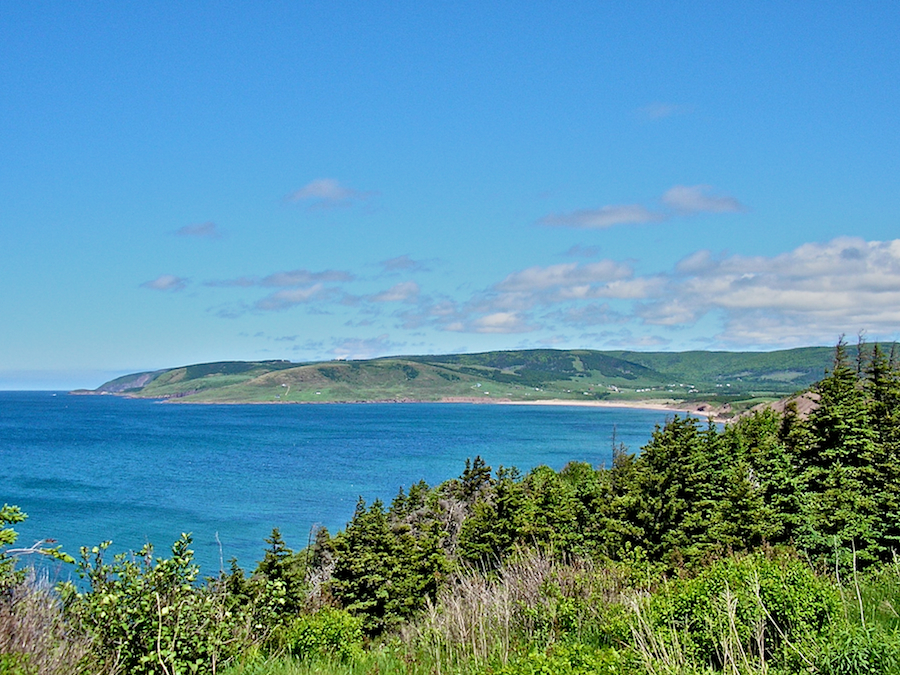 I probably have more photos in my collection of this view than any other on Cape Breton Island. Partly, this is because I find myself more often in the Mabou area than any other and, when I am, I drive the Colindale Road (also known as the West Mabou Road and, officially, as the Little Mabou Road) very frequently, quite often for the express purpose of gazing once more at this exquisitely beautiful panorama. Each time I visit, the changing foliage and sky always highlight a different aspect of this gorgeous scene or altogether change its mood, so no two of these photos are ever identical.
The West Mabou Road joins the Cèilidh Trail (Highway 19) just 0.6 km (0.4 mi) beyond Dalbrae Academy (which houses the Strathspey Place) in Mabou; it traverses West Mabou, changes its name to the Colindale Road just beyond the West Mabou Beach Provincial Park, and continues through Colindale, and Little Mabou, to end on Main Street in Port Hood below Marble Hill. The guardrails from which this photo was taken are 8.2 km (5.1 mi) from the junction with the Cèilidh Trail. If you drive this road, be sure to also detour up Hunters Road for another marvellous panorama, with an angle of view so large no photo can possibly hope to capture it all.
The point furthest at the left of the photo in the far distance is Finlay Point, where the fishing harbour at Mabou Coal Mines is located. Beyond it, the mountain falling off sharply into the Gulf of St Lawrence is Beinn Alasdair Bhain (Fair Alistair's Mountain). Although it is hard to make them out, one can see Coal Mine Point, Beaton Point, and Green Point in turn as one progresses from Finlay Point to the mouth of the Mabou River just to the left of the white sand beach of West Mabou Beach Provincial Park in the centre right of the photo. The glorious Cape Mabou Highlands dominate this view while the gorgeous sky colours the waters of the Gulf of St Lawrence in shades that enhance the entire scene.