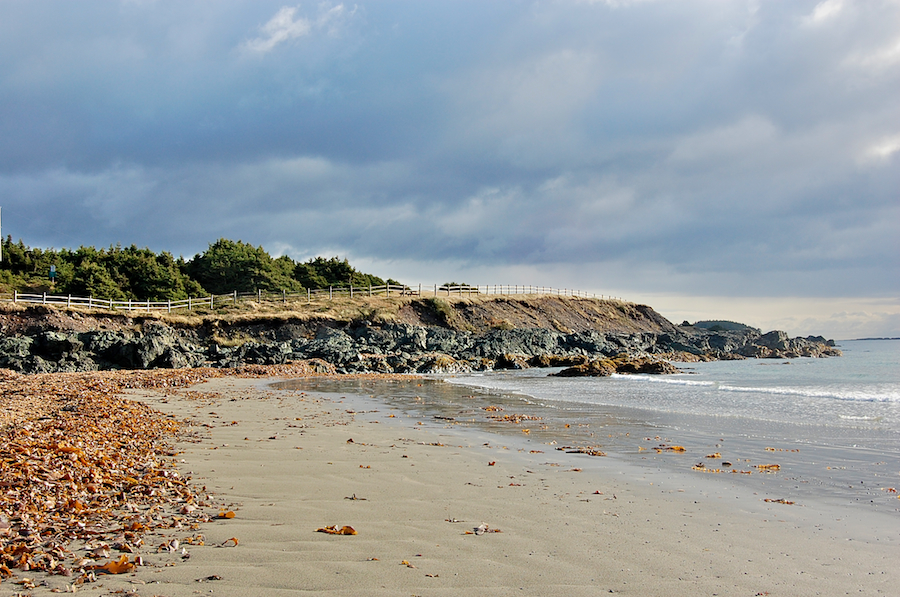 I left New Jersey for Cape Breton a couple of days early on the forecast of good weather in order to revisit the East Coast, the subject of the two previous essays in this series (respectively available here and here), and explore parts of the Atlantic coast I had missed on my spring trip. That it also allowed me to attend the last Port Hawkesbury Cèilidh this year was just additional icing on the cake!
Unfortunately, as so often happens, the weather did not live up to the forecast and rain greeted me as I drove to St Peters Wednesday morning. I decided to persevere, as there were occasional hints of the sun trying to break through the thick black clouds, so I drove out to Point Michaud Beach Provincial Park, which I had not visited in a few years. By the time I arrived there, the rain had stopped and the sun was peeping through a few small breaks in the clouds. I hiked along the shore and on the beautiful sand beach for three quarters of an hour and snapped this photo during my walk.
Point Michaud is the dividing line between southern coast and the eastern coast; anything to the east of Point Michaud is unambiguously along the eastern Atlantic coast. Although beautiful in its own right, the small headland showing here is not Point Michaud, which is very much larger and lies to the west at the other end of the long arcing beach. The fall colours in this essay's initial photo are pretty subtle, but they are there in the grass along the fence lining the cliffs, testimony to a frost. The trees in this area are nearly all evergreens so their colours do not change with the season. The piles of seaweed, a good 30 cm (1 ft) high, were wet and soggy as I crossed them, possibly from the earlier rains but most likely because the tide had only recently retreated from them; their browns add to the autumnal quality of this beautiful marine scene.