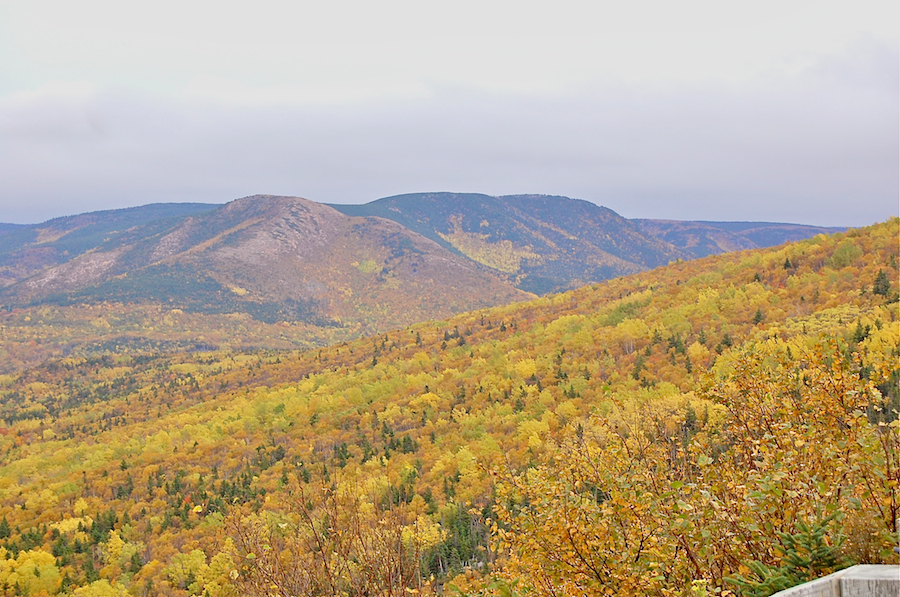 MacKenzies Mountain is the slope which runs diagonally across this photo; Roberts Mountain (left of centre) and Andrews Mountain (centre and right of centre) are the two prominences in the distance; as it passes along the Grande Anse River, the Cabot Trail winds at their feet on its way to North Mountain. Pleasant Bay lies at the far left, just outside the scope of this photo.
It is interesting to contrast the paucity of the reds in this photo with their presence in so many others; I have no idea what the explanation might be. There were certainly reds to be seen on the hillsides in the Grande Anse area, which is not all that far away.
With this photo, the 2008 edition of the Fall Colours essay comes to a close. I hope you have enjoyed the photos as much as I did travelling to take them. If you have not treated yourself to a Celtic Colours festival, perhaps this will be your impetus to attend the next one, which will take place between 9 and 17 October, 2009. Believe me, great as the colours were this year, the music was even better! For a list of its concerts and events, check back at the Celtic Colours web site late next spring. I hope to see you there next fall.