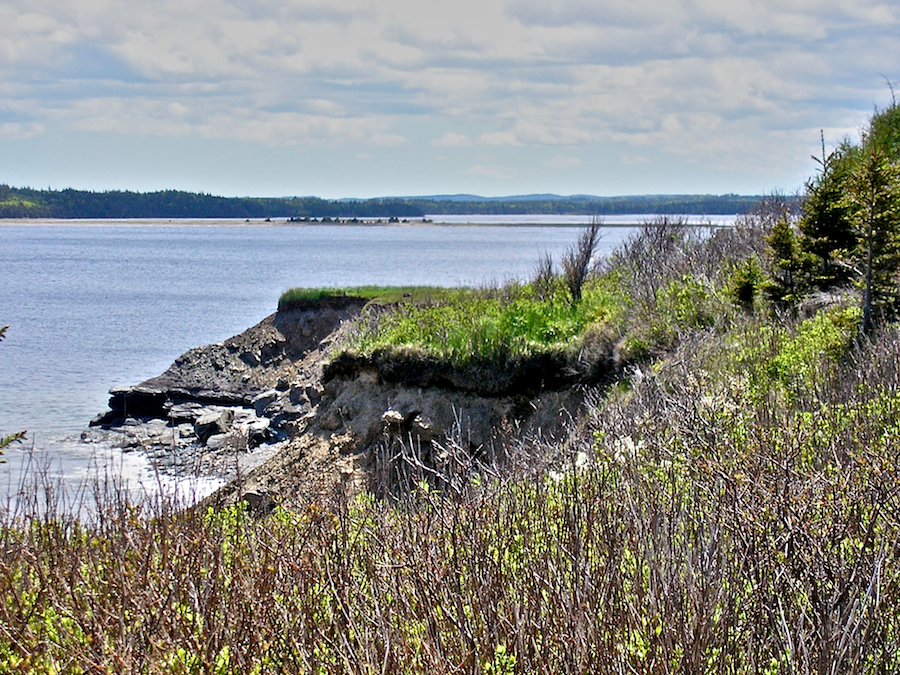 The southwestern end of Morien Bay, shown as Spencers Pool on the topographical map, is bordered by the Cape Morien "peninsula", Cape Breton Island, and Phalens Bar (also known as Port Morien Beach), a long sand bar that would connect the two were it not bisected in the middle by a narrow channel, seen in the photo above just to the right of the second tree on the bar from the left. The Homeville River flows from Spencers Pool into False Bay, beneath the bridge on the South Head Road seen earlier.
In this photo, the Cape Morien "peninsula" runs from far left to centre right across the photo; Cape Breton Island lies to the far right. The hills one sees rising above are on the far side of Mira Bay, a good distance away.
The brush in the foreground is only beginning to leaf out—spring has not yet really arrived here—though a few bushes are sporting white blooms. This is not really very surprising, since this coast gets the full brunt of the winds off the Atlantic.