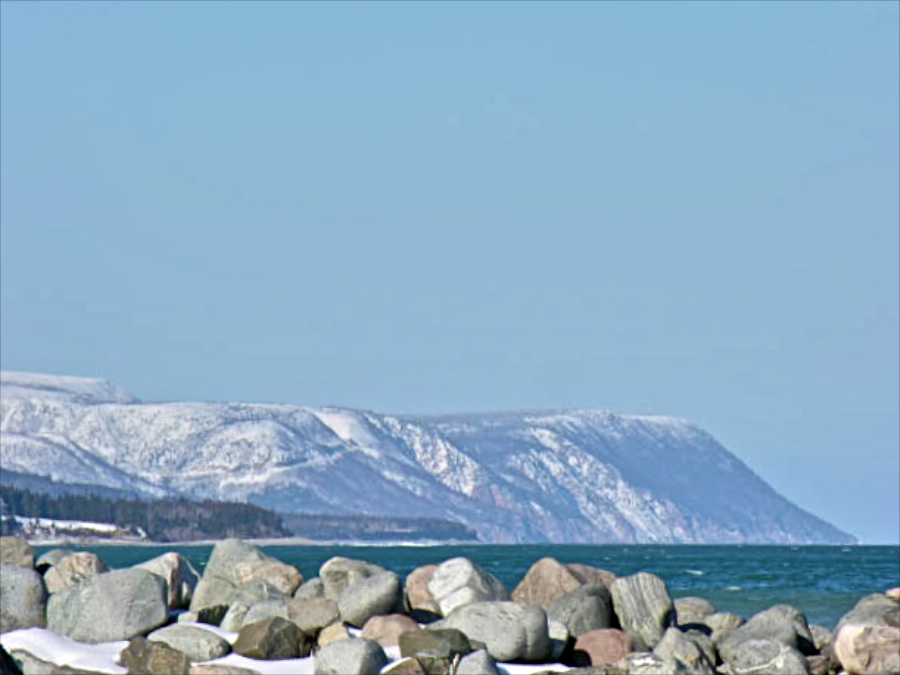 I don't know how long I stared agape at this stunning photo when it arrived in the daily Sunrise photo mailing list, but it was a good long time! To see Cape Smokey and the adjacent Cape Breton Highlands coated in white sparkling in the dazzling sun under pure blue skies just took my breath away! No clouds, haze, nor "smoke" obscuring Cape Smokey in this view! The features of the terrain are so distinct and clear: one can see the sharp curves in the incline as the Cabot Trail so memorably climbs up and around Smokey Mountain left of the centre of the photo; just to its right across a ravine, the high flat plateau that abruptly descends to the waters below is the site of the Cape Smokey Provincial Park, offering stunning views of the St Anns Bay coast and of the northeastern coast of Cape Breton Island. The fifteenth photo essay in this series is entirely devoted to Cape Smokey and even more photos are to be found in my description of the Cape Smokey Trail, which I hiked on a gorgeous day in August, 2007. The cliffs on which one looks down from that trail and even much of the path the trail itself takes along the upper edges of Cape Smokey to the spectacular north-facing views at the Stanley Point Look-Off — which I have fittingly heard designated as God's Balcony — are seen here clear as a bell. But all the greens and browns and rock faces I so well remember from my many visits to Cape Smokey during the other three seasons are disorientingly replaced by the white that everywhere so sharply etches and highlights the entire incredible scene! What a marvellous composition!
I am indebted to this photo for another discovery: I have long hoped to stumble on a fishing harbour where one might find better coastal views than one gets from the Cabot Trail in this area, but had never seen any road off the Cabot Trail that looked like it might lead to one. The boulders in the foreground are obviously part of the breakwater providing protection to the wharf from the incoming seas. This photo confirms that such views do exist from the Little River wharf, the road to which I will now seek out when next I am in the Little River area and for which the GPS coördinates should prove very useful in narrowing the search.
With this amazing photo, this winter colours essay comes to a close. What a tour de force of beautiful terrain lovingly photographed it has been! I trust that you have enjoyed seeing places that are new to you as well as old favourites clad in the very different garb of winter whites. For this, we owe a tremendous debt to the photographers who both preserved in these fine photos the beauty they experienced and allowed us to share with them the glories of Cape Breton's winter season.