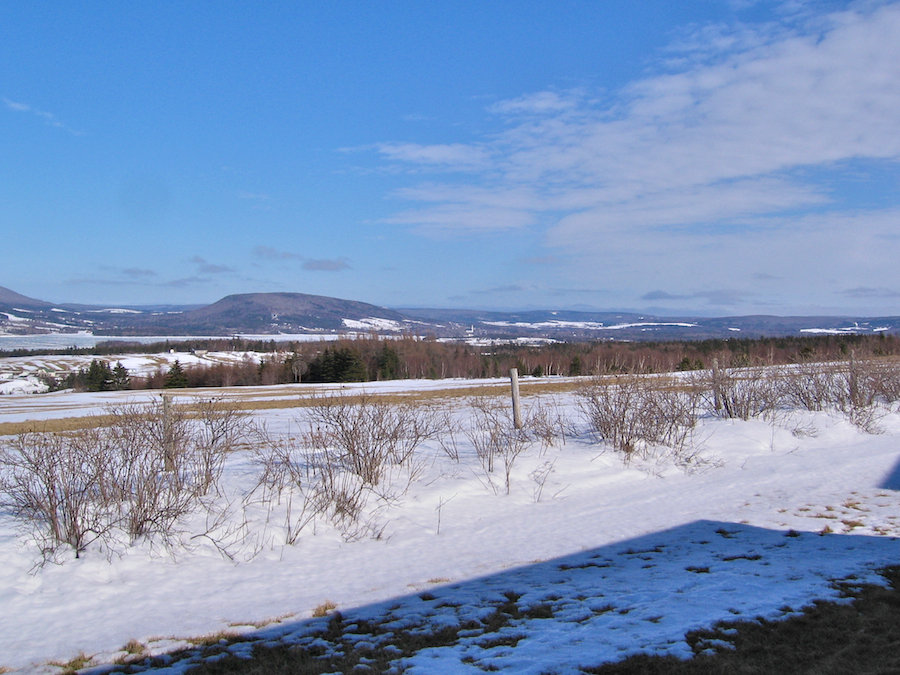 On this lovely first day of March this year, Mike Little walked up to the vantage point in West Mabou from which he took the first three photos in this essay. When I saw them, I was struck by how different these lovely views, which I know very well in other seasons (though I had never seen them from this particular vantage point) seemed — they appeared altered and even embellished by the winter colours.
In this view, at the far left, the lower portion of one of the slopes of the Cape Mabou Highlands descends well inland of the mouth of the Northeast Mabou River. At the left of the centre of this photo, Mabou Mountain basks in the light of the spectacular cerulean skies far above it beneath a scattering of greyish smudges, with its distinctive profile sharply etched by the whiter blues of the lower surrounding skies. The Mabou River, here still under a sheet of ice, runs from left to right across two thirds of the photo (its upper portion is concealed here by the hills of West Mabou). The steeple and a good portion of St Marys Church sit in the exact middle of the photo above the banks of the Mabou River. A narrow band of white snow banks to the left of St Marys Church marks the course of the Cèilidh Trail (Highway 19) as it climbs up from Mabou village along the right side of Mabou Mountain on its way towards Hawley Hill and Cape Mabou. In the far distance, beneath the white clouds, the hills that lie in the back country between Mabou and the western shore of Lake Ainslie can be seen undulating across nearly the entire horizon.
The mixed forest on Mabou Mountain contains both evergreens and deciduous trees; in fall, those trees, especially where they are reflected in the waters of the Mabou River, unfailingly deliver a glorious and colourful treat to the eyes. What strikes me in this photo is how well those same trees now conceal the whites that must blanket the entire mountain, for surely the snow did not fall only on the open snowy fields one sees here along the base of the mountain. The darker colours I take to be the evergreens and the lighter ones to be the leafless tree trunks, through which a bit of white does seem to be reflected, but the overall effect is as if there were very little snow on upper part of Mabou Mountain at all! Yet, from observing the Hawley Hill web camera at the time this photo was taken, the snow banks along Highway 19 were car-high or higher (and so remained for the two weeks thereafter), so clearly there must be a good deal of snow on the upper part of Mabou Mountain!