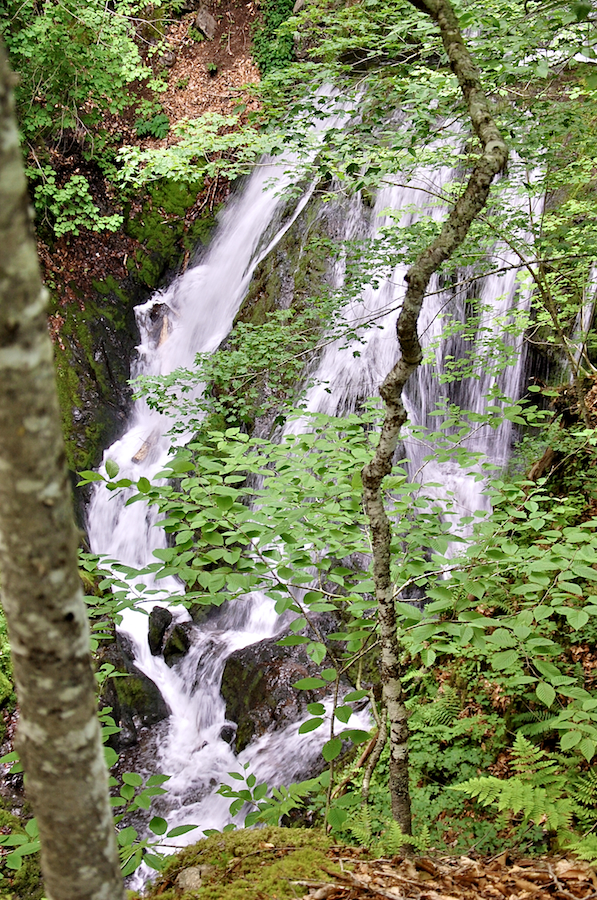 Monday was a rainy day, most of which I spent indoors. Tuesday was a somewhat better day, with occasional sunny breaks even, so a local friend and I went hiking on Cape Mabou. While driving up the Glenora Falls Road on the way there, I mentioned that I had never seen the falls that gave the road and the community its name, so on the return trip, he stopped by the bridge over the Northeast Mabou River and we walked to the house a short ways down the road to ask permission to visit the falls, which are on private land. Since the owners knew my friend, that was readily granted and I finally got to view this impressive, graceful though powerful, very beautiful waterfall. Alas, I had forgotten my GPS in the car, so I can only estimate the correct GPS coördinates of the photos. The view in photo #1 is as close to a head-on view of the falls as I could find and still feel safe; it is, alas, somewhat marred by a tree which is doing its very best to screen the falls from the camera's view, but it is the best shot I was able to get that day.
As Allan Billard writes in Waterfalls of Nova Scotia [ISBN 0-9699611-04], p. 50:
The [0.2 km (0.1 mi)] trail slopes gently up as you travel through the wooded glen, just a few hundred metres to the top of the falls gorge. Once there, there is really nowhere else to go. The Northeast Mabou River cascades over a 16 m [(52 ft)] cliff into a very narrow ravine. It is too steep to descend and very dangerous! That leaves very few vantage points other than from behind the birch rail fence right at the top.
The view in photo #2 is more of a side view than a head-on view, but it has the advantage of being unobstructed by foliage and somewhat better conveys the upper portion of the falls.
One certainly needs to stay well back from the edge, as the land from which the falls are viewed is constantly being eroded by the falls themselves. I expect that the falls would be even more impressive during the spring run-offs, when the river would be engorged with the snow melt off Cape Mabou. But even this day, three months later, there was no lack of water hurtling down the chasm!