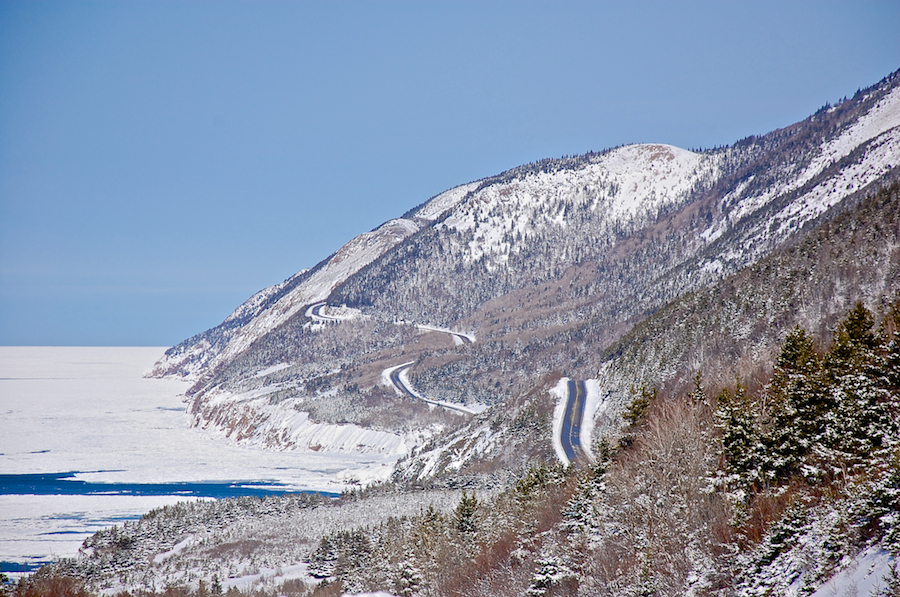 Photo #1, taken on my way out to MacKenzies Mountain on Saturday, is from the Cabot Trail look-off I now think of as the "weather" look-off because its (relatively recent) interpretive panels discuss the effects of the winter weather on the Cape Breton Highlands. Situated just north of La Bloque, it offers a spectacular view of the Cabot Trail as it winds along the base of the mountains up and around French Mountain and of the even more interesting coastline north of La Bloque. From its close-up earlier in this essay, you will doubtless recognize the headland at the end of the Skyline Trail which looms above and to the right of the Cabot Trail at French Mountain and of Skyline Ridge above it. What a beautiful scene this makes on any day, but it is stupendous on a gorgeous winter day! And how different it looks from the fall version seen here from the same vantage point (and from the many summer versions I have in my collection)!
I took a photo looking due west from the look-off and it reveals that open water was visible beyond the western edge of Chéticamp Island and exhibited some small breaks and open spots near the edge; but the coastal sea ice stretches a considerable way up the coast: the original of this photo provides no better clue as to whether what is on the far horizon is open water or not, but it may well be, as another photo shows that open water was visible to the west from MacKenzies Mountain, though none close to the northwestern coast of Cape Breton other than that seen near Pleasant Bay's harbour.
[continued below]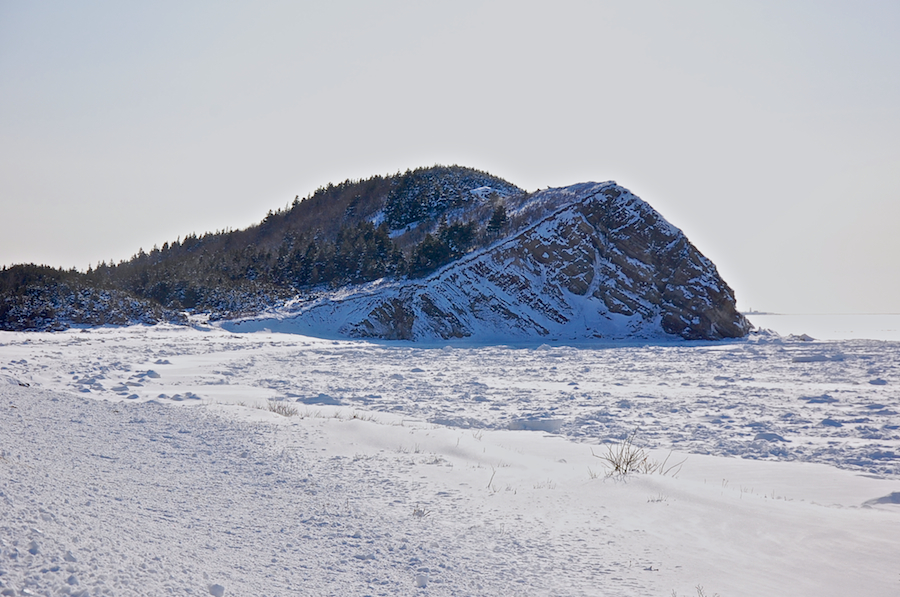 Photo #2, taken on my way back to Chéticamp on Saturday, shows the north end of Presqu'Île; unfortunately, its beautiful cliff face, seen in all its multi-hued glory in this summer photo, is in the shade in this photo, but it is striking nonetheless. Notice how very crusty and clumpy the sea ice in the cove just north of it is: this would be an ordeal to walk on for any distance!
Photo #3 was taken Friday at the "weather" look-off as Mike and I were completing our Cabot Trail circuit. There was just a hint of sun shining on these trees, at the side of the look-off, which caught my eye when I saw them. Unlike the snow-covered trees seen earlier at MacKinnons Cove, these have at least as much ice coating the branches as snow, though there is some snow as well. Although this snow and ice is very hard on the trees, it sure is beautiful to see!