Canada Day was Sunday, so, in the afternoon I needed to be in Judique for the Celtic Music Interpretive Centre's afternoon cèilidh. I therefore headed south from Port Hood for a leisurely back-country drive on a beautiful sunny day to see what photo opportunities I could find. I drove down Dunmore Road to the Mabou Road and thence to Glencoe Station. From there, I continued south on the Upper Southwest Mabou Road to its intersection with the Moran Road and turned down it; it had been some time since I had been there and I was curious to see what effect Tuesday's rains had had on the river.
Photo #1 looks downstream from the bridge, which is a good distance above the river. There is certainly some water there, but it doesn't look to be very deep or moving with any speed at all. Photo #2 shows the water directly below the bridge; its depth here wouldn't be a challenge for woods boots in this parched state!
[continued below]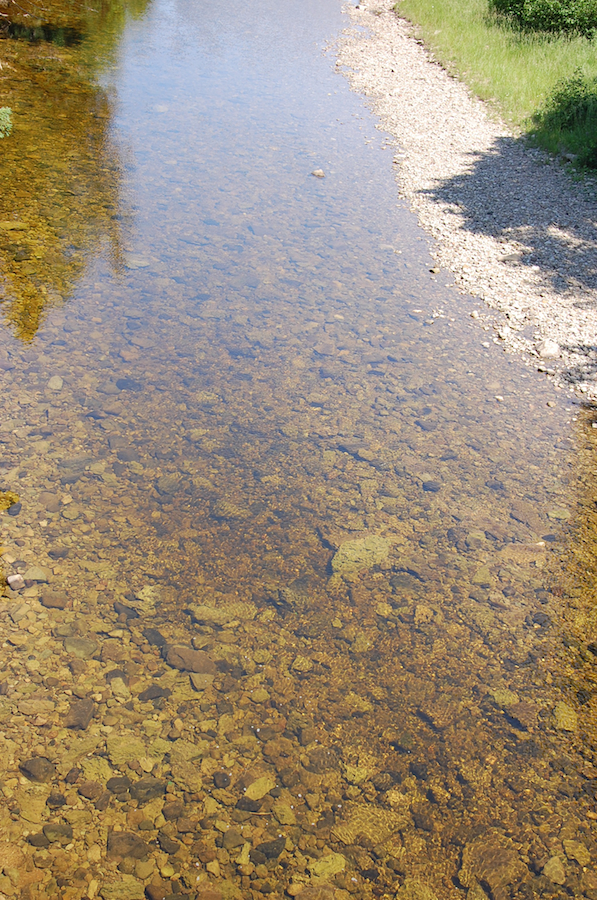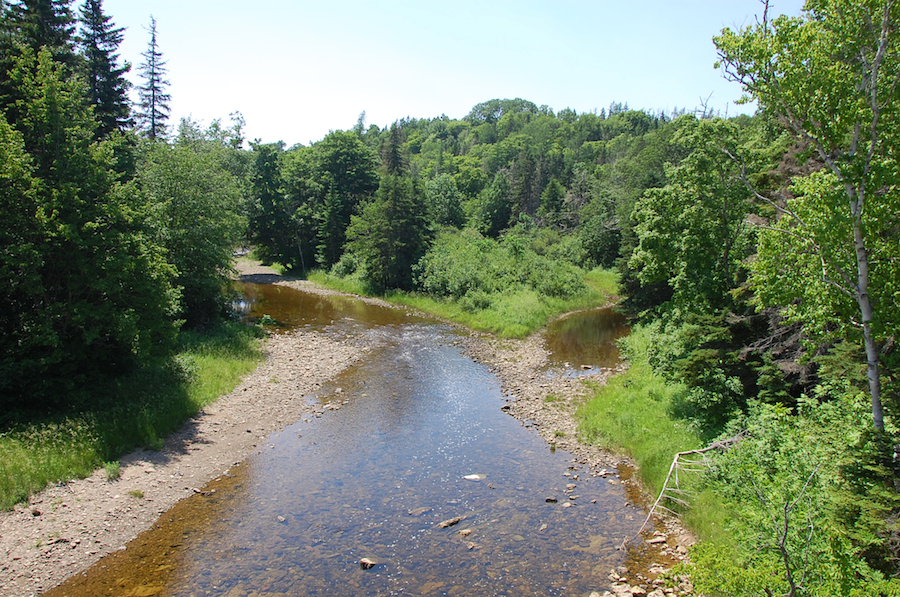 Photo #3 looks upstream from the bridge. The land in the centre is normally an island, with water flowing around its back side and coming out at the right of the photo; today, however, this round-the-island channel doesn't have enough water to flow across the stones at the point where it rejoins the main course of the river. However, as better seen in photo #4, the main channel does show some movement here, where there is enough water to make small ripples as it passes over stones pushed there by the side channel, making the white bubbles seen floating slowly towards the bridge in photo #3. Still, if one were to set out to walk along the river bed in woods boots, one wouldn't likely have much trouble, at least in this area. Some years back, I made the attempt and quickly gave up, as the depth of the river was much greater than seen here and would have easily overwhelmed the woods boots had I gone on. 2012 was indeed a very dry year by the time Canada Day arrived.