I didn't hike the rest of Devils Hill Road because it was fairly clear that it would take more time than I had and that there were unlikely to be better views than those I had from the summit—the road quickly descends and reënters the forest. So, I returned to the car, enjoying the fine views on the way down, and drove along the New Boston Road towards Albert Bridge. I soon arrived at the point where the road crosses the Catalone River, where I immediately stopped because of all of the red trees in the area; only after I got out of the car, did I see the very pretty river.
Photo #1 looks downstream along the Catalone River from the bridge; its waters were moving fairly swiftly past the rocks and other obstructions in the water. The trees here tended more to the oranges than to the reds, with a strong yellow component, and not a few had only begun to change from their summer greens. A lovely scene indeed!
[continued below]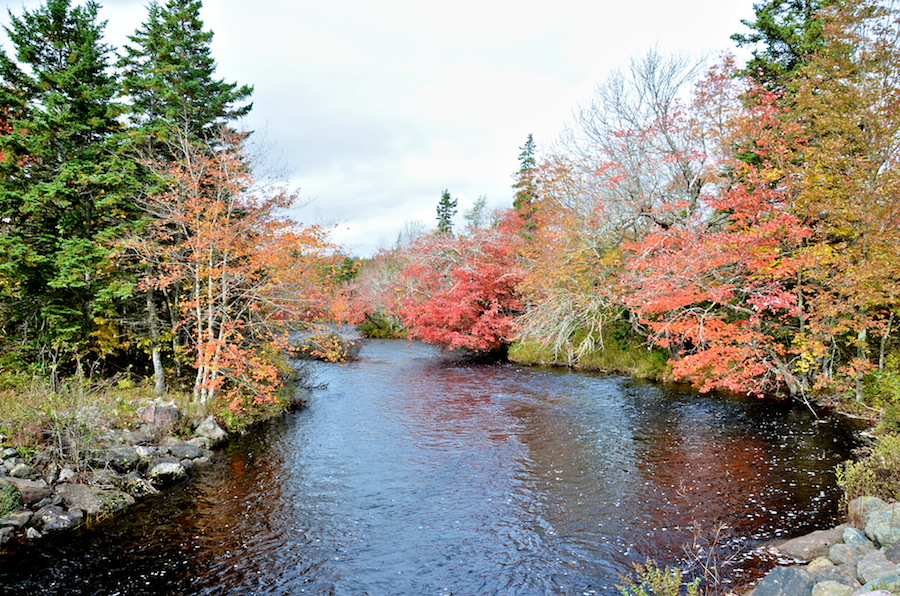 Photo #2 looks upstream where many of the leaves have gone altogether missing—a lot of branches, including many in the red tree in the centre of the photo, are bare here. Some serious wind must have passed through this valley recently to strip them so thoroughly. Matheson Brook empties into the Catalone River a few hundred metres/yards upstream of here, adding its waters to the flow. The river is relatively narrow here, wider on this side than on the other side, but will begin to get wider as it leaves MacPhersons Meadows and approaches Catalone Lake.
Photo #3 is a close-up of the red tree in the centre of photo #2; its leaves, which caught a stray ray of sun breaking through the overcast, are among the brightest of reds I've seen this year.
[continued below]
Photo #4 is a view of the stand of red trees that brought me to an immediate stop. With just an undertone of yellow, the bright red leaves are pure beauty.
Photo #5 looks at a different stand of trees on the other side of the road. These trees are rainbow-hued, with greens, yellows, oranges, and numerous shades of reds, from dark to bright. New Boston Road is definitely worth a drive in the fall when the colours are out!