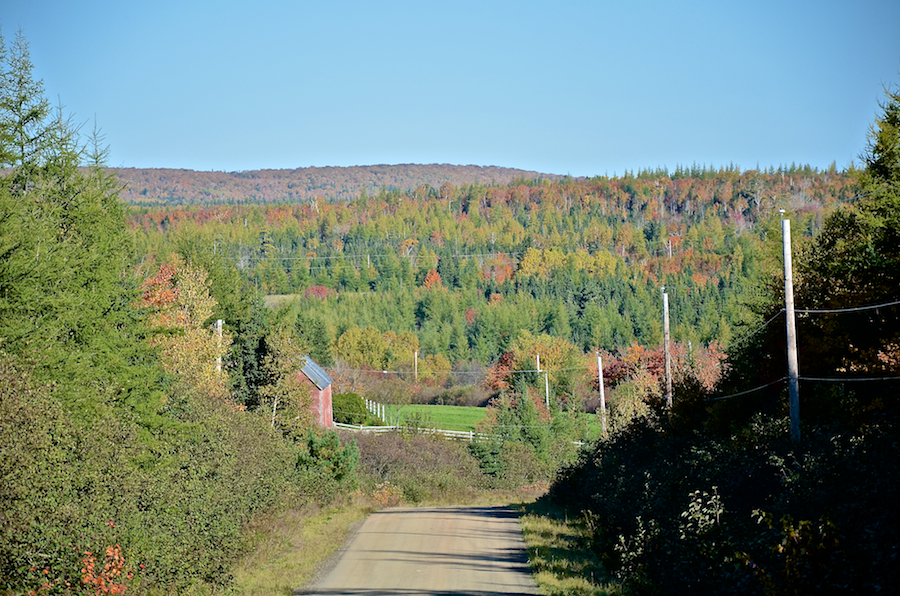 From "Mount Glencoe", I continued the short descent (2 km (1.2 mi)) into Glencoe Mills, where I stopped at the four corners by the Parish Hall, site of many memorable square dances. The view in photo #1 is what one sees looking somewhat east of north down the Glencoe Road. The nearer ridge rises above the Whycocomagh Road (the more distant line of utility poles shows its course to the east); the MacLellan Road runs along the further ridge, which I have named the "Rosedale Ridge", from Dunakin to Rosedale, with the fine views seen earlier in this essay.
From the four corners, I continued to the end of the Glencoe Road and turned east on the Whycocomagh Road, always a beautiful drive even on rainy days and spectacular on a day such as this one. I stopped a bit before the MacKinnon Road, where recent logging has opened up once closed views, for views of the fall colours and of the "Rosedale Ridge". The three photos which follow form a left-to-right panorama of a portion of the view from this vantage point.
Photo #2 shows the trees a bit beyond the peak of their colour, with several being stripped bare of their leaves by the winds and rains of the previous week; notice particularly how many are missing their leaves on the exposed hill at the upper right. While some trees still have green leaves, most have changed and the colours are the oranges and yellows and browns, with the reds mostly conspicuously missing.
[continued below]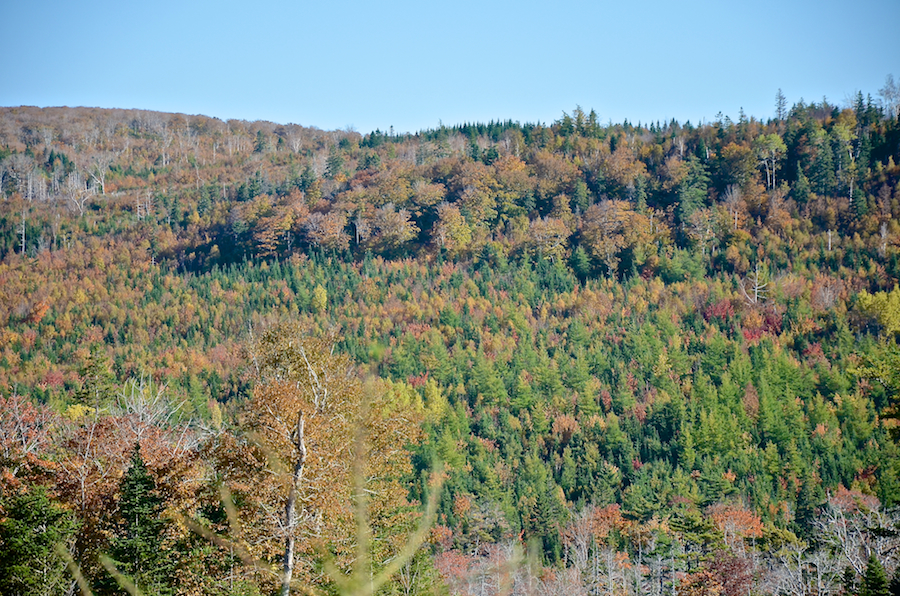 Photo #3 looks to the right of photo #2, with which it overlaps. Significantly more evergreens are visible in the valley below the hill at the right, while the others are somewhat brighter, with even a couple of red trees showing. The lemony yellows seen in the stand in the centre and in another individual left of centre stand out in their own way as much as the reds.
Photo #4 looks to the right of photo #3, with which it overlaps, at the top of the hillside. In the hardwoods, the yellows, oranges, and greens predominate.