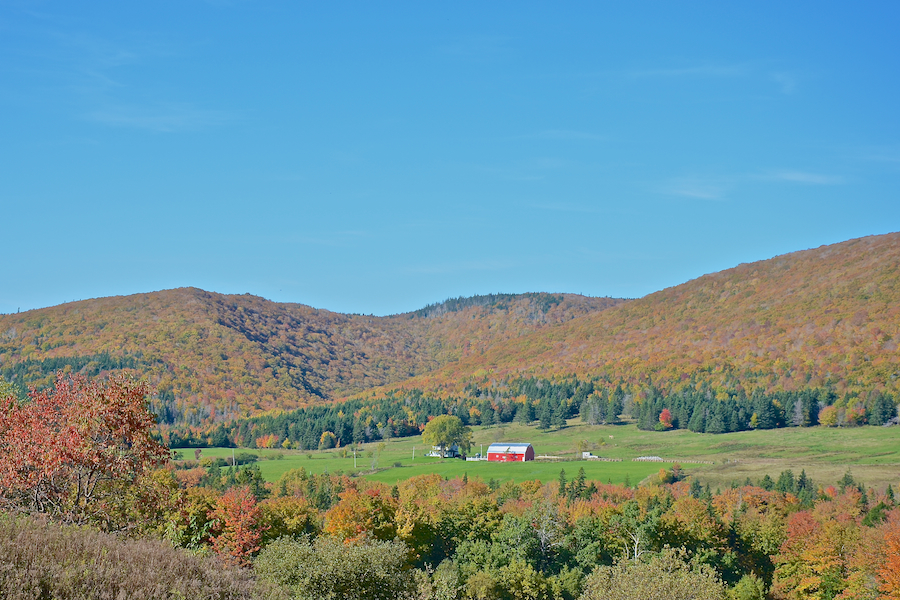 I drove on a ways further west on the Northeast Mabou Road, but had to stop once again to capture the beauty of the day. The photos on this page, which look at Cape Mabou in Northeast Mabou, were taken on this stop.
Photo #1 is a fairly wide-angled view of the southeastern corner of Cape Mabou and the lovely glen below it in the valley of the Northeast Mabou River. The green fields create an oasis of tranquillity amidst an ocean of fall colours; the red barn draws the eyes in spite of all the surrounding vibrant colours.
Photo #2 is a close-up of the centre of photo #1. With the sharper focus, two horses are more clearly seen now enjoying the day as they graze in the field to the right of the barn. The tree surrounded by evergreens at the far right is a blaze of colours, from vivid reds to unchanged green and most colours in between. The large stand of evergreens atop the summit in the centre is somewhat anomalous here, as the previous photos show majority hardwoods at the summit of the eastern side of the Cape. But the overall assessment remains the same—plenty of greens and colours before their peak.
[continued below]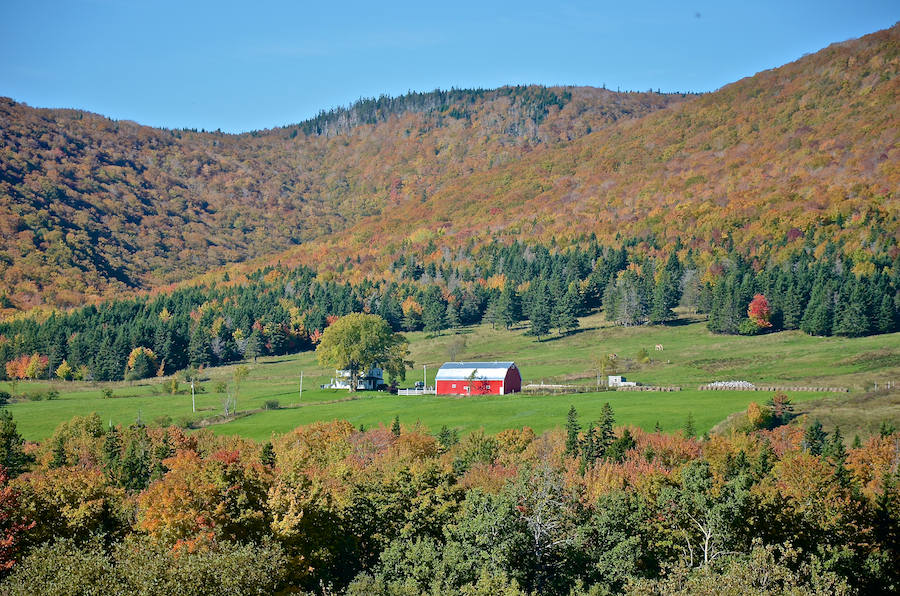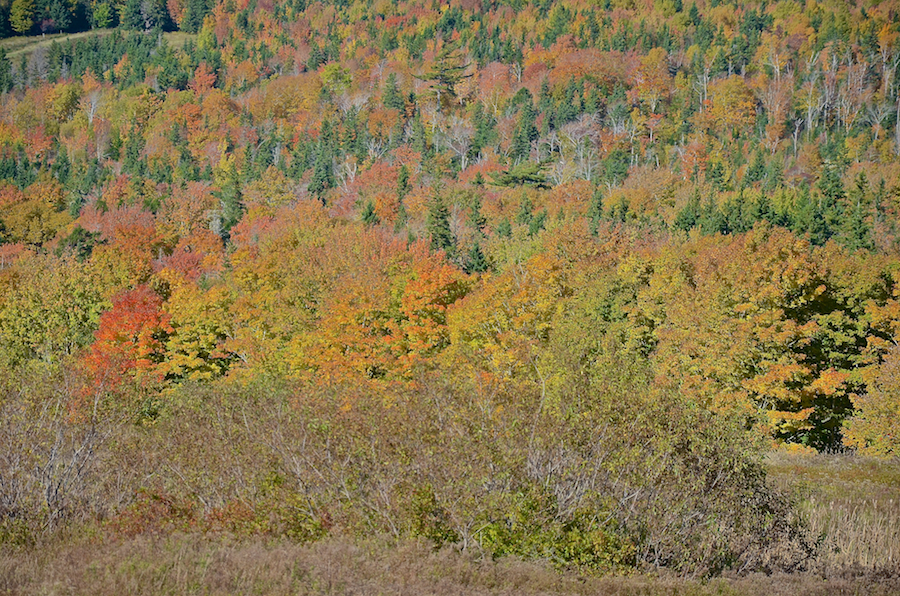 Photo #3 looks at the trees in the foreground of photo #1 and captures at the left a red tree that is almost there, though its neighbours, if changed at all, tend more to the oranges than the reds, perhaps because there is still so much green in the leaves. Wouldn't this photo make for a devilish jigsaw puzzle!?
Photo #4 looks at the trees to the north of the glen below the Northeast Mabou Road (outside the scope of photo #1, but seen in photo #5). The lovely tree in the centre is clearly out of step with its neighbours who, here, have definitely turned and are displaying varying shades of oranges, with some reds. Further up the hillside, though, greens are still to be seen.
[continued below]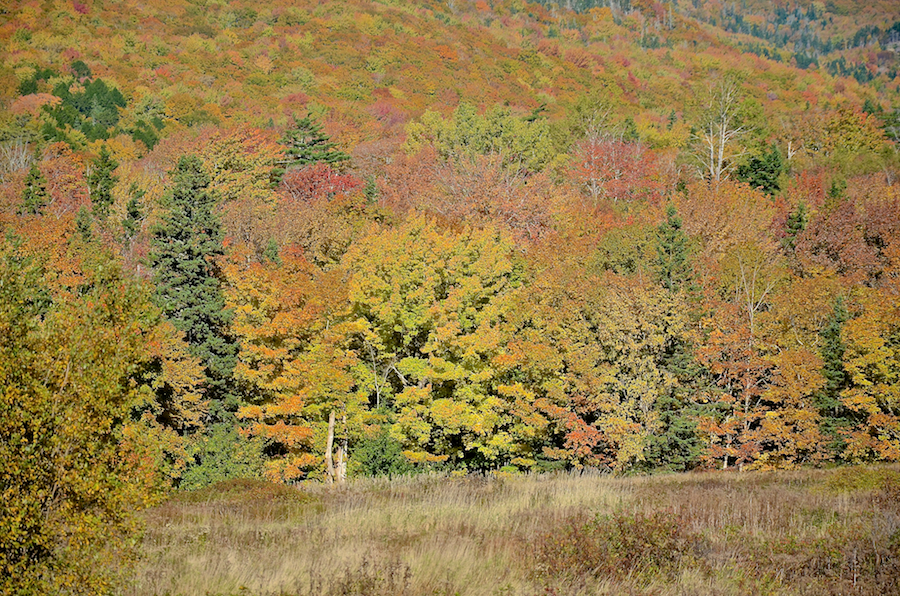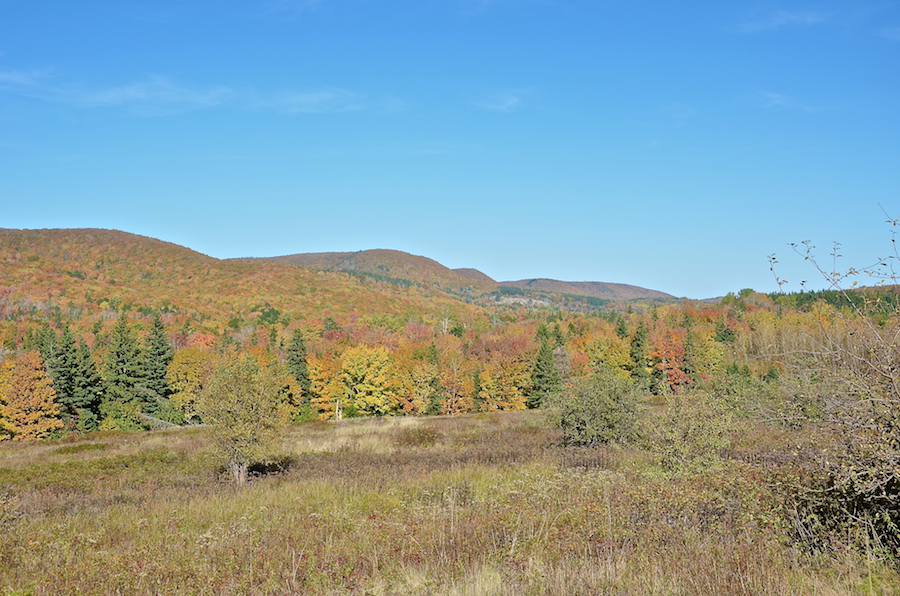 Photo #5 takes one parting glance at the southeastern side of Cape Mabou, looking to the east of north along the edge of Cape Mabou out towards Glenville; the portion of Cape Mabou to the north of Riverville is concealed by the Cape itself, as the edge of Cape Mabou moves closer to the Gulf at that point.
I hope I have not too greatly tried your patience with all these views of the southeastern side of Cape Mabou, but I wanted to present a generous selection of views from various vantage points with it clad in its fall finery. As you have doubtlessly guessed, Cape Mabou is a place that is very near and dear to me and upon which I always gaze with joy in my heart whilst captivating memories replay in my head.