I continued on the Old Margaree Road to Baddeck Bridge, where the road crosses the Baddeck River and turns southeast towards Baddeck. The colours from where I stopped to the bridge were far less brilliant than those on the western end. The first right hand turn beyond the bridge, which I took, is Big Farm Road, of which I first learned from a correspondent a few years ago. It has some very fine views of the Highlands from its southwestern end, such as those seen in the fall photos on this page. Alas, this year, when I reached the end of the road, the Highlands across the Baddeck River were without benefit of sun and appeared rather dull, so I took no photos there. But, near the beginning of the road, where I stopped very shortly after turning onto the road, the colours were simply glorious! Those on this page came from there.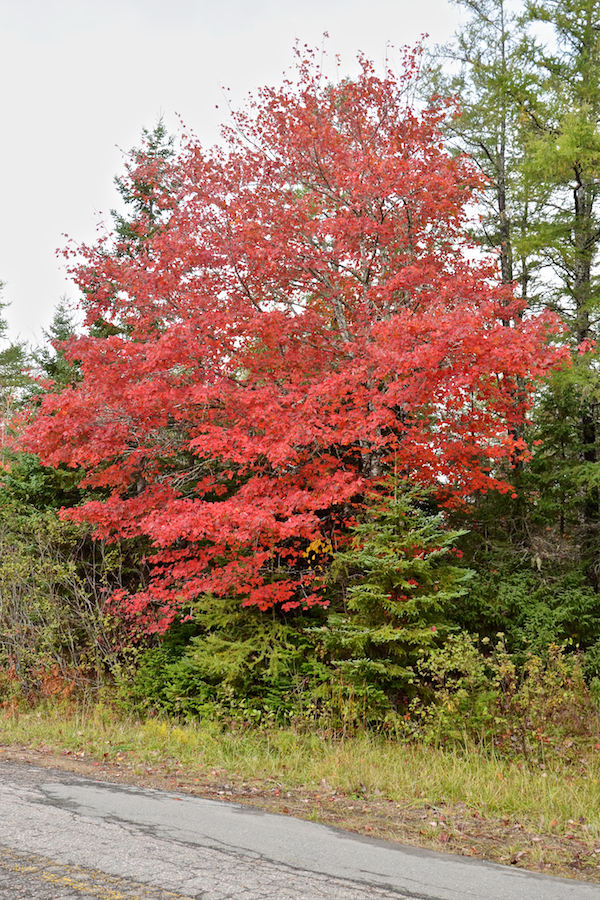 It was, of course, the wonderful red maple seen in photo #1 that brought me to an immediate stop. After going through my photos, it looks like I took ten different photos of this same tree from various angles, way more than any other this year, as I waited for the sun to light it up, which it never really did properly. Even without direct sunlight, it is one beautiful tree, with a fair amount of chlorophyll in its leaves giving it a darker red colour.
Photo #2 is a close-up of some of the leaves on the three seen in photo #1, where the residual chlorophyll is very noticeable, even though the leaves are showing unchanged green very rarely. What a lovely hue! (And this shot did benefit from a stray ray of sun to boot!)
[continued below]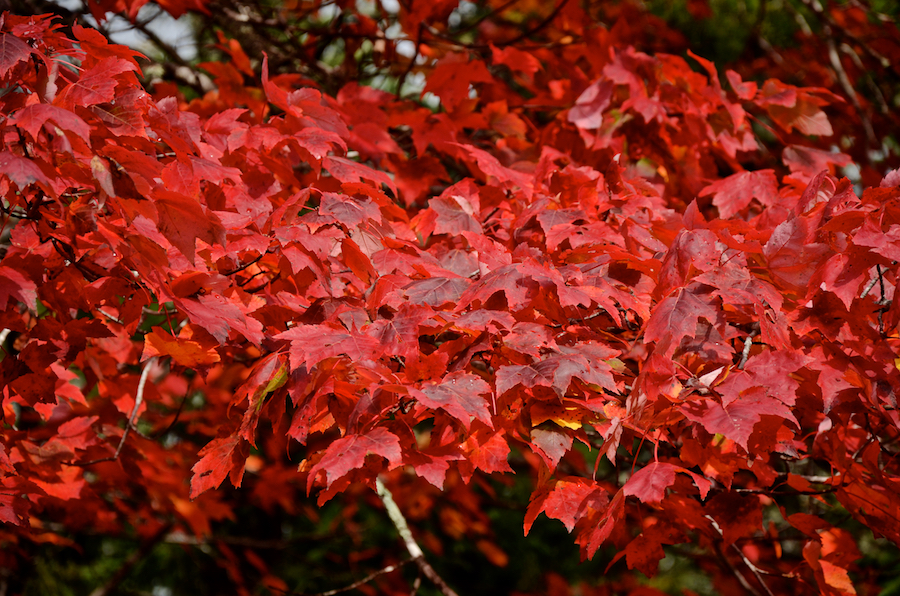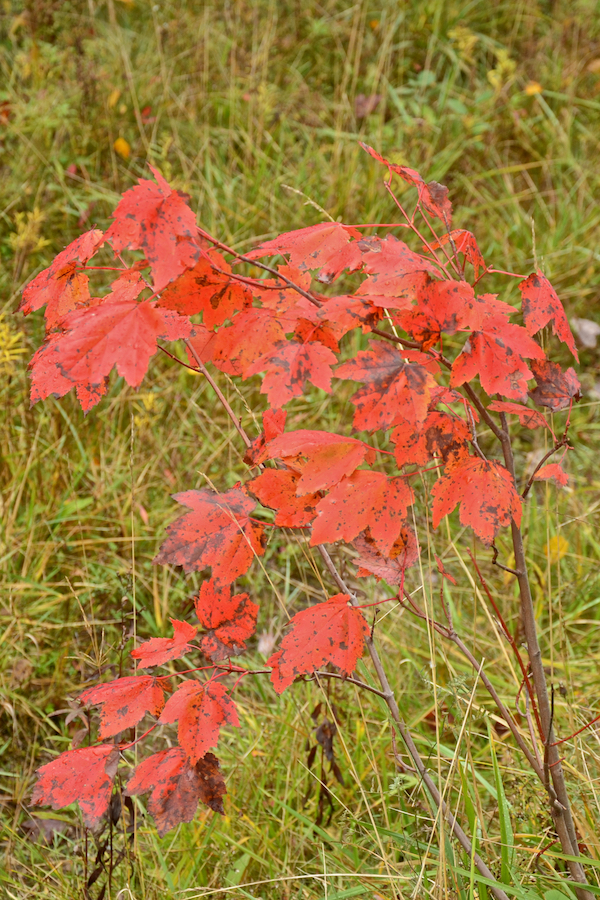 Photo #3 looks at a small red tree in a bit of sun, glowing with colour. My suspicion is that it is a relative of the tree in photo #1, which was not far away.
Photo #4 looks at another small bright red maple tree along the road, also benefitting from some cloudy-bright filtered sun, barely enough to cast a shadow. Most of the other adjacent trees were also colourful, but none was so large as that in photo #1. Hopefully, some of these smaller ones will grow into great welcoming bright red maples in the fullness of time.
[continued below]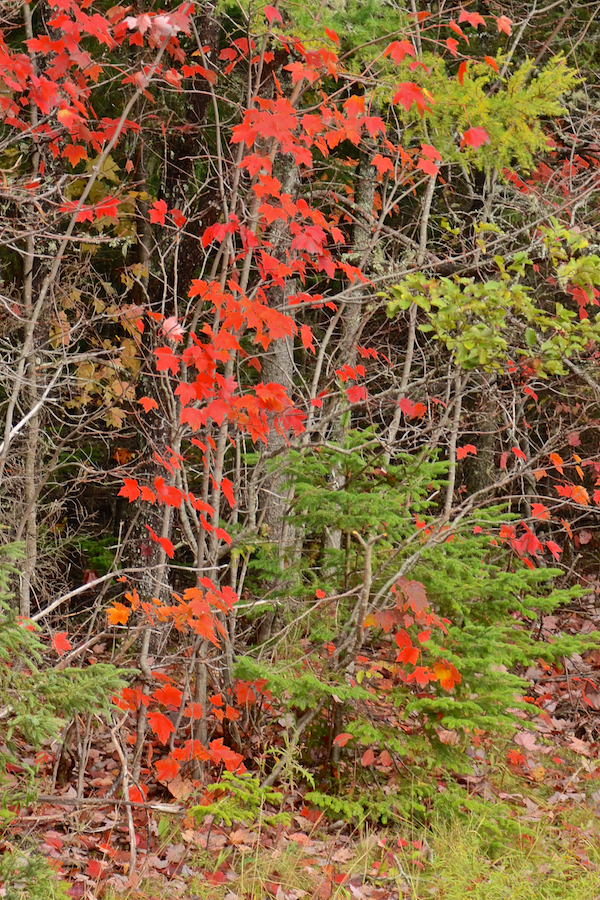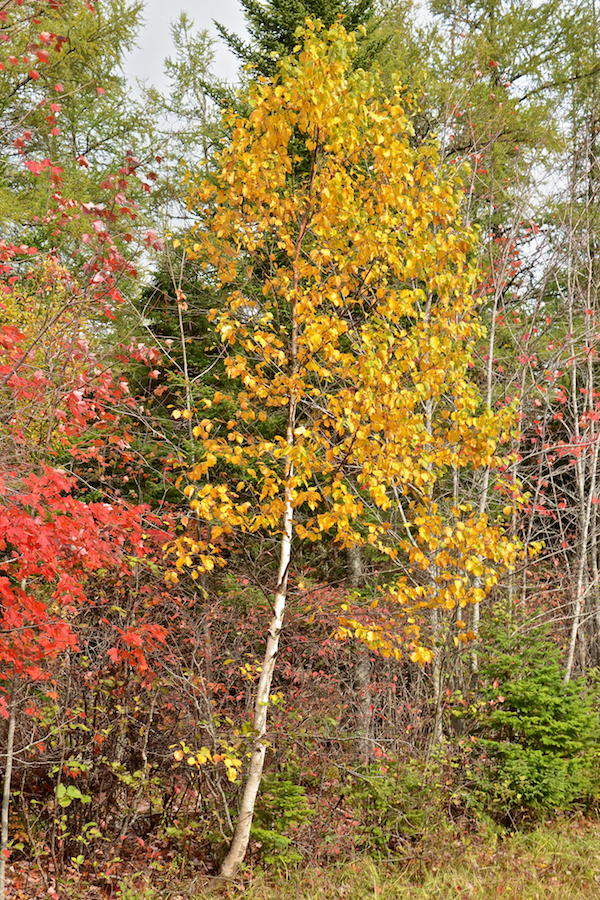 Photo #5 shows a lovely yellow birch beside the road surrounded by red maples on either side and the ubiquitous evergreens that line much of this beautiful road. It was being well blessed by some direct sunlight that really lit up its beautiful yellows and golds.
Photo #6 returns to more lovely red leaves, these on another smallish tree along the road. I cannot get enough of reds and 2014 was certainly a banner year for them, if one were able to seek them out at the right time.