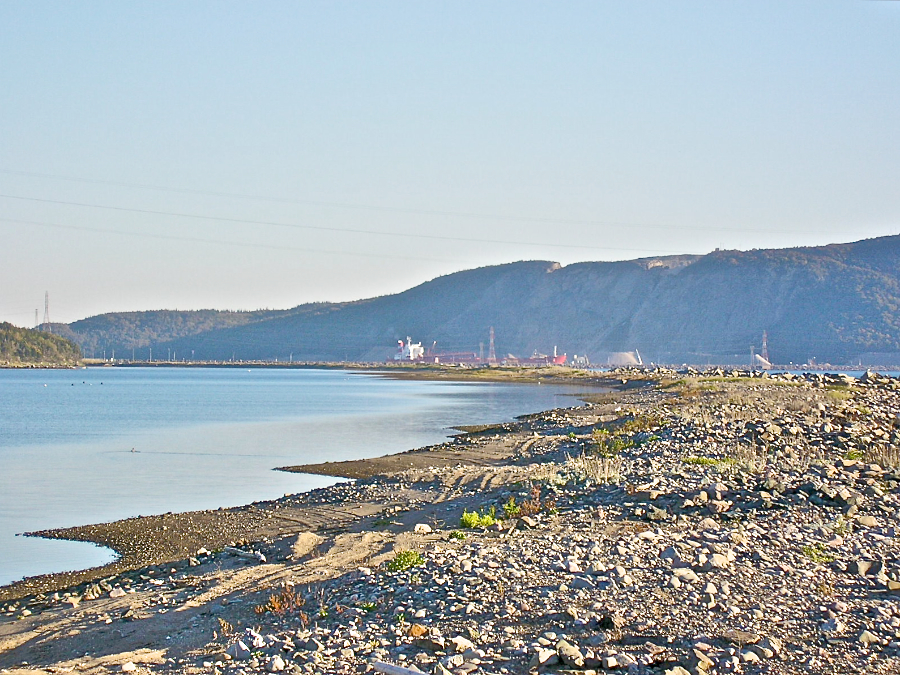 The Railway Trail ends at the Canso Causeway. Long Pond is at the left of this photo behind which the Canso Causeway can be seen clearly. The Strait of Canso can be (barely) seen at the right of the photo on the other side of the spit of land, called Ghost Beach. A ship is in the port below Cape Porcupine, whose quarry supplied the rock used to build the causeway. It was a beautiful day and growing late; since the last of the cèilidhs at the Creamery was being held that evening, I reluctantly stopped my hike at this point, without making it all the way through to the causeway. Although the hiking here is very rough (the "trail" can be seen by the water where the ATV tracks are), the site is gorgeous and well worth a visit. I'll definitely try to get the last leg of the trail done this year.
This also ends our photographic journey down the Railway Trail. What a privilege it must have been to have taken the Judique Flyer along this course when it was still running! I hope you have enjoyed the journey and, if you have not yet had the pleasure of sampling the views it offers, that this essay in photos will encourage you to get out and see the varied beauty that is there for the expenditure of a bit of healthy walking.
[2012] I am not sure what shape the trail across Ghost Beach is in these days; the last time I was there, in 2007, it had been improved over what I had seen in 2005, but it had still not yet been given as fine a surface as most other portions of the trail; I would assume that it would be yet more improved now and hope to get there again this year. The section from the Canso Canal Park out to Ghost Beach, however, was in great shape.