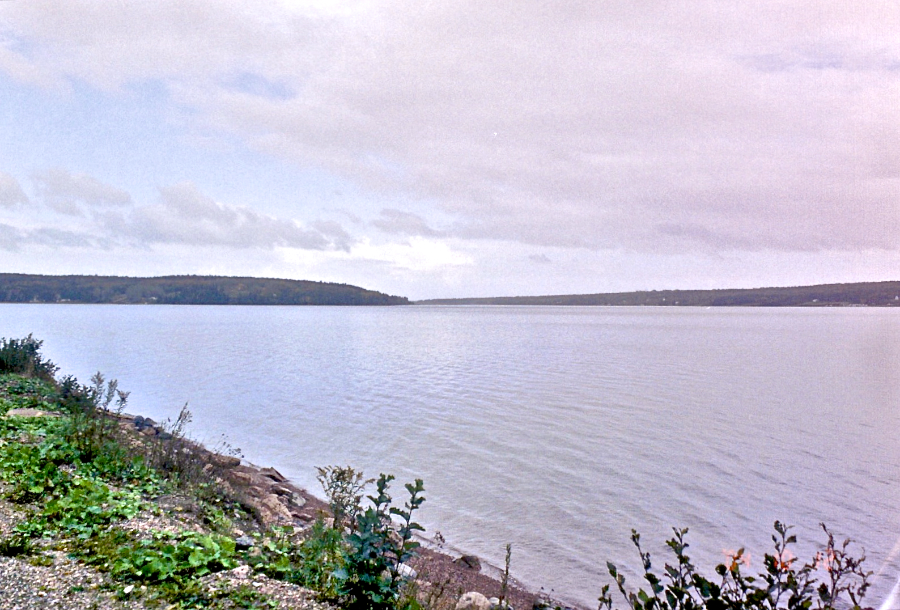 As one reaches the U curve at New Harris Forks at the bottom of Kellys Mountain on the Trans-Canada Highway (Highway 105)—clearly visible on the map referenced in the introduction—a gravel road veers off to the left towards New Campbellton and Cape Dauphin, where the Great Bras d'Or Channel meets the Atlantic Ocean. This photo is taken from that road south of, but not far from, New Campbellton.
This road continues on well past New Campbellton, but there are not many good views beyond that point; private land and cottages separate the road from the water, so there are not many good vantage points from the road. By the time I reached the end of the road near Cape Dauphin, the weather had turned too rainy and foggy for good photography and my attempts turned out poorly, probably because my camera battery was also very close to dying (as it did when I stopped for some more photos in New Campbellton on the way back, preventing me from even properly closing the camera—a quick trip to the camera store in Sydney took care of that). However, here, we still have some blue sky, though one can not make out the fall colours that were visible in the heavily forested areas on both sides of the channel.
The land across the channel is Boularderie Island, a long narrow island about 40 km long (25 mi) and 10 km wide (6 mi) that separates the two northern ocean accesses to the Bras d'Or Lakes. I have driven around the southern end of Boularderie Island, where Kempt Head juts into the Great Bras d'Or Lake, but inexplicably took no photos on that drive—I no longer remember why—and have added it to my list of places to revisit as I remember there were some pretty views from the (mostly gravel) road.
The drive to Point Aconi on the north end of Boularderie Island is definitely worth making; there is a lighthouse there and the views of the ocean and across the water to Kellys Mountain, Cape Dauphin, and the St Anns Bay coast north to Cape Smokey are gorgeous on a good day (and interesting on lesser days). Point Aconi is also home to the Lakewind Sound Studio, well known to aficionados of Cape Breton traditional music.