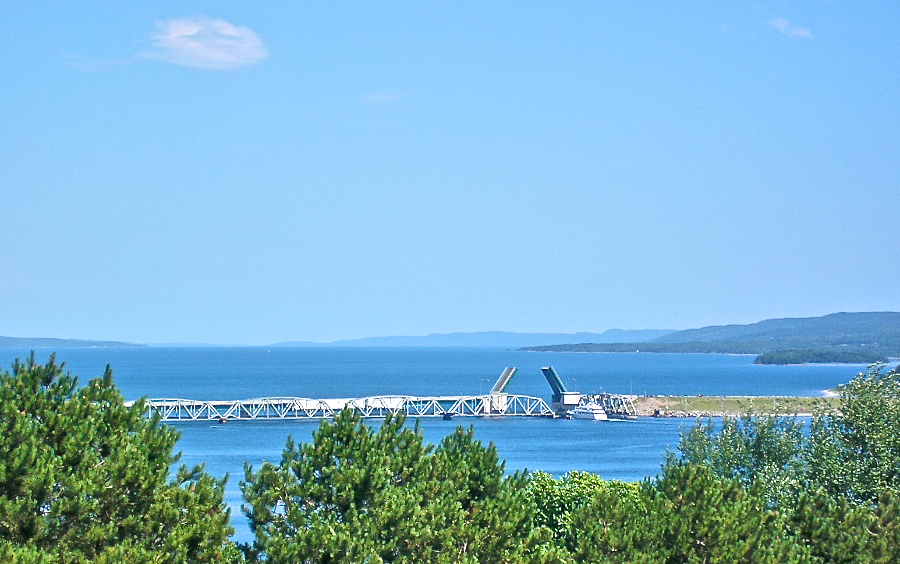 This photo gives one a good idea of the sweep of the Great Bras d'Or Lake, which seemingly extends to the horizon at the middle left here; the Boisdale Hills rise in the center above the Lake. The serene and timeless beauty of this scene just gladdens my heart!
Highland Village (An Clachan Gàidealach in Gaelic) sits high above the Barra Strait in Iona and provides wonderful views of both the Great Bras d'Or Lake to the north and the Bras d'Or Lake to the south; indeed, it is the best site I know of for great views of both lakes. The view from the bridge itself is quite beautiful, but, without the height provided by Highland Village's site, lacks the full scope of this view.
Highway 223 crosses the northern end of the Barra Strait on this bridge connecting Iona (at the left) to Grand Narrows (at the right). The boundary between Victoria and Cape Breton counties passes beneath the bridge. Note that there are actually two bridges here, the road bridge in back and a railroad bridge in front; the road bridge swings up and down while the rightmost section of the railroad bridge (to the right of the boat) pivots to the side. The was the first time I had ever seen the bridges open to allow a boat to pass.
Christmas Island, a hotbed of activity involving both the Gaelic language and traditional Celtic music, is approximately 4 km (2.5 mi) beyond the bridge to the north of Grand Narrows on the lake shore. Tuesday evenings in the summer, this community hosts concerts featuring performances by traditional Cape Breton musicians. See this web site for more information about Christmas Island and its history and programs.