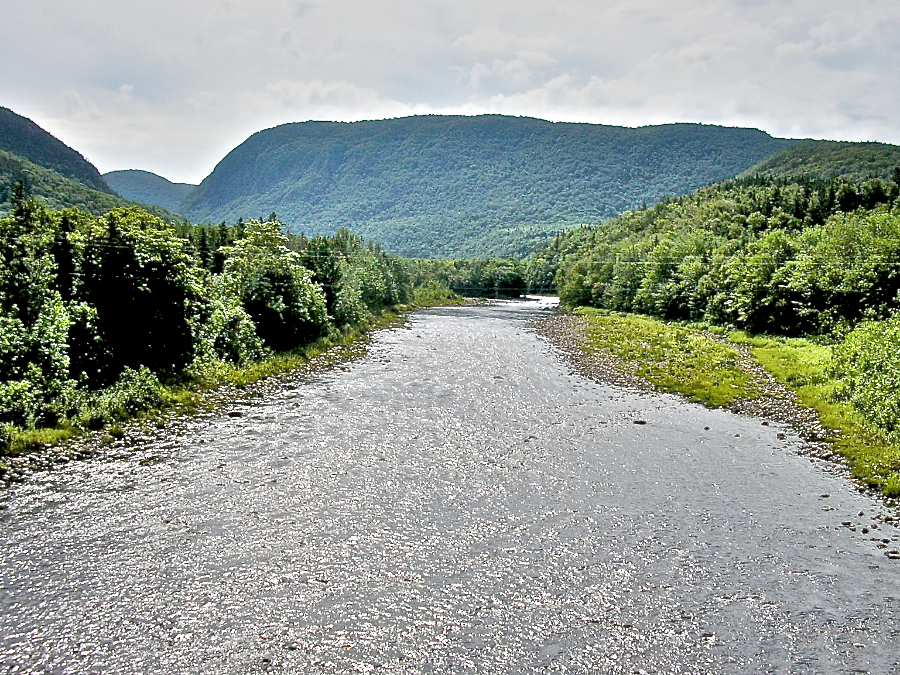 This is the view upriver and shows the canyon the Chéticamp River has carved through the mountain range. Montagne Noire ("Black Mountain") rises across the middle of the photo on the other side of the river.
The Cape Breton Highlands National Park offers two trails in this area that I have not yet attempted, L'Acadien ("The Acadian") and Les Trous de saumons ("The Salmon Pools"). Both start near the Visitors' Centre at the entrance to the park. The excellent book from Breton Books, Cape Breton Highlands National Park: A Park Lover's Companion by Clarence Barrett, has descriptions of these two trails that have led me to place them on my "to-do list" for 2007. According to that book, L'Acadien is an 8.5 km (5.1 mi) loop requiring a 350 m (1150 ft) climb that leads one to a summit above the Chéticamp River from which one has wonderful views to the south and west over the Gulf, Chéticamp, and the coast. Les Trous de saumons is a much easier 6 km (3.6 mi) one-way trail along the Chéticamp River (further upriver than this view) with two 100 m (328 ft) climbs along the way and views of gorges and forests from the trail. According to the book,
At Second Pool the river flows through a steep-walled rocky gorge. If you're there during the salmon "runs" of June or July you might see one of the most thrilling sights in the Park: Atlantic salmon jumping the falls at the head of the pool.
[2012] I hiked Les Trous de saumons Trail part way on 2007 June 22 and all the way to its end on 2007 July 27; in addition to my description here, there is now also a photo essay here that covers the Chéticamp River, many of the photos in which were taken from along this trail. I hiked L'Acadien Trail on 2007 August 2; alas, I have so far posted nothing about this trail, though one photo from this trail does appear in the Chéticamp River photo essay. Both are fine trails in very good condition with marvellous views and I highly recommended both.