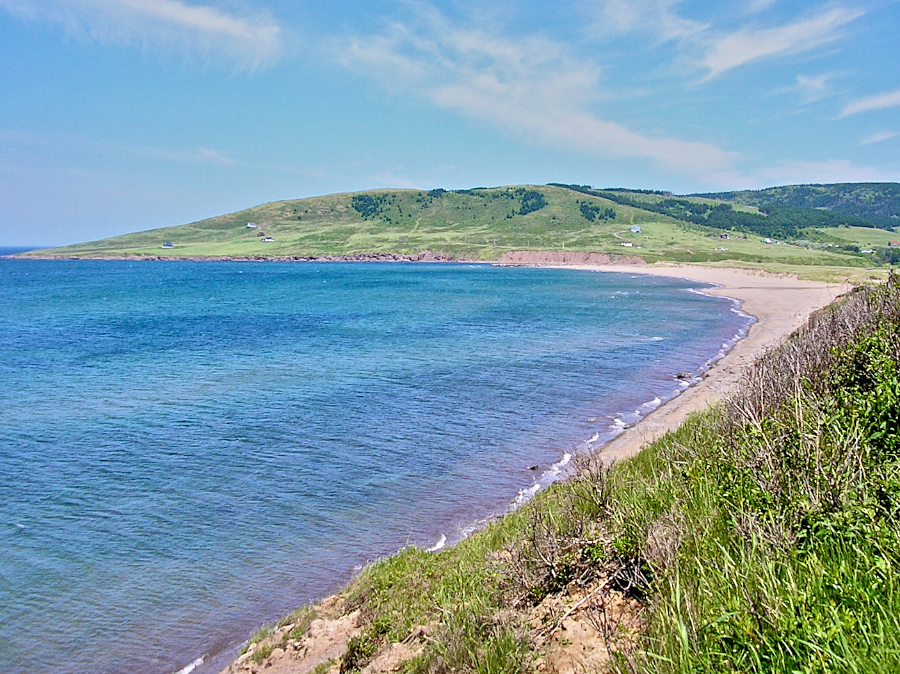 West Mabou Beach Provincial Park is one of Cape Breton Island's most precious jewels, a gorgeous place with breathtaking views such as this one from its Western Coastal Trail, an easy walk along the cliffs above the beach. Green Point is at the far left of this photo and it is obvious here near the end of spring to see how it came by its name. Mabou Harbour Mountain rises from Green Point, with its summit in the middle of the photo. Mountain Road, which crosses Mabou Harbour Mountain, was drivable to the summit last year (though the surface down the other side was not in such good shape, at least for a car). There are, as one can imagine, marvellous views from this road, which also makes a fine hike. Another mountain, unnamed so far as I know (if anyone knows otherwise, please let me know), rises at the far right of this photo.
The entrance to the Mabou River is below the reddish cliffs in the middle of the photo; if you look carefully, you can see the breakwater that separates the beach from the river at the left end of those cliffs. The beach itself is a wondrous sand beach perfect for swimming and beach walking. About halfway down the beach, the outlet from Johnny Bans Pond (to the right and outside the scope of this photo) can be seen. Above the beach hiding the Mabou River rise high sand dunes anchored in place by fragile marram grass that cannot tolerate walking.
The volunteer committee that is responsible for the beach has disposed picnic tables and wooden benches along the Western Coastal Trail and at several other points in the park. It is one of my favourite places to come and observe the beauty there spread out on all sides, always subtly different from one day to the next and very different under other skies and in different weather.