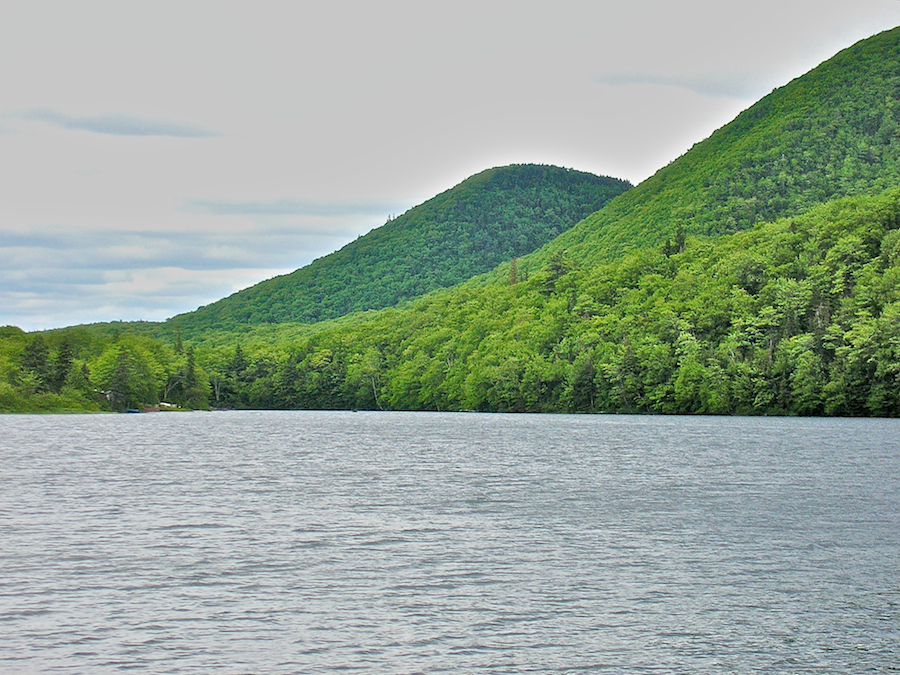 The Lake O'Law Provincial Park lies between the Cabot Trail and the western shore of the First Lake O'Law. At this point in its northward course to the Margarees, the Cabot Trail threads through a valley between Twelve O'Clock Mountain on the west and the Three Sisters on the east. The peaks one sees here are two of the Three Sisters (the flank of the third can be seen at the far right of this photo).
As can be seen here, the clouds have pretty much taken over the skies that were pure blue at Middle River; indeed, it was to rain later in the afternoon. I have not yet had the good luck to pass by the Lakes O'Law on a completely sunny day; one day, I am sure, I will get some photos that show off to their best advantage these beautiful lakes (there are three of them in this valley).
Several years ago, there was an eco-trail in the area that took one along the sides of two of these lakes if I remember correctly. I read that it had suffered some vandalism a year or so after I had hiked it and it is not listed in the hiking information I got last year from the Visitors' Centre in Margaree Forks, so I am no longer sure that the trail is still usable.
[2012] The eco-trail exists still; known as the Lifestyles Trail, its trail head is off the Cabot Trail at GPS 46°15.859'N 60°57.581'W, in the area north of the Second Lake O'Law. I last hiked both loop trails on 2009 July 31. The trails were being actively maintained, well-signed, and in generally good condition. They provide a good work-out, climbing part way up the side of the mountain, and offer fine views of the lakes from along their shores. That day, I saw a pair of loons who were feeding out in the lake and plenty of signs of the moose that are plentiful in the area, though no moose, likely because I'm a pretty noisy hiker.