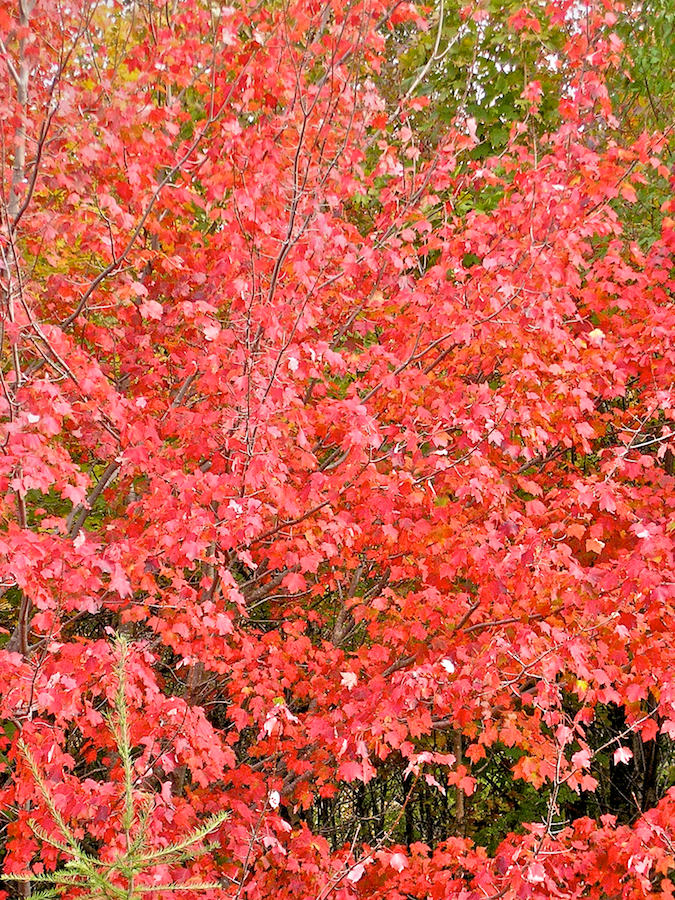 This photo was definitely worth waiting for! When I arrived in front of this beautiful tree, the sun was behind the clouds, but near a gap where I had hopes it might pop out. So I waited a few minutes and it did, leading to this blazing red glory! It is amazing what a difference in colours (and moods) sunlight and its absence can make!
When the Whycocomagh Road approaches Glencoe Mills from the north, it forks at a Y junction: the left fork is the continuation of the Whycocomagh Road while the right fork is the Upper Glencoe Road, which leads directly to the Glencoe Mills Parish Hall, across from St Joseph's Church in Glencoe Mills. There, it intersects with the Glencoe Road, which comes from Upper Southwest Mabou and Glencoe and continues past the Parish Hall to its junction with the Whycocomagh Road. It is also possible to reach the Parish Hall by taking the left fork and then turning down the Glencoe Road (and I have known folks who swear it's the shorter route, though it's in fact a bit longer—I've measured both routes).
The roads to Glencoe Mills have an undeservedly poor reputation. A quick study of a map shows that Glencoe Mills is at the centre of a set of roads from Mabou, Brook Village, Whycocomagh, Judique, and Port Hood, which all converge there. These roads are indeed all gravel and they do have a number of curves, some of them sharp (this is especially true of the Whycocomagh Road between Kewstoke and Dunakin), but this year these roads were in better condition than I ever remember seeing them before; assuming one knew the locations of the curves and slowed down for them, it was possible to drive at 70 km/h (45 mph) and not be constantly hitting potholes—this was often not the case in previous years.