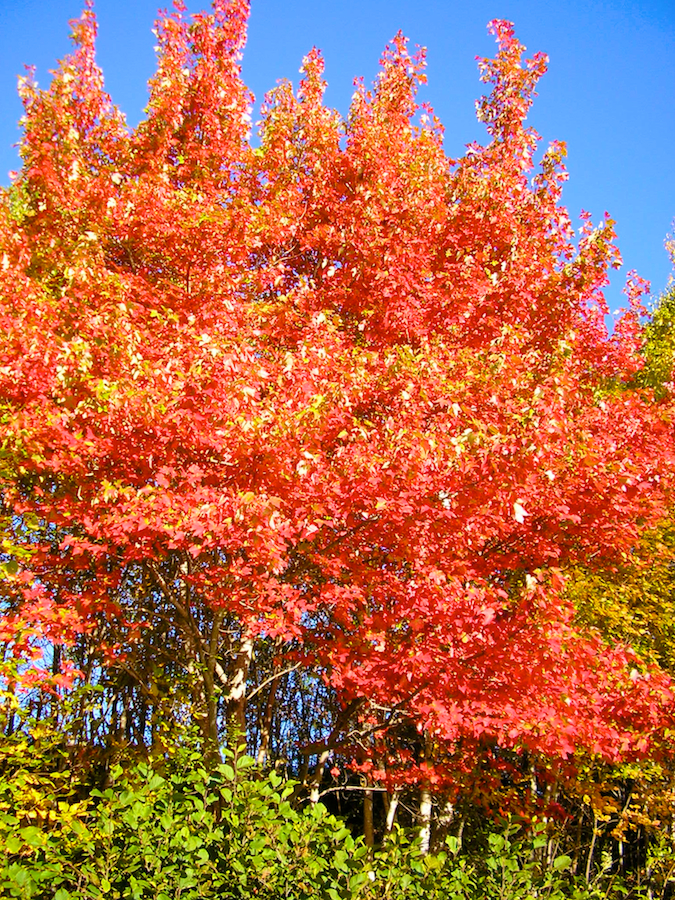 This day, my last full day on Cape Breton Island this year, turned out nearly perfectly, as the pure blue sky above these brilliant trees so eloquently attests. This is what I had been hoping to see, Cape Breton fall finery in its full glory under October's Bright Blue Weather. It is unfortunate that I had to wait until my last full day on the Island, but better late than never!
There is a fair amount of yellow in this foliage, partially masked by the stunningly bright reds that dominate the photo. As best as I can make out from the original at high resolution, the yellow leaves are from the same trees as the red leaves; indeed, certain of the leaves bear both colours at once, while others are either all red or all yellow.
There are a number of trees along the Northeast Mabou Road that always display fine colours, some reds, some oranges, some limes, and some yellows, but all brilliant when struck by the sun. With the views of the Cape Mabou Highlands from further down this road, it is a "must drive" during the peak of the fall colours. And drive it at various times of the day, as what the sun hits depends on where it is in the sky—a goodly portion of this road is through the forest, so what may be obscured at one time of day may be sunlit at another.