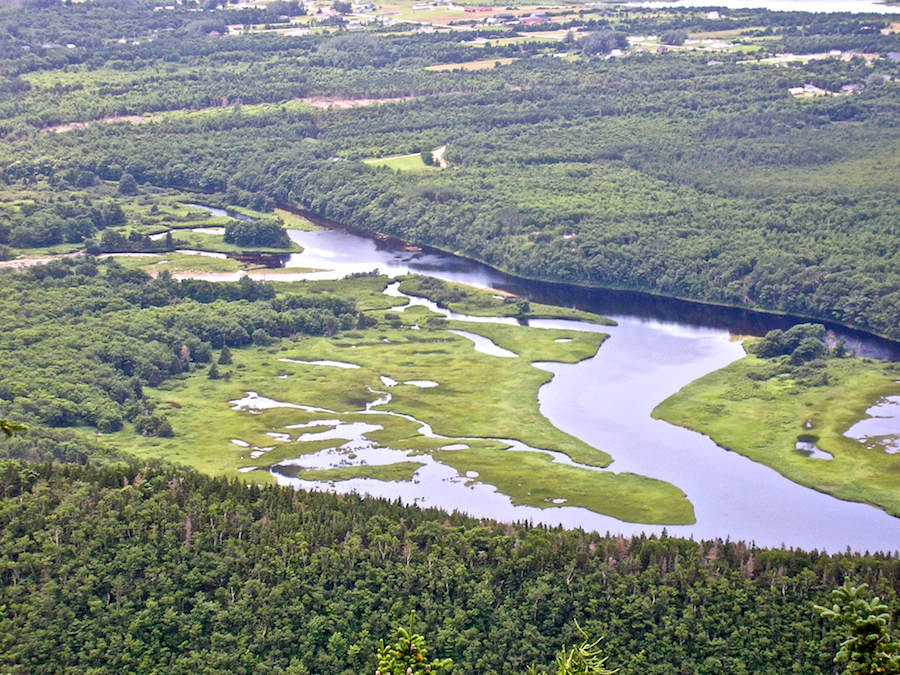 This view to the southwest was taken from the mountains which rise behind La Grande Falaise from the trail known as L'Acadien (The Acadian). Although the Chéticamp River appears to pass directly below, the Cabot Trail (not visible here) runs closer to the mountains. The forested summit of Le Buttereau is in the immediate foreground down below; the marsh grass islands and peninsulas that form the Chéticamp River's estuary lie in the middle ground; and the forests and fields of Petit-Étang spread out on the other side of the river. L'Étang-à-Johnny-à-Eusèbe lies to the right outside the scope of this photo. The water at the top right of the photo is Petit-Étang (Little Pond), from which the community of Petit-Étang takes its name.
A side brook that rises behind Le Buttereau joins the river here at the middle left of the photo, adding more complexity to the water flow. The river remains very tranquil here, as if resting from its wild ride down from its source before merging into the waters of the Gulf of St Lawrence.
This day was pretty typical: the sunny blue skies I saw in the morning when I left had become partly cloudy by the time I had huffed and puffed my way up L'Acadien, though the weather continued mostly clear to the north. One can see the white clouds of the sky overhead reflected in the waters of the river below; fortunately, there was no haze while I was on the trail, though it did rain in the evening. Not every day can be as perfect for photography as the one on which the three previous pictures were taken.