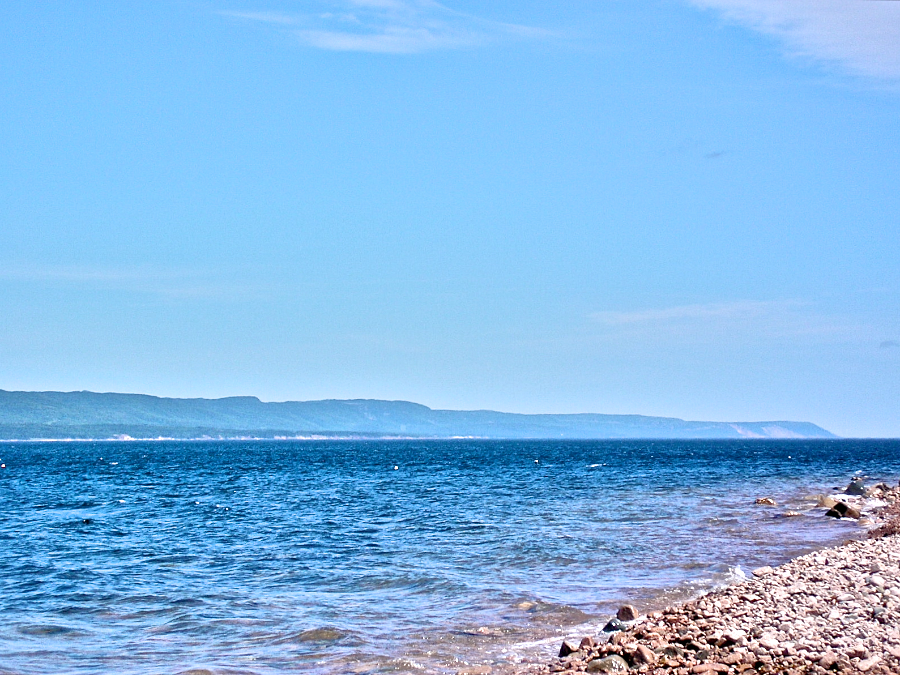 The road from Exit 12 on the Trans-Canada Highway (Highway 105) that leads to the Englishtown ferry, near where the previous photo was taken, continues past the ferry turn-off to dead-end 2.4 km (1.5 mi) later at the trail head of the St Anns Bay Trail (map here). That trail continues along the base of Kellys Mountain to end up on the cobblestone beach at the mouth of Grappling Brook, known as Little Grappling Beach, some of which is seen at the lower right of this photo. It has marvellous water-level views of the west coast of St Anns Bay (approximately 4 km (2.5 mi) wide at this point) all the way from Murray Mountain to Cape Smokey, a distance of more than 41.5 km (25.8 mi); unfortunately, given the beach's siting, Faders Point blocks the views into St Anns Harbour.
I took this photo at 10h25 when the haze was very minimal; as the day grew warmer, the haze increased enough that it somewhat spoiled the views from Cape Smokey when I arrived there in mid-afternoon.
The specks of bright colour one sees in the waters off shore, e.g., at the far left and a bit left of centre, are buoys attached to lobster pots. Indeed, while I was enjoying the gorgeous views here, a lobsterman came along and collected the pots' contents and rebaited them. I was otherwise completely alone in this beautiful place.
[2012] The description of my hike to Little Grappling Beach can be found here; in spite of my intentions to return there regularly, I regret to say that I have not been back there since 2006 and do not know what the current state of the trail is, though I certainly do wish to get back there once again. The information linked to above was once on the Victoria County Hiking Trails web site, but for whatever reason, the county has seen fit to remove the excellent hiking information once found there and has not replaced it with anything nearly as good (fortunately, some of the information once there has migrated to the provincial trails site, to which the links in the first paragraph now lead, but other information is apparently gone for good; a copy of the former Victoria County page for the St Anns Bay Trail can be found in the Wayback Machine's archives here).