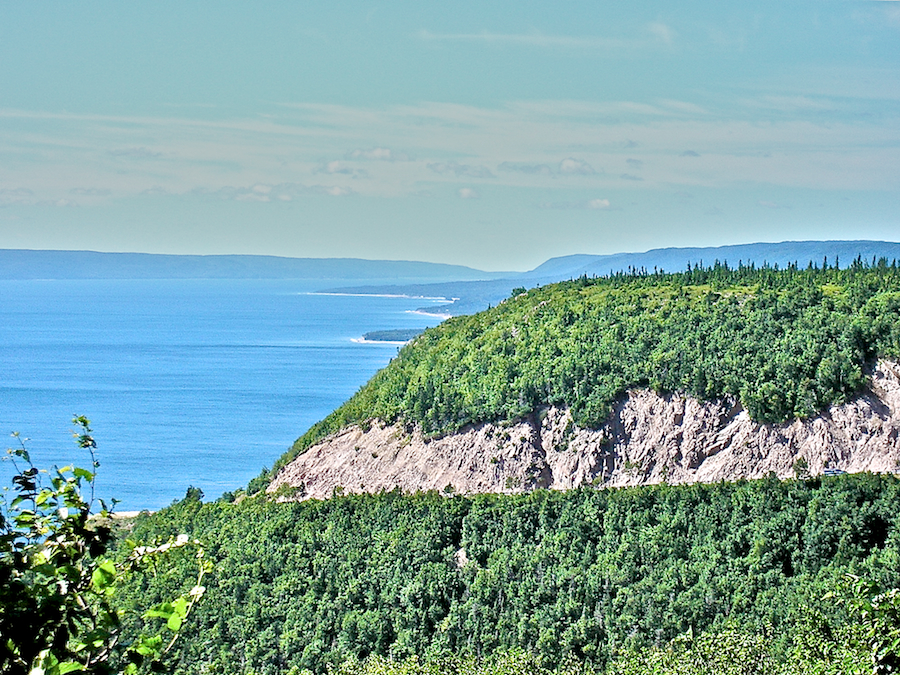 This view somewhat west of south from the parking lot in the Cape Smokey Provincial Park looks at the other side of the ridge of Smokey Mountain that figured in the previous photo, this time from above. The corner one sees in the lower left side of this photo is the same corner as one sees in the middle far right of the previous one. The Cabot Trail continues ascending sharply along this ridge beside a ravine that falls off beyond the road bed. The bare cliff face one sees here again resulted from blasting to make the bed on which the Cabot Trail lies.
Kellys Mountain, which runs along the east coast of St Anns Bay, lies at the far left of the photo in the background; it was from the St Anns Look-Off atop this mountain that the initial photo was taken. The "mountains" across from Kellys Mountain on the western shore are actually the edges of the Cape Breton Highlands Plateau that were seen in the first three photos. Some of the lower-lying lands along the western edge of St Anns Bay below the plateau are visible here as well. St Anns Harbour lies in the far distance in the middle of the photo, but not much of it can be seen here.
The point in the centre of the photo closest to the ridge is Wreck Cove Point, near which is the outflow of the only hydroelectric project on Cape Breton Island of which I am aware. The long point sticking out into St Anns Bay is Bentinck Point. I am not sure of the point in between, but it is probably French River Point.