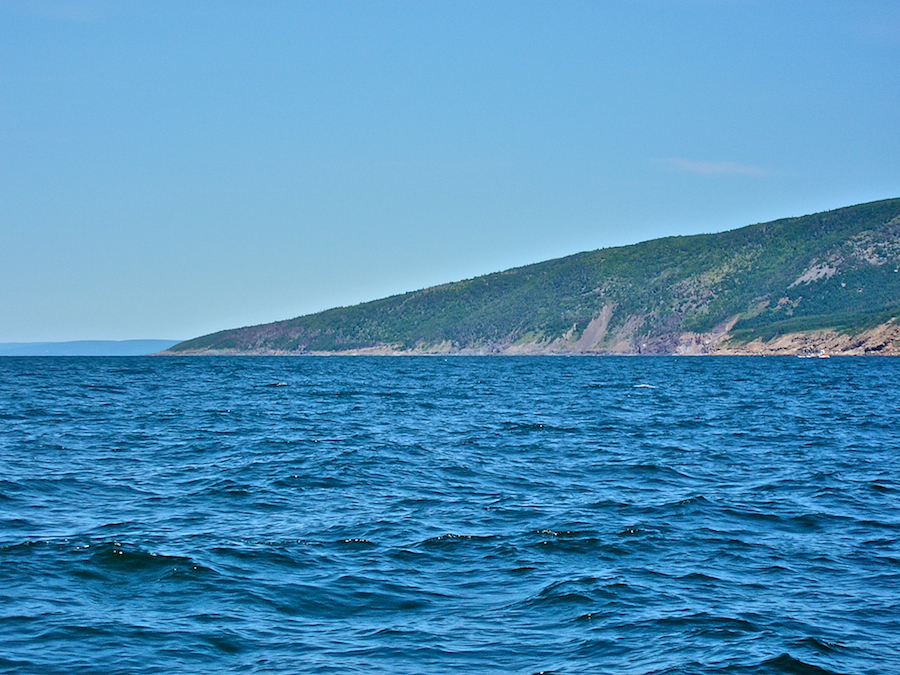 This and the next eleven photos are close-up views of the coast from Sight Point to near Beaton Point, all taken from the water. As previously indicated, the coast north of Beinn Alasdair Bhain (Fair Alistair's Mountain) can only be seen in its full glory from the water. What a privilege it was indeed to be able to see this beautiful landscape!
The first of these views shows Sight Point. At Sight Point, the Cape Mabou coast veers even further to the northeast; the very memorable gravel road from Broad Cove Banks (just outside Inverness village) to the Sight Point Trail Head, one of the three access points to the Cape Mabou Trail Club system, is a drive of 12.9 km (8.7 mi), with several very fine views along the way in both directions.
One of the several routes to the summit of Beinn Bhiorach (Steep Mountain) is the Rids An Daraich (Oak Ridge) Trail, which ascends the long slope to the summit starting from the MacKinnons Brook Trail about a kilometre (0.6 mi) from the Sight Point Trail Head. Much of the Rids An Daraich Trail is through the forest, but there are look-offs along the way with very fine views indeed both of the coast and of the mountains above the Enchanted Valley. MacKinnons Brook Trail runs all along this coast well below the ridge, but above the precipitous cliffs seen here; there are marvellous views nearly the entire length of this beautiful trail. Anyone who has hiked it will certainly remember the surf crashing against the rocks far below (see my second photo essay for some photos of the coast as seen from the MacKinnons Brook Trail).
[2012] More dead and dying trees can be seen here towards the Sight Point end of this sloping mountain side. Not so obvious then, but very obvious with the benefit of hindsight!